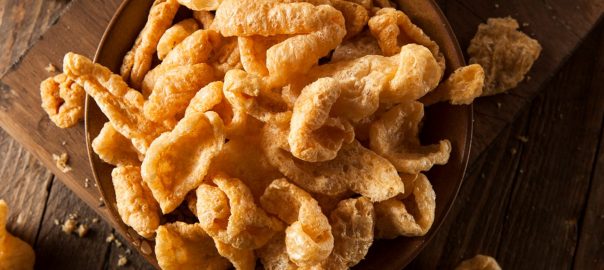 Finding Alternatives to Chips
Low Carb Potato Chip Substitutes
Stay on track of your low carb or ketogenic diet while still enjoying the snacks you love with these low carb and keto-friendly potato chip substitutes!
Potato chips may be your guilty pleasure snack but following a low carb or ketogenic diet means that potato chips, along with other high carb snacks, have to take the boot at some point. But, the story doesn't have to end there. The Low Carb Grocery has rounded up the best tasting keto-compliant and low carb potato chip substitutes out there so you can still satisfy those salty cravings whilestaying on track of your diet!
If this sounds too good to be true, keep reading to learn more about how these seven different low carb alternatives to potato chips are not only delicious and satisfying, but can also support your health and weight loss goals.
Disclaimer: The information in this article is not intended to replace personalized medical advice. A low carb diet may not be suitable for you. Consult your health care provider before making any changes to your lifestyle or use this information at your own risk.
#1: Pork Rinds
Pork rinds are low in carbohydrates yet provide the crunch and full-body texture of potato chips. They are the ideal low carb or keto-friendly potato chip replacement, since each serving contains just 1g of net carbs, plus 5g of fat and 8g of collagen protein! Collagen protein is packed with amino acids that are absorbed more efficiently by the body compared to other types of protein. Increasing your consumption of collagen can have a number of wonderful health benefits such as improving gut health, hair and nail growth, skin elasticity, and joint pain, as well as increasing muscle mass and preventing bone loss. Hair loss can be a challenge faced by those following a ketogenic diet, often due to reduced protein intake, insufficient calories or micronutrients, and rapid weight loss. Adding collagen protein to your keto diet and ensuring you are eating a variety of high-quality whole foods can prevent this and other signs of aging.
So, what exactly are pork rinds? Simply put, they are pig skins that have been boiled, dried and deep fried to produce a chip-like snack. Check out Southern Recipe Small Batch Pork Rinds, the latest addition to our inventory of low carb chip and cracker alternatives! These pork rinds are cured and smoked to perfection to provide rich, smokehouse flavour that you won't find anywhere else. They are also rendered and prepped before frying to remove any excess oils, so these chips remain light and crispy. These pork rinds also work well as a low carb high fat substitute for breadcrumbs or croutons when crushed. Try Southern Recipe Small Batch Pork Rinds in Korean kimchi bbq and sea salt and cracked black pepper flavours.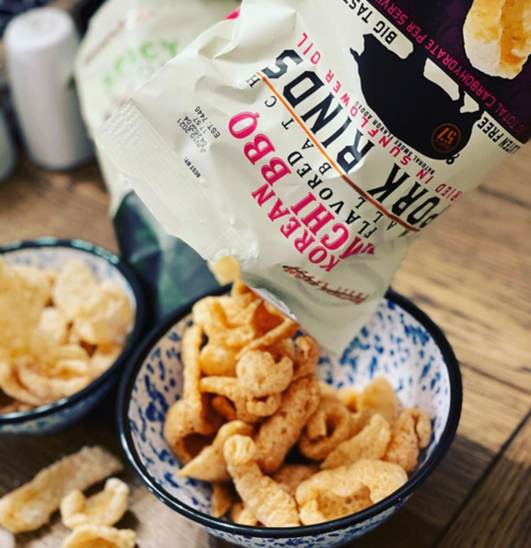 Pictured: Southern Recipe Small Batch Korean Kimchi BBQ Pork Rinds
#2: Cheese Crisps
Cheese is a great snack for low carb high fat (LCHF) and ketogenic dieters since it is naturally low in carbs, high in fat and contains a moderate amount of protein. But, did you know you can enjoy it as a crispy, shelf-stable snack, too? Browse over 50 different low carb cheese snacks available at The Low Carb Grocery – there are endless flavours and options to choose from! Whether your favourite type of cheese is cheddar, mozzarella, parmesan, pepper jack, Monterey jack or gouda – there's a crunchy cheese snack for you! Check out new keto-friendly and gluten-free Mozza Chip Thins made in small batches at Nutty Bun Bakery, family owned and operated from London, Ontario! Mozza Chip Thins are available in classic potato chip flavours such as salt and vinegar, ranch, sour cream and onion and dill pickle! But, unlike potato chips, they won't break your carb count and can be enjoyed by anyone following a low carb, ketogenic, gluten-free or diabetic diet. Aside from mozzarella cheese, they are made with other low carb ingredients including almond flour, psyllium husk fibre and ground flaxseed to boost their nutritional content and create an irresistible chip-like texture!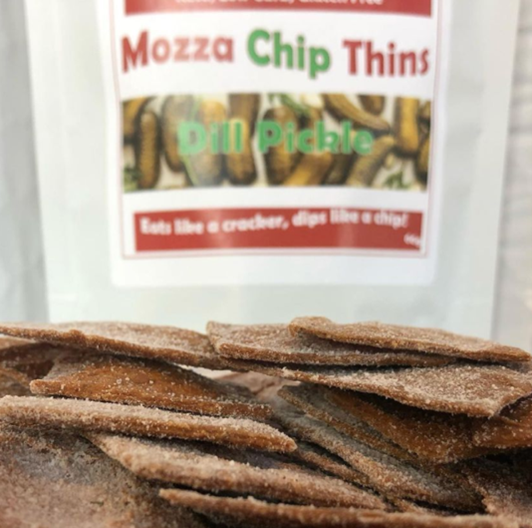 Pictured: Dill Pickle Mozza Chip Things
Cheese crisps are a great substitute for breadcrumbs and croutons as well; crumble them up and add them to grilled meat, salads, meatballs, and more. You could also make your own homemade trail mix with cheese crisps and roasted nuts and seeds to have as another healthy, keto-friendly snack option.
#3: Vegetable Chips
Making your own vegetable chips is super easy! Plus, you can control exactly what goes into them by making them yourself. Any low carb potato substitutes, such as radishes, celeriac root, and kohlrabi can be turned into low carb potato chips. Simply thinly slice any of these vegetables, toss them in oil suitable for high heat cooking such as coconut oil or avocado oil and season with salt, pepper and any other spices or herbs you like. The Low Carb Grocery carries a number of low carb spices and seasoning mixes so you can experiment with different flavours to make your vegetable chips a little more interesting. Try spicy piri piri seasoning from Fire in the Kitchen Co., smoky bbq seasoning from Hot Mamas, or Indigo nutritional yeast flakes, a vegan cheese substitute that is packed with B vitamins! Roast your vegetable chips at 400F until golden and crispy (about 20 minutes, but time may vary).
#4: Coconut Chips
oconuts are a great source of healthy fats, fibre, and a variety of beneficial vitamins and minerals. Try The Real Coconut Tortilla Chips made from coconut flour instead of regular tortilla chips for added nutrition and fewer carbs! These gluten-free, dairy-free, and refined sugar-free chips are both nutritious and satisfying. They are made from just a few simple ingredients including organic coconut flour, cassava starch, coconut oil and kosher salt. Try them in sea salt & vinegar or himalayan pink salt flavours whenever you're in the mood for something salty and crunchy!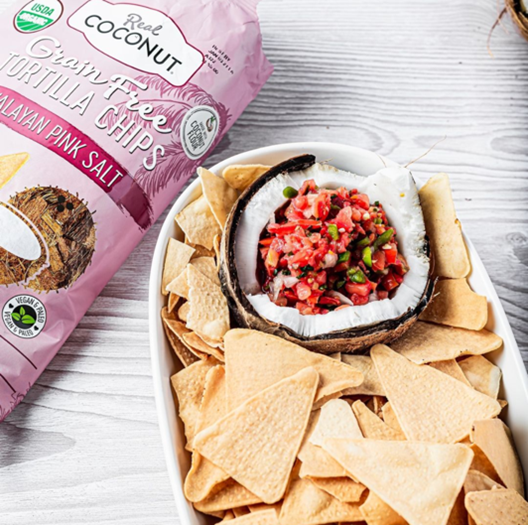 Pictured: The Real Coconut Himalayan Pink Salt Tortilla Chips
Coconut chips made from just roasted coconut meat are also a delicious and low carb or keto-approved snack. Be sure to look for unsweetened coconut chips, as many popular brands contain added sugars. You could also make your own coconut chips from fresh coconuts to omit the sugar and add whichever seasonings you like! Once roasted, coconut chips have an irresistibly light yet crunchy texture and just a handful or two will keep you feeling full and satisfied, thanks to their high fat and fibre content.
#6: Egg White Chips
Egg whites are high in protein yet low in calories, making egg white chips a great snack choice for those watching their weight. To make your own low carb and keto-friendly egg white chips, simply whisk together egg whites and seasonings of your choice in a bowl and spoon the mixture into an oiled muffin tin. You'll want to use about ½ a tablespoon of the mixture per chip, so they don't end up too thick. Top off each muffin compartment with some shredded cheese of your choice and bake for 10-20 minutes at 400F. The result is a fluffy yet crispy chip that will satisfy hunger and cravings!
If you don't have time to make your own egg white chips (or if you aren't a pro at separating eggs), pick up a bag of Quevos Egg White Protein Chips, instead! The star ingredient in these low carb high protein chips is egg whites, of course, but they also feature other wholesome ingredients. Ghee, avocado oil and coconut oil provide 10g of healthy fats and psyllium husk, chia seeds and flax seeds add 4g of fibre per serving. Try them in quevos rancheros (garden vegetables and spice) or sour cream & onion flavours!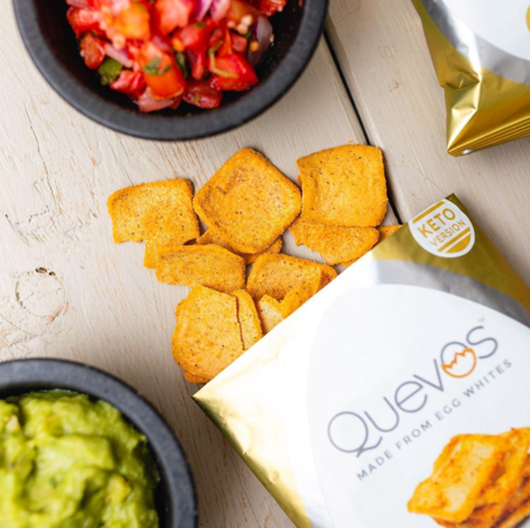 Pictured: Quevos Rancheros Protein Chips
#7: Grain Free Chips
There are many more ways to enjoy chips minus the carbs! We also carry a wide selection of crackers and chips made from alternative flours and meals that mimic the crunchy texture of chips, while being low in carbs and high in fat, fibre, protein and nutrients.
Hu Grain-Free Crackers are one of our newest favourites, made with a grain-free flour blend of almond, cassava and organic coconut flours, making them low in net carbohydrates and high in healthy fats and fibre. Hu is all about getting back to Hu-man using simple ingredients that provide unbeatable taste! These chips contain no grains or gluten, no refined starches or sugars, no dairy or soy, no refined seed or "vegetable" oils, and no other fillers such as lecithins and gums. They are flavoured with organic herbs and spices, organic coconut aminos and nutritional yeast to bring you all-natural everything, pizza, and sea salt flavours.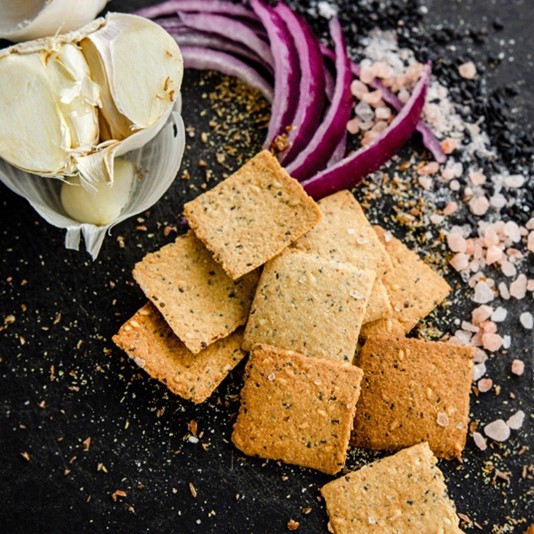 Pictured: Hu Everything Grain-Free Crackers
We also love new BeyondChipz TorPillas! These low carb high protein tortilla chips are made with just a few simple, nutritious ingredients including pea protein, coconut flour, flaxseed, pumpkin seeds, sunflower seeds, chia seeds, cassava flour and toasted sesame oil. Each serving contains just 2g of net carbs and 13g of plant-powered protein. These chips have a satisfying crunchy texture and hold up well with any of your favourite dips. Explore fun and crave-worthy flavours including bang bang ranch made with real buttermilk and vegetable powder, whole lotta nacho flavoured with spices and real sour cream, and bedda chedda made with real cheddar cheese. Browse these flavours and more here!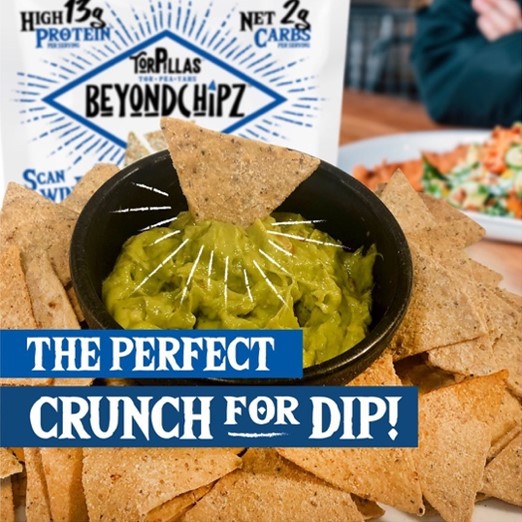 Pictured: BeyondChipz TorPillas Bang Bang Ranch High Protein Tortilla Chips
Stay Connected
We hope that we haven't made you too hungry while reading this article! If any of these low carb potato chip substitutes have sparked your interest, we encourage you to try them out and write a review on our website, leave a comment on our Facebook page under this blog post, or tag us on Instagram @lowcarbgrocery!
As a special thank you to our readers, we would also like to offer you an exclusive discount on the products mentioned in this article. Apply code CHIPS10 at our online check out to receive 10% off your purchase of any of these wonderful low carb chips!
Valid online only or redeemed for in-store pickup option, which is available at online checkout. Limit one use per customer. Promotion may end without notice and/or while promotional quantities last. No substitutions or rainchecks, please. Valid until 2021-12-31.
Lastly, please remember to leave us your direct feedback with a Google Review and sign up for our email newsletters to stay on top of low carb and keto news as well as be the first to know about weekly sales and new products coming soon!