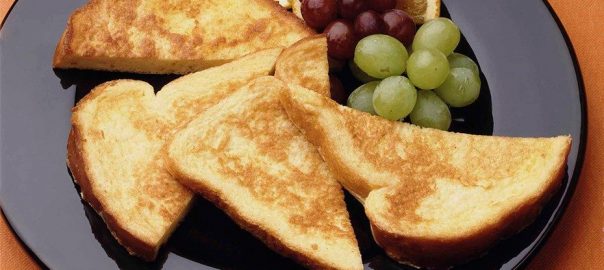 Great Recipes For Low Carb French Toast
Experience the World of Low Carb French Toast
Ooh, la la! It's time to learn more about that delicious breakfast food that's been a favourite around family tables for generations; French toast. Like pancakes, waffles, and cereal, you may not think that French toast looks like an ideal low carb meal on the surface. However, just like those other foods, there are plenty of ways to prepare them the low carb way and still have a delicious and satisfying breakfast that everyone will love.
In this article, we'll learn about the origins of how French toast came to be such a popular breakfast food, as well as explore some common toppings that you can add to make your French toast unique and even more tasty. In addition, we'll share a few fantastic low carb French toast recipes that will definitely put a smile on the faces of the whole family. Let's get started!
Origins of French Toast
For starters, the dish we know as French toast ironically does not trace its origins back to France. It was actually ancient Rome where the first instances of a recipe similar to French toast occurs in records. While many variations emerged throughout Europe, it was actually in England in the 17th century when the term 'French toast' was actually coined. Within France, the recipe is actually called 'pain perdu', which translates directly as 'lost bread' and is a nod to the fact that traditionally the dish would be made with old or stale bread as opposed to a fresh loaf.
The Basics of French Toast
While there are many regional variations of the recipe, French toast follows a fairly standard set of directions and ingredients. Slices of bread are dipped and coated in a mixture of eggs and milk or cream, and then pan fried to a golden brown. Usually, simple combination of spices such as cinnamon or nutmeg are added to the egg mixture to further enhance the flavour. The slices of French toast are often served with a variety of toppings to suit the taste preferences of the location in which it is prepared. For low carb dieters, substituting traditional bread for low carb varieties will produce French toast with a much lower carb count and make it more suitable for your meal plan.
Popular French Toast Toppings
While the basic recipe for French toast is fairly simple, things get much more varied when we start to explore the world of toppings that can be used to add some more flair to your breakfast. These toppings are often influenced by regional tastes and local availability of foods, while some simply are the result of some creative inspiration.
Syrups
Of all the toppings commonly used to accompany French toast, table syrup or maple syrup are the most common. The sweetness of the syrups complements the taste of the egg and spices, creating a rich and flavourful breakfast meal. Low carb dieters should opt for a low-sugar or sugar free syrup to help keep the carb counts under control. Check out our selection of low-sugar and sugar free syrups here.
Fruit
Fruit and berries are very popular options for topping French toast, and the cool, fresh sweetness they bring are a subtle but pleasant way to accentuate the flavours of the warm, savoury toast. Stick to fruits that are lower in natural occurring sugars to help keep carb counts low. For more information on which fruits are best, check out our guide to low carb fruits here.
Whipped Cream
If you want a little bit more decadence added to your French toast, whipped cream will do the job. Just be sure to get a whipping cream made to fit a low sugar diet so that you don't accidentally crank up the amount of sugar.
Chocolate
Chocolate is another delicious way to top off your French toast and make it a bit fancier. You could simply use a sugar-free chocolate syrup like this one from Walden Farms, or get even fancier by grating or shaving off some sugar-free dark chocolate like this dark chocolate bar from Torino and sprinkling it on the top of your French toast. Yum!
Powdered Sugar
Another very popular way to finish French toast is with a sprinkling of powdered sugar. Now, don't go using regular old powdered sugar. You'll be happy to learn that we've found a fantastic recipe for do-it-yourself sugar-free powdered sugar that you can use, and it tastes great! Check out this recipe for Sugar-Free Powdered Sugar from Katie at ChocolateCoveredKatie.com.
Now, without further ado, let's get to three fantastic recipes for low carb French toast that will have you scrambling to update your weekend meal plan. Here we go!
Low Carb French Toast with Cinnamon
Starting with a low carb twist on a classic version of French toast, this delicious recipe from Lisa at LowCarbYum.com has everything you need at an extremely low total carb count. It's simple to follow and can easily be made in batches and frozen for a fast and delicious breakfast on those mornings where time is short but your hunger is real.
This fun recipe from Megha and Matt at KetoConnect.net is great for making little French toast sticks that you can dip in to your favourite syrups, jams, or even peanut butter. The kids will just love this! In addition, this recipe has the added benefit of using a keto-friendly bread which helps keep the carbs even lower.
Low Carb Overnight French Toast
We're ending this list of recipes with something really special. As if French toast wasn't already yummy enough, this amazing Low Carb French Toast Bake from Carolyn at AllDayIDreamAboutFood.com definitely takes things to the next level. Featuring a low carb count, low sugar count, and the extra convenience of being able to be prepared the night before, this is one recipe that you'll be keeping permanently bookmarked.
Conclusion
Well, if that's not enough to make your cravings start, we're not sure what else to say! French toast is one of those delectable breakfast foods that low carb dieters no longer need to avoid. These recipes, products, and tips will help you put delicious French toast back on your meal plans, much to the delight of the whole family. Why not plan a fancy French toast breakfast one day this weekend, and have some fun experimenting with these new recipes? We certainly hope you enjoy these ideas for tasty and healthy low carb French toast.