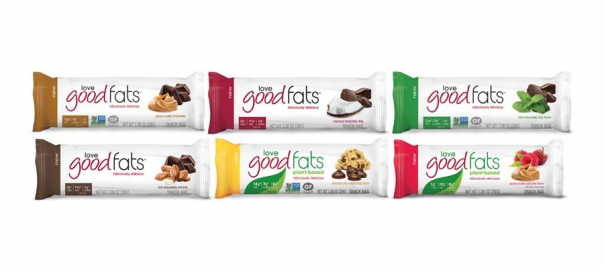 Introduction to Love Good Fats Snack Bars
Welcome to the Delicious World of Love Good Fats Snack Bars
If you've reached a point where you think that all snack bars are starting to look the same and taste the same, we've got some great news for you! In case you haven't already heard of them, there is a new line of snack bars from Love Good Fats that are amazingly delicious and a perfect fit for the low carb lifestyle.
Here, we're going to take a closer look at these bars and the forward-thinking company that makes them. Let's start by learning more about Love Good Fats and how their unique approach sets them apart from all the other snack bar products on the market today.
The Story Behind Love Good Fats
You may think that it's common knowledge that fats are considered 'bad' for your health, but like many things related to our diet, it's actually not that simple. There are many different types of fats, and some of them are quite beneficial as part of our diets in many ways.
It's this confusion about the true health impact of different types of fats that led Susan Yorke to create a company dedicated to dispelling the myths and producing delicious snacks that deliver all the health benefits that good fats have to offer. Suzie herself is a firm believer in the benefits of good fats, and practices what she preaches in her own diet and lifestyle.
What Makes Love Good Fats Bars Different
While nutritionists and doctors are in general agreement that trans fats are unhealthy and should be avoided, there are other types of good fats that are present in a wide variety of foods. These healthy fats are known as saturated fats and are the types of naturally occurring fats that exist in foods such as avocados, nuts, fish, and many others.
Research has shown that a diet that includes healthy fats in it has many positive effects, including benefits to energy levels and metabolism. Healthy fats have also been shown to help improve brain function and mood balance, as well as influence the overall health of your skin, eyes, and general feelings of well-being.
It's these healthy fats that make Love Good Fats snack bars different. By using saturated fats as one of their key ingredients, Love Good Fats snack bars have a wonderful taste and texture that you just can't get in other types of low carb bars. They're low in sugar, high in fibre and protein, and the perfect sweet snack treat.
Explore the Flavours of Love Good Fats Snack Bars
When it comes to flavours, these snack bars have a great variety of chocolatey combinations that are sure to please anyone with a craving for something rich and sweet. Let's take a look at some of the most delicious and popular flavours from Love Good Fats.
In the words of the team, this is their 'dream bar', and let us confirm that it definitely delivers on that statement. The taste and texture are simply decadent, and you'd never in a million years believe that they contain only 2g of sugar unless we told you so. If you don't believe us, try one and your taste buds will convince you.
Just like the coconut bar, these mint chocolate chip treats are just as rich, creamy and decadent, but with an added burst of fresh mint flavour that works amazingly well with chocolate. These bars simply melt in your mouth, and you'll find your craving for something sweet will be satisfied like never before.
If you're a fan of peanut butter cups, these bars are your dream come true. The creamy taste of peanut butter merges with the rich smooth chocolate coating and takes your taste buds on a heavenly journey. These are so good, you'll want to keep them your private little snack secret or else the box just won't last!
Creamy chocolate and crunchy almonds are a great combo that always delivers a great snack experience, and these bars take that experience to the next level. These are a top-selling snack bar for obvious reasons. Give some a try today!
Thanks, Suzie!
All this talk about these amazing snack bars have us craving another one, so we're going to wrap things up and simply say, "Thanks for the incredibly delicious snack bars, Suzie!"
To get your hands on some of your own, browse our selection of Love Good Fats products here at The Low Carb Grocery and discover the amazing taste and great health benefits that come from good fats.