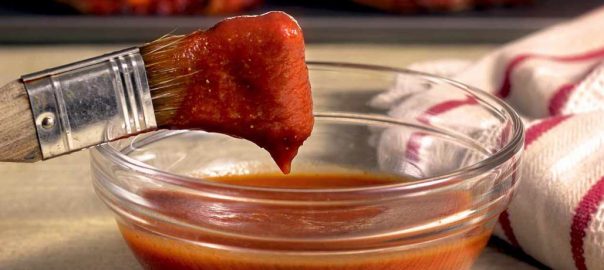 Great Sugar-Free Taste of Guy's BBQ Sauce
Guy's BBQ Sauce Delivers Authentic Taste, Big Flavour, and No Sugar
In the world of barbecue sauces, it seems like every brand makes statements that they're the best, most authentic, and world-renowned sauce that money can buy, but very few actually offer a taste experience that delivers on those claims. Most seem to be loaded with extra unnecessary sugars or are pretty weak in the flavour department. However, the days of settling for mediocre sauces are over because Guy's BBQ Sauce is everything that low carb dieters could want.
In this article, we're going to showcase some of the amazing flavours of sauce from Guy's, as well as provide a quick history lesson on the journey that took them from a secret family recipe to an award-winning sauce loved by BBQ enthusiasts around the world.
The Story of Guy's Award-Winning BBQ Sauce
It all started in a small town in Ohio, where summertime barbecues and great homestyle cooking inspired Guy to add his own twist to a secret family sauce recipe. The result was an instant success with family and friends, and quickly gained a reputation in the local area as the best sauce around.
From there, what became known as Guy's Award-Winning BBQ Sauce had a very exclusive audience and supply just couldn't keep up with the growing demand. Manufacturing of Guy's special recipe began to ramp up with new facilities and expanded capacity, and retailers were quick to jump on this amazing new sauce that had the added benefits of being sugar-free and gluten-free.
Flavours of Guy's BBQ Sauce
For anyone who's cutting sugar out of their diet, such as those living the low carb lifestyle, Guy's BBQ Sauce is a welcome addition to their kitchens. All of Guy's sauces are sugar-free, but you'd never know it from the fantastic taste that they bring to your cooking. For healthy, low carb barbecue, Guy's sauce sets the standard.
Original BBQ Sauce – The sauce that started it all. It's got a sweet and tangy flavour that is perfect for ribs and chicken or use it as a pulled pork sauce in your slow cooker. Any way you use it, the flavour is second to none!
Spicy BBQ Sauce – For those grillers who want a little more zip in their sauce, give Guy's Spicy BBQ Sauce a try. It takes all the great taste of the Original sauce and adds just a bit of heat to wake up your taste buds.
Hot BBQ Sauce – If the Spicy sauce isn't quite hot enough for you, then this is the sauce for you. It's got a great kick to it that makes the bold flavour of the Original sauce even bolder.
Smokey Garlic BBQ Sauce – This delicious sauce brings the unmistakable taste of garlic to your barbecue, with just a hint of smokiness to create a wonderful blend of flavours that is perfect for all kinds of grilled meats.
Bacon BBQ Sauce – You can't go wrong by adding bacon to anything, and this barbecue sauce just proves that point. This tasty sauce has just a hint of smoke in it, and definitely delivers an authentic bacon flavour that you'll love.
Time to Get Grilling
Now that you've got a great selection of tasty sugar-free sauces from Guy's to use, it's time to plan your next big backyard barbecue! We've got some great resources you can use to plan a fantastic barbecue that the whole family will love, and your friends will rave about for years to come.
First, start with our Guide to the Perfect Low Carb Backyard Barbecue for all the essential tips and tricks you'll need to put on a great low carb meal that everyone will enjoy.
Next, take a look at our handy collection of Low Carb Summer Barbecue Recipes for even more inspiration that you can use to expand your menu and try some fun new things that are a perfect fit for the low carb diet.
Finally, get your grilling game up to the next level with this awesome list of Great Barbecue Tools and Gadgets that you can use to make sure that everything you cook comes out perfect, each and every time.
It's All About the Sauce
When it comes right down to it, making great barbecue is all about the sauce. Whether it's ribs cooked low and slow or fresh grilled chicken on a bun, you've just got to have that finger-licking sauce to make the experience complete. For low carb dieters, Guy's BBQ Sauce is the answer you've been waiting for.
It's about time you discovered just how good sugar free sauce can be, so check out the full selection of Guy's BBQ Sauce today here at The Low Carb Grocery.