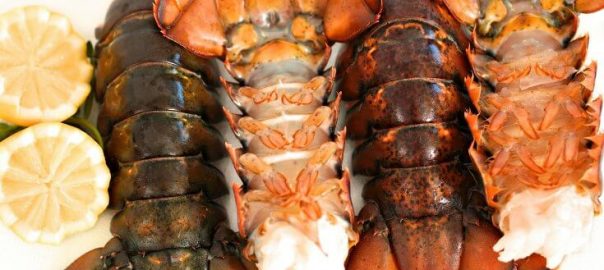 Amazing Low Carb Lobster Recipes
Tasty Low Carb Lobster Recipes You've Got to Try
When it comes to seafood, lobster is definitely revered as one of the finest of all. It has a way of adding a sense of sophistication to many types of cuisine, and for low carb dieters it also fits perfectly as part of any weekly meal plan. In this article, we've gathered together a collection of the finest lobster recipes we could find, all made the low carb way.
Cooking with lobster may make some inexperienced chefs a bit nervous, but there's no need to be apprehensive about trying these lobster recipes. Preparing lobster the right way is actually quite simple, and once you give it a shot we're sure you'll be eager to try it again and again.
Before we get to the recipes, we need to go through some helpful tips to buying a nice, fresh lobster, since it all starts with the type, and freshness of the Lobster.
How to Buy Fresh Lobster
When choosing a live lobster, there are a few key things that you're going to want to watch out for to make sure you get a good one. Here are the essentials that you'll need to check when choosing your fresh, live lobster.
Get a Feisty One – Lobsters that are active and move around are going to be fresher than those that are sluggish and slow. In general, the feistier they are, the better they will be.
Shell Hardness – As lobsters grow and mature, their shells harden. A simple squeeze on the sides of the main body will tell you how hard the shell is. If it is firm and solid, the lobster is more mature and will have a higher meat content.
Time of Year – Lobster season generally peaks about twice a year. You'll find the freshest and best tasting lobsters for sale in the late spring and late fall, most of which tend to be caught in Canadian waters.
For a complete guide on how to buy a fresh lobster, we recommend checking out the great Lobster Buying Guide resources at LobsterAnywhere.com. They've put together a wealth of detailed information for lobster shoppers that is sure to be very helpful.
Now that you're prepared to buy your lobster, let's get right to the recipes! We're going to start this list off with a recipe for making classic broiled lobster tails, which are probably one of the most recognizable dishes in the entire world of seafood cuisine.
Easy 10-Minute Lemon Garlic Butter Broiled Lobster Tails
This is perhaps the dish that you picture when you think of a lobster dinner. Two big lobster tails, with their bright red shells bursting with tender meat, it's just about as good as it gets for seafood. This particular recipe ups the ante with a delicious lemon garlic butter for dipping that is just like the stuff you'll find at the finest restaurants.
If you're familiar with the types of seafood dishes that are popular on the east coast of North America, then you likely know about the classic lobster roll. It's a delectable creation that takes fresh lobster salad and piles it on a soft roll to create one of the best sandwiches you'll ever taste. In this recipe, you'll find a great low carb version of classic lobster salad that will go perfectly with your favourite low carb buns.
A signature dish at many seafood and steak restaurants is lobster bisque. This hearty, rich soup is made to fit the low carb, keto, and paleo diets making it a perfect option for a wide range of meal plans. It can be ready in just 30 minutes and has an authentic taste that even the most discerning of seafood lovers will simply love.
This list wouldn't be complete without a beautiful low carb pasta dish, so we've found this recipe for low carb lobster alfredo that is super yummy and very low in carbs. It's a rich and flavourful pasta dish that's perfect for fancy or romantic dinners, and low carb and keto friendly.
Rounding out the list of amazing lobster recipes is this tasty twist on classic lobster salad. This recipe takes things to the next level by adding bacon in to the mix, and serves the whole thing nestled in fresh, crisp lettuce leaves. This recipe is low carb, keto, and paleo friendly, and also free of dairy, nuts and gluten, so it'll fit in almost anyone's low carb or keto diet.
Come Out of Your Shell with Lobster
While cooking with lobster isn't something that you'd normally find in your average Canadian kitchen, there's no reason for it to be reserved only for special occasions.
We're pretty sure that once you start making recipes like these as part of your low carb meal plan, it'll start becoming a much more common part of your lifestyle. Experiment with these recipes, try new things, and get creative.
Come out of your shell and have some fun with lobster this summer!