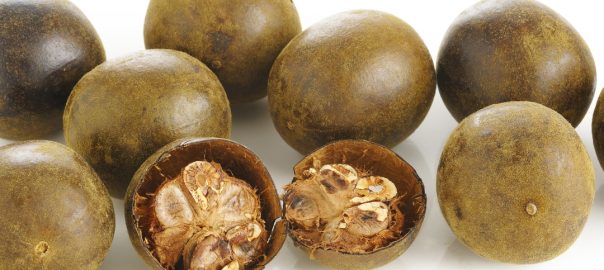 Monk Fruit Is A Popular Sweetener
Monk Fruit Sweeteners – What Are They & What Makes Them Different?
Sweeteners are defined as a substitute for refined sugar that can be added to food and drink to sweeten the flavour. People looking to lower their sugar intake can try an array of artificial sweeteners like Sweet 'N Low, Equal, NutraSweet or natural ones like honey, coconut sugar, Stevia or monk fruit.
Monk fruit is the latest craze among fans of natural sweeteners but what exactly is it and can it actually make someone not miss sugar in their morning coffee or in their soda? Ultimately, if you're on a mission for a healthy sugar substitute then you should leave no stone unturned. This means giving monk fruit a try. We'd be surprised if it doesn't end up becoming your go-to sweetener especially if you're on a low carb diet.
Let's take a deep dive into everything monk fruit to give you a better idea of what it is and why it has skyrocketed in popularity over the last few years. This article will also explore some of the better ways to use monk fruit sweetener and how to incorporate it into a low carb diet.
Are Sweeteners a Healthy Alternative?
Sweeteners have proven to be a worthy alternative to sugar. They are believed to carry little to none of the risks associated with a sugar-laden diet. At the very least, by switching to an alternative you can see several health benefits including decreased blood pressure and less chance of heart disease.
Remember, moderation is key. Just because you use a sweetener like monk fruit doesn't mean you should go overboard and sprinkle it over everything you eat and drink.
What is Monk Fruit?
Sure, it has a funny name that feels as if it belongs in an Abbey but monk fruit is like any small melon. It's a round green fruit that turns brown during the drying process. Originally cultivated and popularized in China and Thailand, it quickly became a staple in herbal remedies commonly used in traditional Eastern medicine. Prior to landing in North America, it was heavily relied upon as a sweetener.
Sometimes called luo han guo, this fruit's sweetness is derived from mogrosides. Via solvent extraction, a powder made up 80% mogrosides can be procured and is processed by the body in a different manner than sucrose and fructose.
Monk fruit extract offers distinct value because it is unbelievably sweet, doesn't increase blood sugar level and contains no calories when pulverized into a powder. To date, it is recognized as being completely safe with no known negative side effects, and is even recommended for people with diabetes.
This fruit is substantially sweeter than sugar, contains antioxidants and promotes better health for one's immune system, digestive tract, glands and respiratory system. There are some schools of thought that monk fruit can also act as an anti-inflammatory, but this is currently unconfirmed by the medical community.
What monk fruit doesn't do is just as telling. It doesn't rot your teeth nor does it lead to kidney stones or raise your risk of heart disease, liver issues or weight gain. Additionally, monk fruit has zero carbs compared to the roughly 13 grams found in a single tablespoon of sugar.
Monk Fruit Sweetener Products
If you're curious to try monk fruit sweetener, here are a few products worth checking out. You can mostly use these the same way as you would a packet of sugar.
Monk fruit also comes in some unique products that you can use to make desserts, treats or to sweeten pancakes and waffles.
Monk fruit is versatile and delicious. We recommend trying a few different types and including it in some amazing low carb recipes. 
Low Carb Recipes Featuring Monk Fruit
What better way to test monk fruit's ability to replace sugar then by trying some recipes where sugar would traditionally be included in some capacity.
Bacon-Wrapped Maple Parmesan Asparagus
This sweetly delicious and hearty recipe can be used as either an appetizer or a side.
Get the following ingredients ready: ½ cup of maple flavoured syrup made with monkfruit, ½ cup of unsalted butter, ½ tsp. of salt, ¼ tsp. of black pepper, 1 lbs. of asparagus (washed with the ends removed), 8 slices of bacon and 20g of grated parmesan.
This is an easy recipe to make. All you must do is preheat the oven to 425 degrees Fahrenheit. While that is happening, add the maple syrup, butter, salt and pepper to a pot over medium-low heat and bring it to simmer, whisking every so often so that it doesn't clump. Take off the heat and place somewhere safe.
Wrap a slice of bacon around the stalks of a group of asparagus and keep it in place with a toothpick. Place the bundle in a casserole dish. Pour the cooled syrup mixture over them and sprinkle with parmesan cheese. Bake for 40 minutes.
You can crisp the bacon by setting the oven to broil for the last couple of minutes. Don't forget to remove the toothpicks and add some more parmesan before serving.
Keto Coffee Cake
Treat your guests to this crumbly coffee cake that's low carb and nut-free. They'll love the sweetness provided by monk fruit and the moist consistency. Oh, and make sure to offer monk fruit sweetener for their coffee or tea.
The cake ingredients you will need are 9 eggs, 2/3 cups of softened coconut oil (not melted), 1 ¼ of cup monk fruit sweetener, 2/3 cup of coconut flour, 2 tsp. of pure vanilla extract, 2 tsp. of cream of tartar, 1 tsp. of baking soda, ¾ tsp. of xanthan gum, ½ tsp. of cinnamon and ½ tsp. of salt.
For the crumble, you'll need 1 cup plus 3 tbsp. of shredded coconut, 5 tbsp. of melted coconut oil, ¼ cup of monk fruit sweetener, 3 tbsp. of coconut flour and 1 ¼ tsp. of cinnamon.
The directions are simple. Preheat the oven to 350 degrees Fahrenheit and grease a 9×9 pan with coconut oil. Add eggs to a bowl with coconut oil and vanilla extract and mix for 2 minutes, making sure the eggs are thoroughly incorporated.
Whisk the dry ingredients together in a separate bowl. Add the dry ingredients to the wet ones and mix with an electric mixer on low until a dough has formed. Place the dough in the greased pan and bake for 35 minutes.
Now, mix all the crumble ingredients together with a spoon. Remove the pan from the oven and once it has cooled, add the topping and you're done! 
Try Monk Fruit Sweetener Today!
Monk fruit is a great addition to any nutritious diet especially low carb ones. It allows food and drinks to maintain their sweetness without harming your health in the same way that sugar products often do.
Browse our aisles to find a variety of monk fruit sweeteners and products to discover just how amazing it is. It's the perfect remedy for people with an insatiable sweet tooth.