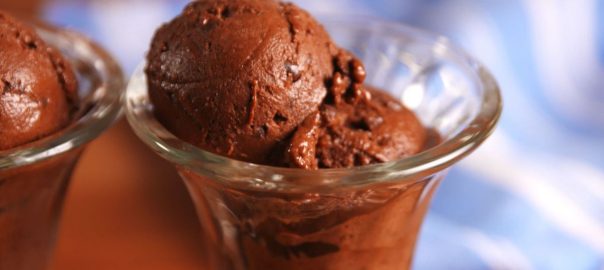 Homemade Low Carb Ice Creams
Low Carb Ice Cream Desserts for Summer
There's nothing better than digging into a cold and sweet ice cream on a hot summer day. Even better is to make your own cool concoction in an ice cream maker or by freezing the ingredients and then blending them in a food processor or Vitamix. It's incredibly satisfying to churn your own ice cream and it can be just as delicious as many store-bought brands.
Low carb fans should also get the opportunity to enjoy a scoop or two or three of ice cream to melt away the heat. Unfortunately, many of these products contain a high number of carbs or a lot of sugar. By using a low carb recipe, you can eliminate the carbs and reduce (or remove altogether) the sugar quantity while still creating a sweet and addictive ice cream, or even a sundae.
Summer only lasts so long so let's get started! First, we'll look at the different components needed to make ice cream. Then, we'll explore some great and easy recipes featuring some popular flavours. Lastly, we'll offer a sundae recipe that will satisfy the most demanding sweet tooth.
Churning Ice Cream
There are a few ways to make homemade ice cream. If you have an ice cream maker, then simply whip up a low carb base and let the machine do the rest of the work. They are relatively inexpensive, starting at around $60.00.
You can play around with the base but try: coconut milk (to replace milk and/or heavy cream), xylitol or a sweetener that you like, salt and vanilla extract. This base is a blank canvass for your favourite flavours like caramel, fudge, nuts, lemon, mint or whatever excites your taste buds.
If you don't have a machine, there are several low-tech ways to make ice cream. A couple methods, include:
Take a coffee can filled with the base and place it inside a larger can with ice and rock salt. Close both cans and shake for 25 minutes. It's an amazing workout for your arms, if that's your thing.
Buy an ice cream ball. This ball has a metal tube that is meant to be filled with the ice cream base and is surrounded by ice and rock salt. Just shake or agitate for 20 minutes. This can be a fun activity for kids.
There's the hand mixer method. Fill a bowl with the ice cream base, freeze it and mix on medium speed for about two hours. The result is an ice cream on the chunkier side.
If you don't want to mix for two hours—and we don't blame you—then you can use a food processor. Pour your ice cream base into ice cube trays and freeze. Then, place the ice cubes in a food processor and pulse for several seconds. You will get a very rustic ice cream but, if you do your job, the flavour will be on point.
People have always found inventive ways to make ice cream. So, if you want to turn it into an activity or there's too long of a line at the local ice cream parlour, you have options.
Made in locally in Lakefield, Ontario. These naturally sweetened mixes are perfect for a wide range of diets including the Trim Healthy Mama diet. While many recipes may call for a wide assortment of gadgets and ingredients, this mix calls for just heavy cream and cold water.
In a large bowl combine 2 cups of heavy cream and 1/2 cup of cold water. Slowly mix in the entire contents of either the chocolate or vanilla mix. Once fully incorporated beat with hand or stand mixer for about 3 1/2 minutes until peaks form. It's important not to over beat this mixture to ensure a creamy consistency.  Transfer into a freezer safe container and freeze until firm.
If you're looking for some great optional mix ins why not try:
Almonds, peanuts, sugar-free chocolate chips, coconut shavings or even some freeze-dried berries.

Ice Cream Recipes
Essentially, low carb ice cream is made the same way as traditional ice cream. It's only the ingredients for the base that differ. Of course, don't undermine the nutritious properties of your low carb ice cream by adding unhealthy ingredients or toppings that are high in carbs.
Keto Ice Cream
This recipe is popular because it tastes like authentic ice cream and only requires four ingredients.
Gather 2 cups of canned coconut milk, 1/3 cup of xylitol or your favourite sweetener, 1/8 tsp. of salt and 1 ½ tsp. of vanilla extract. Any additional ingredients should only be for low carb toppings.
To make, combine the milk, sweetener, salt and vanilla extract. This is your base and if you have an ice cream machine, you can churn based on the machine's specifications. If you don't have access to a machine than you can use the ice cube tray method or rely on a hand blender or food processor.
Remember since there are no preservatives or stabilizers, this ice cream will not last as long as store-bought brands. It's recommended that you enjoy it on the same day you make it.
Low Carb Raspberry and Mascarpone Ice Cream
This is an amazing recipe that even ice cream purists will want to devour. The ingredients you need are 1 egg, 4 egg yolks, ¼ cup of low carb sweetener, ½ cup of mascarpone, 1 tsp. of vanilla extract, 1 ½ cups of heavy cream and 3 oz. of chopped fresh raspberries.
Add the egg, egg yolks and sweetener to a bowl and place it over simmering water. Whisk often over low-medium heat. When the mixture has thickened considerably, remove and place over ice.
Next, get out your stand mixer and whisk the mascarpone, vanilla extract and heavy cream. When you can make soft peaks, gently fold in the egg mixture. Now it's time to add the chopped raspberries and then you are ready to add to your ice cream maker. Once churned, pour into a large dish and freeze for four hours.
Death by Chocolate
Here is a wonderful recipe for diehard chocolate fans.
Retrieve the following ingredients: 2 cups of heavy cream, 1 ½ cups of unsweetened almond milk (divided), ½ cup of cocoa powder, ½ cup of Swerve sweetener, 4 large egg yolks, 3 oz. of chopped unsweetened chocolate, ½ tsp. of vanilla extract, ¼ of liquid stevia extract and ¼ tsp. of xanthan gum.
Place a bowl in an ice bath and set aside. In a saucepan over medium heat, mix the cream, 1 cup of almond milk, cocoa powder and sweetener. Whisk until it's combined and reaches 170F.
Next, whisk egg yolks in a bowl. Add 1 cup of the hot cream mixture, making sure to whisk to temper the yolks. Add the tempered yolks back into the saucepan. Cook until it reaches 175F. It should be thick enough to coat the back of a spoon. Remove from the heat and add the chopped chocolate. Let it rest for five minutes so the chocolate can melt, and then whisk until smooth.
Transfer the mixture into the bowl that's been enjoying an ice bath and let it sit for 10 minutes. Tightly wrap in plastic and refrigerate for three hours. Next, whisk in remaining almond milk, vanilla extract and stevia extract. Add in the xanthan gum and stir or whisk to combine. Pour mixture into ice cream maker and churn until it is the desired consistency.
Amazing Low Carb Sundaes
Here is a delightful sundae recipe to make with any of your homemade low carb ice cream. We recommend using the Death by Chocolate.
Combine four scoops of ice cream, 2 tbsp. of low carb homemade Nutella, 2 strawberries, whipped cream and sprinkles.
The next steps are to dive in, make a mess and not to worry if it gets all over your mouth.
Shop for Ingredients!
Making homemade ice cream is super fun and relatively simple. Enjoy these recipes that align with your low carb lifestyle and promise to keep you refreshed all summer long.
Browse our inventory to discover some low carb ice cream products.