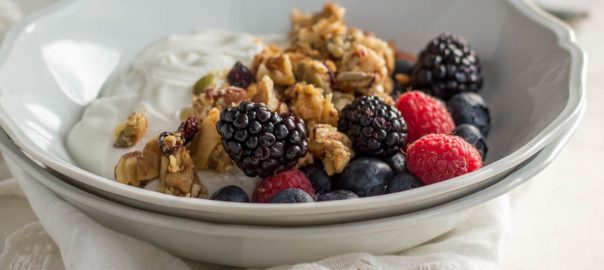 Healthy Morning Meals
Fuel Up with Delicious & Nutritious Low Carb Breakfast Foods
Of all the meals we eat throughout the day, breakfast is the one where it seems to be most common to fall into a repetitive rut of eating the same things all the time. Busy lifestyles and packed schedules don't leave a lot of time in the morning, so it's easy to see why this happens. Fortunately, there's all kinds of healthy and delicious breakfast products you can use to shake up your stale breakfast routine with a little more fun and flavour.
When you're short on time and just need to get out the door in the morning, breakfast can be a real challenge. You certainly want to keep things simple and easy, but that doesn't mean giving up on proper nutrition in the most important meal of the day. Filling your pantry with a nice variety of tasty low carb breakfast food options will help avoid the frustration that comes with a stale and boring breakfast routine, keep your low carb lifestyle on track, and give your body the long-lasting energy and essential nutrition you need to get ready to take on the day.
Having choices can make a big difference in how you feel about breakfast, so we've compiled our list of low carb breakfast products with that in mind. You'll find simple grab-and-go foods that you can take on the run when you've just got to get moving, as well as protein-packed breakfast classics like cereals, pancakes, and waffles. Plus, we've thrown in a couple of delectable low carb breakfast recipes that you will absolutely love to try out this weekend. Let's kick things off with some breakfast essentials that every low carb kitchen should have on hand for those busy weeks when everyone in the family needs to fuel up fast.
Cold & Ready-To-Eat Low Carb Breakfast Products
There are plenty of types of cereals, meal replacement bars, protein shake mixes, and other breakfast food products that make for a fast and nutritious meal in the morning. Here are some of the most popular choices that you can find right here at The Low Carb Grocery.
KZ Clean Eating Chunky Muesli Breakfast Cereal – Starting your day with a bowl of tasty muesli cereal is a great way to satisfy your hunger, and the variety of flavours of KZ Clean Eating Chunky Muesli will ensure that you've always got a selection of different tastes to experience. A cup of Chunky Muesli has less than 3g of net carbs, but packs in an impressive 17g of protein, 9g of fiber, and plenty of potassium. Add milk to your bowl for a hearty breakfast, or simply munch on this cereal straight from the bag as a healthy and nutritious 'anytime' snack.
La Nouba Ready-to-Eat Belgian Waffles – When you're craving the delicious taste of a Belgian waffle, but just don't have time to break out the waffle iron, La Nouba's ready-to-eat Belgian Crisp Waffles are sure to be the perfect accompaniment to take along with your morning coffee. They're also great as a tasty mid-morning snack when hunger strikes. Delightfully crisp, and with just the right amount of sweetness.
High-Protein Atkins Breakfast Bars – Atkins is perhaps the most recognizable name in the world of low carb foods, and their high-protein breakfast bars are going to show you why. For a fast and easy way to get some essential nutrition in the morning, Atkins breakfast bars are high in protein, potassium, and dietary fiber, and come in mouth-watering flavours like chocolate chip, peanut butter fudge, cranberry almond, snickerdoodle, and honey almond Greek yogurt.
Nuco Coconut Crunch Cereal – Coconuts have plenty of health benefits to offer, and the naturally-sweet taste is absolutely delicious in a breakfast cereal. Nuco Coconut Crunch cereal is made from 100% organic ingredients sourced ethically and sustainably, and is grain-free, gluten-free, Kosher, paleo, vegan, and non-GMO. Choose from tasty Original flavour or delectable Cinnamon, and enjoy the hearty crunch and filling nutrition of Nuco Coconut Crunch.
Chocorite Nutritional Shake Mixes – Supplementing your morning breakfast routine with a nutrition-packed shake is a great way to start the day with even more long-lasting energy. Healthsmart Foods has perfected their ChocoRite protein powder nutritional shake mixes with amazing flavours that you'll love. Plus, because they are sugar-free, high in protein, high in fiber, and an excellent source of essential vitamins and minerals, you can definitely feel good about including a ChocoRite protein shake as part of your healthy breakfast.
Low Carb & Keto Friendly Breakfast Foods Served Hot
There's something inherently comforting about starting your day with a hot breakfast. Whether it's a chilly winter morning, or you just want a change of pace from cold and ready-to-eat breakfast options, these hot breakfast food options will do the job very well.
Dixie Diner Low Carb Pancake and Waffle Mix – There's nothing quite like a hearty breakfast of piping hot pancakes fresh from the griddle, or light and fluffy waffles smothered in sugar-free butter-flavoured syrup from Maple Grove Farms. Of course, traditional batters are a no-go for low carbers, but Dixie Diner saves the day with their low carb pancake/waffle mix. With just 1g net carbs per serving, Dixie Diner low carb pancake/waffle mix is just the thing to make your next big pancake or waffle breakfast a tremendous success.
Sensato Vanilla Almond High-Fiber Hot Cereal – Hot breakfast cereals help warm you up and satisfy big hungers on even the coldest winter mornings. Sensato hot cereals are available in a wide variety of flavours, including vanilla almond, butter pecan, strawberry, and apple cinnamon. Sensato low carb breakfast cereals are excellent sources of protein and dietary fiber, and are ready in just 2 minutes with the addition of hot water or hot milk.
HoldTheCarbs Protein Stevia Pancake Mix – Protein in pancakes? Absolutely! HoldTheCarbs proves that it's easy to have a stack of light, fluffy pancakes on your plate with extra protein hiding in each one. A single serving of HoldTheCarbs protein pancakes comes in at just 1g net carbs. They're also gluten-free, and you can use the same mix to make delicious waffles, too. The whole family will love these kinds of breakfasts!
Amazing Low Carb Breakfast Recipes To Try
When you've got a little more time on your hands, it's time to get a little more creative and put something really special on the breakfast table. We've found two impressive low carb breakfast recipes you've simply got to taste for yourself!
Low Carb Huevos Rancheros with Spicy Chorizo Sausage
Huevos Rancheros is one of those dishes that just draws you in on a deeper level thanks to its big, bold Southwest flavours and fresh, vibrant ingredients. This recipe brings the spicy heat of Mexican Chorizo sausage and blends it with a savoury seasoning, fresh vegetables, and perfectly-prepared eggs. This recipe also includes a link to a great DIY recipe for low carb tortilla shells, but you can simplify things and save time by using the world-famous Mama Lupe's Low Carb Tortillas instead. You can also customize this recipe by swapping out the jalapeno pepper and either ramping up the heat with a fiery habanero, or dialing things down a little with a milder poblano. This is one recipe that you can easily make your own with just a few adjustments.
Keto Eggs Benedict with 90-Second Keto Bread
When you think of an iconic brunch food, there's few that are as widely loved as Eggs Benedict. In this recipe, you'll find more than just a delicious breakfast dish that is sure to knock the socks off of anyone you serve it to. You'll also get a fantastic recipe for keto-friendly hollandaise sauce that's very versatile to use with other recipes that call for it, as well as a recipe for 90-second keto bread that is going to change your life. Seriously! One more tip we can share with you is that you can save some time by using this low carb Mayacamas Hollandaise mix instead of making your own from scratch.
Bring Better Breakfasts To Your Low Carb Kitchen Table
Is it morning yet? Because we can't wait to take some of our own advice here and start tomorrow off with a super-tasty and nutritious low carb breakfast using some of these great breakfast products. For even more top-quality low carb breakfast products, including more cereals, hot breakfast foods, energy bars, and protein shakes, check out our complete Breakfast & Cereal category. There are hundreds of products waiting for you from the most popular brands like Atkins, HoldTheCarbs, Catalina Crunch, KZ Clean Eating, Glutenull, Dixie Diner, Nuco, and more. Next time you open up your pantry looking for a healthy and nutritious low carb breakfast, we bet you'll be smiling with anticipation!