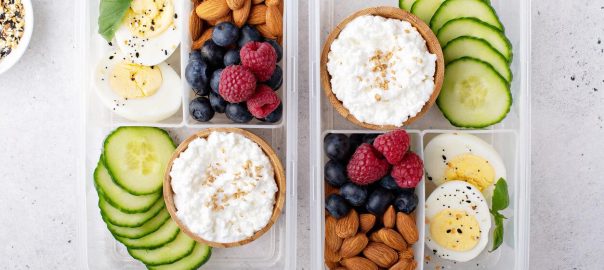 Healthy Low Carb Snacks
Discover The Most Popular Low Carb & Keto-Friendly Snack Foods

When your stomach is grumbling between meals and you need a quick pick-me-up to get through the morning, or you're looking for some tasty munchables to accompany your next family movie night or big game day, this is the list of low carb and keto-friendly snacks you're going to want to have handy. Crunchy or chewy? Salty or sweet? You'll find something for everyone here!
When a craving strikes and you head to the pantry to grab something to snack on, it's great to have options to choose from. Snack foods come in all flavours, textures, shapes, and sizes, and depending on your mood, your preferences may swing from one to another and back again. Fortunately, The Low Carb Grocery has you covered no matter what kind of snack you might be after. In fact, we've got such a wide range of delicious and healthy snacks to choose from, you may even have a hard time deciding on which ones to get.
Don't worry, we're here to help! Here, we've gathered up a spectacular snack selection that is guaranteed to satisfy even your most serious cravings. You'll find salty snacks that have the perfect crunch, sweet treats to delight your taste buds, high-protein energy-boosters to keep you powered up, and many more. For starters, let's dive right into the list with some of the most popular 'cheesy' snack food products that low carb and keto dieters just can't seem to keep their hungry hands off of!
Cheesy Low Carb Snacks
Ivanhoe Nothing But Cheese Snacks – When Ivanhoe says 'nothing but cheese', they mean it! Made with 100% Canadian cheese, Ivanhoe Nothing But Cheese snacks are absolutely delicious, crunchy, cheesy bites that are perfect to enjoy any time, anywhere. Keep a bag in your desk at the office, take them in your backpack on a hike, throw some in your snack bag for your next road trip, or fill up a bowl to crunch on during family game night. Choose from Smoked Gouda, classic Cheddar, or zesty Monterey Jack flavours.
Cello Whisps Cheese Crisps – These savoury little cheese bites aren't just great to munch on as a snack. You can also use them like croutons to make a low carb Caesar salad that will blow your mind with cheesy goodness. Plus, the disc-shape of Cello Whisps make them perfect for scooping up your favourite dips and snack spreads. Available in a wide range of flavours, including Tangy Ranch, Bacon BBQ, Asiago & Pepper Jack, Nacho, and more. Cello Whips are simply delicious low carb & keto friendly snacks that everyone will enjoy!
Moon Cheese Natural Crunchy Cheese Snacks – Talk about a cheesy snack that's out of this world! Moon Cheese is an all-natural crunchy snack bite that's low in carbs, rich in calcium, and high in protein to deliver long-lasting energy and essential nutrition in each delicious handful. Choose from flavours with fun and quirky names like Get Pepper Jacked, Cheddar Believe It, Oh My Gouda, and more. Moon Cheese snacks are irresistible and the perfect alternative for chip lovers. One bite, and you'll be hooked.
Sugar-Free Sweet Treats & Keto-Friendly Baked Snacks
KooChiKoo Sugar-Free Hard Candies – Lively flavours abound in every bag of KooChiKoo sugar-free candies and lollipops. You'd never suspect that these tasty candies are completely free of sugar. With a natural sweetness, they're the perfect balance that you want in a hard candy. KooChiKoo lemon-lime drops are delightfully tart with just the right amount of 'pucker power', their peppermint candies are refreshing and soothing, and you'll love the unique flavour assortment of KooChiKoo lollipops, including blueberry-lemon, pineapple-orange, and more.
Fat Snax Soft-Baked Low Carb Cookies – For the cookie monsters out there, you'll love the incredible soft and chewy taste of Fat Snax low carb cookies. At just 2 net carbs per serving and no sugar added, these are the cookies low carb and keto dieters have been searching for. Fat Snax cookies also have the added benefit of being made from almond flour and coconut flour, making them gluten-free. Choose from classic chocolate chip, double chocolate chip, or delicious peanut butter flavours & enjoy a guilt-free soft cookie snack.
SmartSweets Gummies & Candies – You don't have to be a kid to love the taste of a nice gummy candy, you know. In fact, thanks to SmartSweets, they're some of our favourite sweet treats to snack on without any worry of setting our low carb diets off track. SmartSweets candies are sweetened with Stevia, a natural sweetener that tastes just like real sugar. You can select from all kinds of classic gummy shapes like red fish, peach rings, sour buddies, gummy bears, and melon bites. You'll definitely want to try them all and find out which one is destined to be your favourite SmartSweets low carb candy.
Crunchy & Salty Low Carb Snacks
Quest Protein Tortilla Chips – For many of us, there's no snack on this earth better than a tortilla chip. Quest delivers exactly what chip lovers want, with a great crunch and bold seasoning, and powers them up with plenty of protein in each bag. You'll love the zesty flavours of Chili Lime, Nacho, Ranch, Loaded Taco, and Spicy Sweet Chili. Devour them on their own or dip them in your favourite snack spreads to enjoy even more flavour in every bite. Reach for a bag of Quest protein tortilla chips the next time you're feeling a craving for some salty, crunchy snacks. You won't be disappointed!
KZ Clean Eating Crispbreads – Want to break away from your ordinary snack crackers and discover something better? Look no further than KZ Clean Eating Crispbreads! Load them up with your favourite cheeses, tapenades, chutneys, and compotes and enjoy the deliciously nutritious blend of sesame, flax, chia, and wheat bran. With 10g of fiber and 4g of protein in each serving, these crispbreads are exactly what you need to accompany your next charcuterie board.
Nud Fud Organic Keto Crackers – Each bag of Nud Fud crackers contains not just a delicious snack, but also a philosophy. Nud Fud is all about keeping things clean, simple, and nutritious. Made with all natural organic and non-GMO ingredients right here in Canada, Nud Fud snack crackers are keto-friendly, gluten-free, paleo-friendly, and extraordinarily delicious. Try Carrot Flax, Everything, or Simply Seeded varieties of Nud Fud snack crackers and taste the difference that simple nutrition can make.
High-Protein Snacks
Buff Bison Artisan Meat Sticks – You've never had a meat stick like Buff before. Made from a low-fat, high-protein bison meat blend and seasoned to perfection with all-natural ingredients, Buff bison snack sticks are the ultimate grab-and-go energy boost for low carb and keto dieters. Whether you're all about the classic Original flavour, or want something just a little hotter with Buff's delicious Bold Chipotle variety, these bison sticks are going to satisfy that hunger in no time.
Grenade Carb Killa High-Protein Energy Bars – One look at any shelf of protein bars at a grocery store and you'll see countless brands to choose from, but there's only one Grenade Carb Killa. These low carb protein bars are everything you want in an energy snack. The flavours are crazy-good, they're low in sugar, and they pack in a whopping 20g of protein in each bar. Fuel up before your next workout or replenish your body afterwards with a delicious Grenade Carb Killa protein energy bar.
Nick's Sticks Grass-Fed Beef Snacks – The taste alone of Nick's Sticks grass-fed beef snacks is enough to convince anyone that they've made a smart snack choice, but there's so many more reasons why these meat sticks are so good for the low carb and keto diet. They're free of MSG, hormones, antibiotics, nitrates, gluten, and sugar, made from simple ingredients like all-natural grass-fed beef and a special blend of seasonings for an unbelievably great taste. Take just one bite of Original or Spicy Nick's Sticks and you'll definitely want another, and another.
So Many More Low Carb & Keto Friendly Snacks!
This list is just the tip of the iceberg. Here at The Low Carb Grocery, we've got hundreds more delicious healthy snacks to choose from. Check out our complete array of tasty low carb snack options, including more Cheese Snacks, Crackers & Chips, Fruits, Nuts & Seeds, Meat Snacks, Protein & Energy Bars, and Sweet Treats. No matter what you're craving, we've got it ready to ship fast direct to your door. Snack smarter with these great products, and keep your low carb or keto diet right on track with the best in healthy snack foods from The Low Carb Grocery.