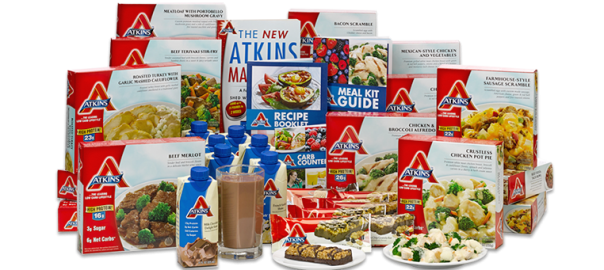 Popular Atkins Products
Atkins Diet: What Makes Their Products So Popular?
Since low carb diets have become mainstream, there have been several that claim to work in one way or another. Separated from the pact is Atkins, which has become synonymous with a healthy low carb lifestyle.
If you are considering a low carb diet or have recently started one, then your first stop should be Atkins. To determine if it's the right path for you, you should learn about their philosophies, what their programs entail, the benefits and any potential drawbacks. The last thing you want is to invest time and money into a diet only to not lose weight or have a negative reaction. You want to make sure the diet you choose is right for you.
To help, we'll review the basics of the Atkins diet and the important aspects you should consider. We'll then review three product lines to give you a sense of their nutritional value and ingredients so the next time you are grocery shopping you'll have an idea of what to buy.
The Atkins Diet
The Atkins Diet started when a cardiologist, Dr. Atkins, began reducing his patient's intake of sugars and carbohydrates to treat their various issues and improve their health. The idea was to focus on carbs, not calories, and it worked as his patients reported that they were finally losing weight. To boot, they felt they were able to keep the weight off with greater ease than other diets.
Remember, not every diet is a match for every person or every metabolism. It's about finding the right fit that can produce the results you want. Before starting any diet, it's best to consult with your doctor to make sure it's good for your health.
The Atkins Diet tries to tailor itself to a person's age, gender, weight, height and health. There are two customized plans:
Atkins20: This is the original low carb diet and is designed to help people who want to lose 40 lbs. or more. You should consider this plan if you are a man with a waist measurement of 40 or higher or a woman with a waist measurement of 35 or higher and are diabetic or pre-diabetic.
Atkins40: This low carb diet is designed for people who want to lose less than 40 lbs. This plan offers a wider variety of food options and is safe for pregnant or breastfeeding women.
These diets have helped a lot of people and can be a good starting point for those on the fence. They offer a wide selection of foods and shakes that are delicious, healthy and can keep even the most ardent foodies satisfied.
Popular Atkins Diet Products
Here are some Atkins products that we have trouble keeping in stock. They can help maintain a low carb diet without forcing you to ignore your appetite or sweet tooth.
Remember that any bar that is 4g of net carbs or less can be used on phase 1 of an Atkins diet plan. It's recommended to not enjoy more than two Atkins products per day so that you can still get a healthy amount of net carbs from vegetables, which is usually 12-15g.
Atkins Endulge Snacks
Endulge Peanut Butter Cups are perfect for fans of Reese's Peanut Butter Cups who want to enjoy a low carb alternative that also contains less sugar. They are a strong match for even the most intense sweet craving.
Per two peanut butter cups, there are 13g of fat, 18g of carbs and 4g of fiber.
Endulge Caramel Nut Chew Bar is a sweet gooey treat that can help people overcome their mid-day carb craving. They are an especially good alternative to cookies or chocolate bars that are high in fat and contain other unhealthy properties. These bars are a delightful mix of nuts and caramel with a chewy center.
Per bar, there are 8g of fat, 16g of carbs, 5g of fiber and only 1g of sugar.
Endulge Chocolaty Covered Almonds
Anyone with a sweet tooth can tell you that chocolate covered almonds are a decadent and enjoyable treat. Endulge makes a delightful version that doesn't force you to give into carbs and lets you have the option of enjoying it every day.
Per pack (28g), there are 11g of fat, 12g of carbs and 1g of sugar.
Atkins Protein Shakes
Ready-To-Drink Strawberry Protein Shake
This shake is jam-packed with a rich strawberry flavour and is ready for you to drink whenever you want. It contains a high amount of calcium and is low in sugar with zero trans fats. You can bring it with you to work, school or the gym. Whatever flavour of shake you choose; you can feel good that they have over 20 vitamins and minerals.
Per can (325ml), there is 9g of fat, 2g of carbs and 15g of protein.
Ready-To-Drink Cafe Caramel Latte Protein Shake
If you like to indulge in a café latte throughout the day then you should check out Ready-To-Drink Café Caramel Latte Protein Shake. It tastes like a cup of high-quality café latte with a strong hint of caramel.
Per carton (325ml), there is 10g of fat, 3g of carbs and 15g of protein.
Mocha is essentially café latte with the addition of chocolate, which makes for a truly heavenly match. This shake gives you the nutrients you need without having to cheat on your low carb diet. Furthermore, you can enjoy the flavours often found at your favourite café.
Per carton (325ml), there is 10g of fat, 5g of carbs and 15g of protein.

Atkins Protein Bars
Chocolate Chip Cookie Dough Protein-Rich Meal Bar
Nothing can wreck a day of healthy eating faster than a cookie in the afternoon or late at night. Luckily, Atkins has an alternative that not only replaces a traditional chocolate chip cookie but even offers several health properties.
Per bar (60g), there is 10g of fat, 32g of carbs and 13g of protein.
Cookies N Creme Protein-Rich Meal Bar
Another convenient way to enjoy a healthy snack is with this Cookies N Creme meal bar. It's so good that it's almost impossible to not feel bad while eating one. Inside this bar you will find a soft cookie centre and a layer of cream that combine to make one tasty treat.
Per bar (50g), there is 11g of fat, 22g of carbs and 14g of protein.
Vanilla Pecan Crisp Protein-Rich Meal Bar
If chocolate or coffee flavours aren't to your liking or you like to mix it up, then try this meal bar. The vanilla flavour is out of this world and pairs nicely with pecans. It also features a crisp texture. This is the perfect meal bar to accompany your afternoon coffee or tea.
Per bar (48g), there is 10g of fat, 17g of carbs and 16g of protein.
Give Atkins Products a Try
If you've been considering Atkins, it might be time to take the leap and reap the rewards of living the low carb lifestyle. Their bars, shakes and other low carb foods can help you stay on course and even have you looking forward to snack time instead of doing everything in your power to not think about it.
Browse our selection of Atkins products where you will find an assortment of types and flavours. Be sure to try a few so you can discover which you like the best.