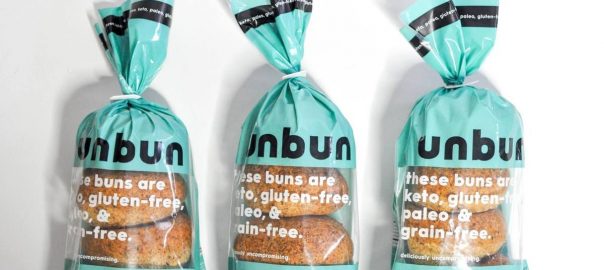 Unbun – Tasty Low Carb Buns & More
Unbun – Low Carb Buns
When committing to a low carb diet, it often feels as if we need to say goodbye to our favourite burger joints, pizza restaurants and some of our most beloved homemade meals. This couldn't be further from the truth, though, because if you find the right products you can continue to enjoy most meals without feeling like you're cheating.
Unbun is a unique low carb bun substitute. It offers people the chance to stick to their diet while still taking advantage of Canada's short barbecue season. This popular product line gives those on some form of a low carb diet the opportunity to eat at restaurants or to whip up that new burger recipe. Most importantly, it lets customers avoid processed white flour and to actually enjoy the restrictions of their diet.
To start, let's explore more about the Unbun brand and what makes them special. Next, we'll look at four of their more popular products and what they are best used for.
About Unbun Foods
This Toronto-based food manufacturer has one simple mission: to give low carb dieters or those on a grain-free or plant-based diets the freedom to enjoy restaurants, fast food chains and homemade meals without sacrificing taste or quality. They consider their products to be delicious food that just happens to be compliant with many popular and proven diets.
Like many great products, Unbun Foods was borne out of need in the marketplace. In 2018, company founder, Gus Klemos had a desire to enjoy burgers and sandwiches without consuming unhealthy processed ingredients or carbs. Additionally, he felt like most gluten-free options were too reliant on sugar, preservatives and chemical binders.
He wanted to create an alternative to unhealthy bun substitutes and wasn't a big fan of the lettuce wrap method. Thus, Unbun Foods was brought to market and has since grown to be available in over 1,500 locations including Loblaws, Metro, Whole Foods and other grocery chains and restaurants.
Unbun Products
Unbun products have the unique ability to fit into just about any low carb diet including keto and paleo. They have become the bun used by many restaurants, including chains, to serve their gluten-free customers.
Here are four products that our customers love. Each can contribute to a variety of delectable burgers, sandwiches, pizzas or other low carb meals that typically feature a bun product.
These products include but are not limited to such ingredients as almond flour, egg white, flax and apple cider vinegar. You should check a product's ingredients list to review the specifics.
Paleo Buns
This bun not only tastes like a standard hamburger bun; it also freezes and thaws well.  It's gluten and grain-free and keto and paleo-friendly. Per 85g, there is 15g of fat, 17.4g of total carbs including 12.2g of fibre and 10g of protein.
We recommend using these buns for your next burger night or to make delicious sandwiches like BLTs or egg salad. They're soft, toast nicely and can be stored in a freezer for up to three months.
Keto Mini-Baguette
Enjoy these mini-baguettes the next time you are craving a meatball or cold cut sub. Per ½ bun, there are 180 calories, 11g of fat, 13g of total carbs including 10g of fibre and 8g of protein.
They feature a traditional baguette texture and a flavour that will convince you that you're cheating on your diet when, in fact, you are not. They crisp up nicely if you want to make garlic bread or prefer a sandwich on a toasted bun.
Plant-Based Keto Buns
If you adhere to a plant-based diet, then you should definitely check out these keto buns. Similar in flavour to other Unbun products but without the egg and with the addition of pumpkin seed protein powder. The best part about these buns are that they're just dense enough to hold wet toppings like tomatoes, pickles, ketchup and dijon mustard without falling apart.
For every bun, there is 260 calories, 18g of fat, 14g of total carbs including 11g of fibre and 11g of protein. You can keep at room temperature for three days or freeze for roughly three months.
Plant-Based Keto Pizza Crust
Pizza has been unfairly labelled off-limits for low carb dieters for some time. If you have the right crust—like this one from Unbun—then you can still include pizza in your weekly meal plan. This ready-made product combines almond and coconut flours with pumpkin seed protein powder and psyllium husk to form an amazing crust.
Recipes Featuring Unbun
These low carb recipes offer bun options but we recommend swapping out their suggestion for an Unbun product.
Crispy Chicken Burger
Fans of chicken burgers will love this recipe. You can add your favourite low carb toppings and it's also a great option for young picky eaters.
The ingredients list includes three boneless skinless chicken breasts, 100g of pork rinds, ½ cup of parmesan, 1 tbsp. of chili powder, 1 ½ tsp. of garlic powder, 1 tsp. of onion powder, ½ tsp. of sea salt, ½ tsp. of ground black pepper, one egg, ¼ cup of water and Unbun Paleo Buns.
Heat the oven to 400F and line a baking sheet with parchment paper. Use a rolling pin to grind the pork rinds into crumbs, trying to make them as fine as possible. In a bowl, mix together the pork rinds, parmesan, chili powder, onion powder and salt and pepper.
Next, beat the eggs with ¼ cup of water and set aside. Slice the chicken breasts horizontally in half to make six cutlets. Using only one hand, dip each cutlet into the egg mixture and cover with the pork rinds. Once each cutlet is coated, place it on the prepared baking sheet.
Bake the chicken for 30 minutes. Once it reaches an internal temperature of 180F, place it on the bun and add your favourite low carb toppings and sauces.
Meatball Sub
With the help of the Unbun Mini-Baguette, this low carb meatball recipe can make the most delicious and sloppy meatball sub.
Gather ¼ cup of grated parmesan, ¼ cup of almond flour, 1 tbsp. of Italian seasoning, ¾ tsp. of sea salt, ½ tsp. of black pepper, ¼ cup of unsweetened coconut milk (or substitute with almond milk), 3 tbsp. of onion grated, one large egg, three garlic cloves minced, 2 tbsp. of fresh parsley, 1 lb. of ground beef and ¾ cup of marinara sauce (you can use this one or this recipe to make a batch from scratch).
Heat the oven to 425F and line a baking sheet with parchment paper. In a large bowl, combine the parmesan, almond flour, Italian seasoning, sea salt and black pepper. The next step is to whisk in the milk, onion, egg, garlic and fresh parsley and let it sit for a few minutes.
Using your hands, mix in the ground beef until everything is combined but be careful not to overmix. Roll the mixture into 1" balls, not packed too tightly, and place on the baking sheet. Bake for 10-12 minutes. Spoon some marinara sauce over the meatballs and bake for another 3-5 minutes.
Stuff as many meatballs as you want or can into the mini-baguette and top with a good heaping of marinara sauce that you've warmed on the stove top. Make sure you wear a bib or have a pile of napkins on hand because it's going to get messy.
Get Cooking Today!
Make sure to get your Unbun products today so you can enjoy delicious homemade burgers, pizzas and sandwiches right away. While you're shopping don't forget to pick up other ingredients to make your meals more memorable.