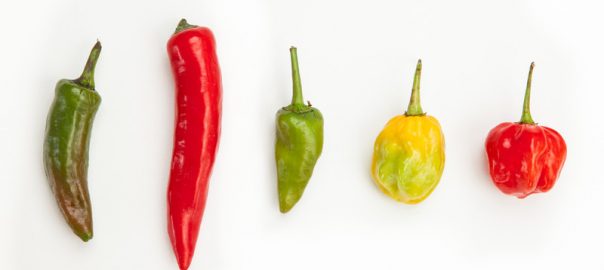 Low Carb Meals for Spicy Food Lovers
5 Fiery Hot Low Carb Meals for Spicy Food Lovers
It's time to heat things up with some fantastic recipes that are perfect for low carb dieters who are big fans of spicy foods. Hot and spicy foods are very popular with low carb dieters since virtually all of the ingredients used to produce those types of flavours are inherently low in carbs, making them a great fit for all types of healthy meal plans.
While some people simply love hot foods, and crave things that set their tongues ablaze, others aren't big fans of things that they feel are too hot to handle. For this reason, many people avoid recipes that mention spiciness or heat because they've had negative experiences in the past with hot foods. While this is certainly a good reason to be wary, the reality is that virtually any recipe for hot and spicy foods can easily be adjusted to either dial the heat up or down depending on your individual preference.
If you enjoy the flavour of a dish, but don't necessarily enjoy how hot it is, either because it's too strong or not strong enough, why not try making it with an adjusted amount of spice to better suit your taste? We recommend playing around with different types and amounts of hot spices to find the right balance that works for your tastes. So, even if you're not eager to have something super-hot, don't discount recipes until you've tried them with lower levels of heat.
On the other end of the spectrum, people who love things that really cook up their taste buds can ramp up the level of spice in recipes to deliver the kick they are looking for. They may also try substituting the standard spicy ingredients for ones that pack a bigger punch and really heat things up. Either way, the world of spicy foods is yours to play in, so start breaking some rules and get creative! Now, let's get to these five recipes that we're sure you'll love.
Spicy Crock Pot Chili Pepper Chicken
Crock pots and slow cookers are some of the best tools in the kitchen for making delicious spicy dishes, and this recipe certainly echoes that. Lisa from LowCarbYum.com shares this amazing creation that really delivers a big spicy flavour and is incredibly easy to make. The best part is you can throw everything in the slow cooker the night before, and then fire it up the next day to have a hearty and spicy meal ready to go. Serve with a scoop of sour cream to help cool things down if you need it.
Spicy Buffalo Cauliflower Popcorn
Now here's an unusual snack that spicy food lovers are going to go crazy for! Buffalo sauce is one of those signature tastes that is easily recognizable and works on a wide variety of foods, from chicken wings to burgers, and more. In this case, Amanda over at RawManda.com uses the spicy taste of Buffalo sauce to add some kick to dried cauliflower popcorn and create a snack that definitely won't last long in the bowl. As an alternative, this recipe indicates you can also prepare it by baking in the oven for a softer snack, if that's what you're in the mood for.
Oven Roasted Jerk Chicken Kabobs
The taste of jerk seasonings is one of the most well-known flavours in the world. There's nothing else quite like it, and it's one of the reasons Caribbean food is so good. You can easily grill these if you choose, but this recipe makes it so you can easily make delicious jerk chicken in your oven, and not have to fire up the grill if the weather is less than perfect. This makes it perfect for year-round cooking and brings a taste of summer to your dinner table any time.
For those of us who are in the mood for an Asian-inspired spicy flavour, this side dish from Georgina at StepAwayFromTheCarbs.com is absolutely perfect. Even though it's amazingly simple, the taste of the spicy red curry sauce and the unique characteristics of bok choy make for a fantastic combination that works as a nice side dish for any type of Asian cuisine. It's ready in just a few minutes, and since you can easily prepare the sauce in larger quantities and refrigerate, you'll probably start using it on other vegetables, too.
Now here's an unusual creation that really captured our attention! This recipe, created by Dixie at LowCarbZen.com, is aptly named because it's totally addictive, and to quote her own description, is like an 'egg roll in a bowl'. Well, whatever you call it, it's definitely delicious. This spicy blend of beef, bacon, garlic, onion, curry, coleslaw, and other spices and seasonings is fast and easy to prepare in just a single skillet, making cleanup a breeze. This recipe has everything that low carb dieters dream of, and brings big, bold flavours to your table.
Conclusion
After going through all those recipes, we've got a serious craving for something spicy! We're sure that you'll have a lot of fun trying these ideas out, and perhaps you are even feeling inspired to start experimenting with your own unique spicy creations.
In addition, if you're interested in learning more about spicy foods and the low carb diet, why not give our article on Low Carb Hot Sauces a peek. You'll find all kinds of good information there, as well as a few popular low carb hot sauces to try.
For our complete selection of low carb hot sauces, check out the entire range of products here. We hope that you've found this information helpful!