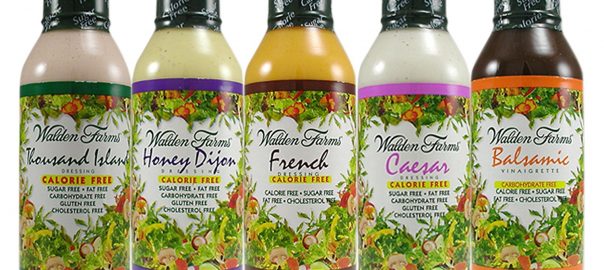 Explore Walden Farms Family of Low Carb Products
Walden Farms Canada – Low Carb Products
Despite the rewards of a low carb diet, there's a school of thought that sacrificing carbs means having to eat unsatisfying meals. Sure, you can enjoy high-caloric foods but you must be careful about what dressing you add to your salad or what fruit spread you choose for your toast. This might not sound like a big deal but shouldn't you be able to love the food you eat while living a healthier life?
Thanks to Walden Farms Canada people have a wide variety of low carb dressings, sauces and spread options that are sweet, savoury and delicious! Walden Farms even lets you enjoy mayo on your sandwiches, syrup on your pancakes or caramel on your sundaes.
Let's review this wonderful family of low carb, no calorie and fat free products. For those who have never heard of Walden Farms, we'll introduce you to this company and their mission. Then, we'll explore the best sauces, dressings and spreads that we regularly carry and that our customers love. Finally, we'll share some recipes that feature a Walden Farm product that you'll definitely want to try!
Who is Walden Farms?
Since 1972, Walden Farms health foods have been one of the most popular brands, due in part to their high standard of quality and innovative recipes that puts health first without sacrificing taste. They were one of the first health food manufacturers to bring salad dressings with no fat or calories to the market. Overall, it's been their mission to help people control their calorie, carbs and fat intake that has made them such a success.
Popular Sauces
Walden Farms has so many amazing products that we could write a novel gushing about each one. Instead, here are our favourites and judging by stock levels, the ones that are most popular with our customers!
Barbecue sauce is a condiment staple and anyone who loves ribs, brisket or pulled pork knows how essential it is, and no making your own homemade BBQ sauce won't solve the carb conundrum. Luckily, Walden Farms has a low carb barbecue sauce made with natural flavours, fresh herbs and spices and triple filtered purified water. Best of all, you can enjoy without feeling any guilt since they're free of calories, sugar, fat, cholesterol and, of course, carbs.
Enjoy with a variety of protein and it's a perfect sauce for slow cooking things like ribs and pork belly. Available in original flavour, thick and spicy, honey barbecue and hickory smoked.
Let's end the eternal debate about ketchup. It doesn't belong on eggs! Besides that, ketchup is an essential condiment beloved by people of all ages. No hot dog or hamburger is complete without it, which is why Walden Farms has a ketchup perfect for your low carb diet.
And remember when we mentioned homemade barbecue sauces? If you want to go the DIY route, be sure to use this ketchup as the base to keep the carbs in check.
Walden Farms offers three kinds of pasta sauces: alfredo, tomato basil and garlic and herb. Each is bursting with flavour and tastes authentically Italian.
The Tomato Basil Pasta Sauce was developed from an old-world recipe and made with ripe tomatoes, minced garlic, chopped onion, sea salt and ground herbs like oregano, parsley, rosemary and fresh basil.
The Classic Alfredo is made with parmesan cheese, romano cheese and sour cream flavours in addition to a melange of fresh herbs and spices. It's creamy and peppery and perfect with fettucine or penne.
Garlic and Herb offers a balance of sharp garlic and sweet chopped onion. Perfect for your favourite shrimp scampi recipe or to add to your chicken stir fry. We also recommend it on lightly baked asparagus.
Here are two wonderful dressings to compliment your favourite salads.
Aged vinegar make this Asian dressing chockful of umami. You can add it to a garden salad or kick up your side vegetables a notch by mixing them with a tablespoon of this Walden Farms favourite.
Also available in convenient single serving packets so you can take it to work with you.
Grab some baby carrots and crisp celery and dunk them into a bowl of this cool, creamy ranch dressing with smoky bacon flavour. It's perfect for people on low carb diets who want to enjoy a healthy midday or late night snack.
Whether for breakfast, brunch or as a snack, these spreads will elevate any piece of toast or fruit.
Apple butter is a wonderful flavour to add to your favourite low carb bread or muffin. It has a touch of sweetness and a bit of tartness just like a ripe apple. A popular way to prepare this product is to heat it for a few seconds in the microwave. You can then pour it into a hot cereal or oatmeal.
This simple spread tastes like apricots and should replace all your sugary preserves. It's smooth and delicious without containing any gluten. It's also kosher.
We recommend heating it for a few seconds and creating a fruit dip or a warm sauce to pour over your omelette.
Forget Nutella with its 37g of fat, 200 calories and high amount of carbs per two tablespoons. This chocolate peanut spread doesn't contain hazelnuts but it has a distinct Reese's Pieces feel to it. It's a savoury spread for toast and is also sweet enough to add to fruit for a nice dessert.
Walden Farms Low Carb Inspired Recipes
Here are some interesting recipes to try that incorporate Walden Farm ingredients.
Slow Cooker Ribs
To make a perfect rack of ribs, we recommend using a slow cooker and Walden Farms' Barbecue Sauce for taste and to reduce the carbs.
Mix the barbecue sauce with Worcestershire sauce, garlic, brown sugar and some cayenne to add a little heat. Remove the silver skin from the back of the ribs with a knife or fork and then brush them with the mixture until they are smothered. Pour the remaining sauce over the ribs once they are in the slow cooker.
For ribs that are so tender they fall off the bone, cook for nine hours on low or four to five hours on high.
All Your Favourite Walden Farms Products!
If your looking to order delectable, low carb Walden Farms items, and prefer to order from a Canadian company, then browse our selection of Walden Farms products today!
Now that you know about Walden Farms be sure to check out all their wonderful sauces, dressings and spreads. Additionally, we hope you'll try one of the recipes offered in this article!