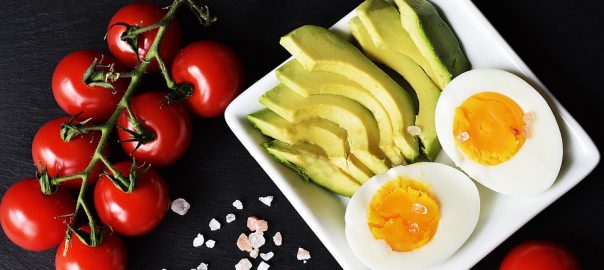 Keto Friendly Low Carb Recipes
New Year, New Recipes – 10 Unbelievable Low Carb, Keto Friendly Recipes
The start of a new year is a great time to cut carbs from your diet and to adopt healthier eating habits. If the goal is to lose weight and achieve that amazing summer body, then don't put it off.
The first step is to replace old recipes with new low carb ones. To make sure this new lifestyle sticks, you need meals that are delicious, protein-rich and don't skimp on the calories. But just grilling a steak to pair with baked asparagus won't do the trick. You need meals that are unique and intriguing, ones that you'll want to make every week.
Let's start by introducing you to ten low carb and keto-friendly recipes that we know you'll love. They are easy to make (we promise) and many use ingredients that we regularly stock.
Low Carb Recipes
Bacon-Wrapped Halloumi
You probably stopped reading after bacon-wrapped but that would be a mistake. Halloumi is salty Greek cheese that is low in fat so it can be nicely fried without melting. To make this meal—which is great for lunch or dinner—simply cut a brick of Halloumi into eight pieces. Wrap a slice of bacon around each piece and place on a baking sheet. Bake for 10-15 minutes.
You can heat some Walden Farms Bacon Dip to drizzle on top.
Flank Steak with Mushroom Salad and Sesame Mayo
Flank steak is an inexpensive cut of beef that when cooked right is tender and flavourful. Fans of flank steak or those curious to try will love this recipe.
To start, mix soy sauce, sambal and vinegar. Slice a red onion and a handful of your favourite mushrooms as thin as possible, and slice a cabbage slightly thicker. Add the vegetables to the dressing and let it marinade.
Place the steak in a Ziploc bag with 2 tbsp of olive oil and mix so that the steak gets covered. Remove it from the bag, sprinkle salt and pepper on both sides, and grill or sauté until it reaches your preferred doneness.
Make a sesame mayo by combining in a small bowl, ¾ cup of mayo, finely chopped chives, 1 tbsp of sesame seeds, 1 tbsp of sesame oil and then salt and pepper to taste.
Grilled Lobster Tail with Tarragon Butter
We know this recipe is too decadent and costly to eat every week but there's no harm in treating yourself when the mood strikes.
To make this you'll need fresh tarragon, two garlic cloves, ½ tsp of tabasco, sea salt, pepper, 1 tsp of olive oil, two lobster tails and 1 oz. of parmesan or pecorino. Don't worry if you've never made lobster before. While you need to be careful with any expensive shellfish, it's not complicated to cook.
Start by making the butter. To do this, combine butter, tarragon, garlic and tabasco and then sprinkle with sea salt to taste.
To prepare the lobster, separate each tail lengthwise and remove the intestines and stomach. Gently spread some tarragon button on the meat and place it on a grill flesh-side down. Grill for 2-3 minutes but remember that the cook time is based on the size of the lobster. Serve with parmesan and the rest of the tarragon butter on the side.
Broccoli Cheddar Soup
In only a few steps, you can have a hearty and cheesy soup to enjoy!
Take 20 oz. of broccoli and remove the florets from the stalk and chop both parts. Heat 1 tbsp of olive oil with 1/3 butter in a large pot. Once the butter is melted, add roughly chopped onion and the broccoli stalks. Cook on medium until they turn golden brown. Add 3 chopped garlic cloves and season with ½ tsp of salt, ¼ tsp of ground pepper, ½ tsp of paprika and a pinch of cayenne. Stir and cook for one minute.
The next step is to add the 2 cups of chicken broth and cover and cook for another five minutes. Place the cooked vegetables in a food processor and pulse. Slowly add the broth, allowing it to emulsify. Eventually, it will reach a creamy consistency.
Heat more butter and the broccoli florets in the same pot. Add the soup into the pot using a colander. This will make it silky smooth. Allow it to come to a boil and simmer. Finally, add 2/3 cup of heavy whipping cream and 3 oz. of cheddar cheese.
Once the cheese is melted, it's ready to be enjoyed.
Taco Tomatoes
This recipe is quick, easy and yummy.
Heat oil in a skillet over medium. Cook onion for 5 minutes until it's soft. Add ground beef and taco seasoning. Cook for 8 minutes and then drain the fat. Next, slice tomatoes into 6 wedges without cutting all the way through and fan the tomatoes to create an opening.
Spoon the meat evenly into the tomatoes and then top with your favourite taco add-ons like sour cream, guacamole and cheese.
Keto Specific Recipes
Here are some recipes designed specifically for those on a keto diet.
Caprese Zoodles
This is a fun recipe for vegetarians looking to eat less carbs. Gather the following: 4 large zucchinis, 2 tbsp of olive oil, kosher salt, ground pepper, 2 cups of cherry tomatoes, 1 cup of mozzarella, ¼ cup of fresh basil and 2 tbsp of balsamic vinegar.
Cut the zucchini into thin strips or use a spiralizer if you have one. Toss the zucchini with the olive oil and salt and pepper and let sit for 15-20 minutes. Add tomatoes, quartered mozzarella and basil and then mix. Splash with some balsamic and serve!
Basic Keto Cheese Crisps
This recipe makes a perfect snack to put out for guests. All you need is 1 cup of cheddar cheese.
Separate the cheddar cheese in 24 small piles on a prepared baking sheet lined with parchment paper. Bake at 400 degrees Fahrenheit for 6-7 minutes and then let cool for up to 10 minutes before plating.
Sheet Pan Ratatouille
Whether you're a vegetarian or looking for a French-inspired side dish, this ratatouille is perfect. You can use whatever vegetables you like but we recommend: 1 large eggplant, 2 zucchinis, 2 heirloom tomatoes, 1 red onion, 1 bell pepper and 4 cloves of garlic.
To begin, line a baking sheet with parchment paper. Place the vegetables and garlic in a single layer. Drizzle with olive oil, rosemary, salt, pepper and toss until the vegetables are well coated. Roast at 400 degrees Fahrenheit for 20 minutes. Lastly, mix and roast for another 12 minutes at 300 degrees.
Pour some balsamic vinegar on top for tartness and serve!
Crème Brulee
This elegant crème brulee is a wonderful ending to any keto-friendly meal.
Whisk together 4 egg yolks with 1 tsp of vanilla extract. In a saucepan, add 2 cups of heavy cream and 1 tbsp of sweetener (use a low-calorie brand like Swerve). Whisk as it simmers and then remove from heat. Add the yolk slowly, whisking the entire time.
Divide the mixture into four ramekins and place in a glass baking dish that's filled with enough water so that 1 inch of the ramekins are submerged. Bake at 325 degrees Fahrenheit on the middle rack for 30 minutes.
Finally, place 1 tbsp of sweetener over each crème brulee. Then use a kitchen torch to melt the sweetener until it's a gorgeous golden brown.
Low Carb Spaghetti/Pasta Sauce
Enjoy this easy and flavourful tomato sauce that's perfect with any low carb pasta or pasta substitute like zucchini ribbons.
How simple is this recipe? All you must do is blend one can of peeled plum tomatoes with olive oil until smooth. Add garlic, basil, oregano and pepper and mix until well combined. Simmer until it's hot and the ingredients have combined and the flavours have mingled.
We recommend making a big batch and freezing it in individual packets.
Shop for Ingredients Today!
These recipes are sure to wow your taste buds and those of your family, friends and guests. By finding low carb and keto-inspired recipes that you enjoy, you stand a better chance of reaping the benefits that come with these healthy lifestyles.
Browse all the low carb products, or check out our new keto products. You can also browse all the great low carb recipes we've covered in the past.