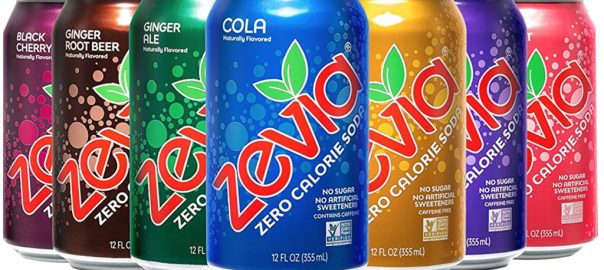 Sugar Free Zevia Soda
Zevia Soda – Where to Buy in Canada and the Best Flavours
In 2019, there are bountiful options to make adhering to a strict low carb diet easier. People can choose from a variety of delicious bread options and enjoy an array of high calorie and protein-rich meats. Now with Zevia, people can also add soda to the list of safe and satisfying low carb items.
Zevia is a refreshing natural diet soda that has become a popular staple for low carb dieters who don't want to give up carbonated beverages. Zevia not only helps people stick to a low carb diet by allowing them to enjoy soda, it can also become a key ingredient in some mouth-watering recipes.
Let's start by introducing you to Zevia and what has made it such an integral part of a healthy low carb lifestyle. We'll explore where you can buy it and the flavours they offer, including those we stock on a regular basis. Lastly, we'll share some amazing Zevia-inspired recipes that will spruce up dinner time and any social gathering.
Part of a Low Carb Diet
A proper low carb diet has a high success rate if the person exhibits the right commitment level and knows what they're doing. The foundation of the diet is an assortment of protein-rich foods, like eggs and beef, while avoiding sugars and starches, which can spike your blood sugar.
Typically, soda is a big no-no when your on a low carb diet as it poses several health risks. For starters, there is a proven correlation between soda consumption and weight gain and obesity. One study suggests that participants who drank regular sodas on top of their current diet consumed significantly more calories and gained more weight than those who did not.
As part of a low carb diet, Zevia's total carbs range from 0 to 4g depending on the flavour. It is sugar-free, calorie-free and a non-GMO product certified soda that's made with real ingredients like ginger. It allows people to continue to enjoy that fizzy taste that makes traditional sodas so satisfying.
In addition, Zevia is sugar-free, relying on being naturally sweetened by stevia, which allows it to retain that classic soda taste and to deliver that hit of carbonated sweetness that many crave mid-day, minus the sugar of course!
Zevia is a sparkling and delicious drink that can give you that extra pep before a workout or help get you through the afternoon doldrums (cola flavor contains 45mg of caffeine, all other flavours contain 0mg).
Family of Flavours
Zevia is available in eight different flavors, each one tasting like the classic sodas you grew up with:
Zevia can be purchased at many popular food retailers in Canada, including of course the Low Carb Grocery, where you can find all the flavours. In addition, our online store makes shopping and ordering easy so be sure to browse our inventory of Zevia products.
Recipes Featuring Zevia
Many don't realize what a great ingredient soda is. It's frequently used as an ingredient in chicken wings, bbq spareribs, and even mixed in with hamburger to make sweet and moist burgers. The wonderful flavours and real ingredients of Zevia can help enhance your favourite cocktails and some classic meals.
Here are some of our favourite recipes for you to try out and enjoy with your friends and family. Remember, some of these recipes might be high carb but by substituting traditional soda with Zevia and by making some minor tweaks you can ensure it fits into your low carb diet.
For Lunch or Dinner
Cola Burgers
This is a great burger recipe that features cola. Don't worry that it contains 8.9g of total carbs.  You can easily reduce the carbs while enhancing the flavour by using Zevia, low carb buns like Bakers Deluxe–Dream Hamburger Bun and low carb crackers, or Dixie Diner low carb seasoned breadcrumbs.
Once you have your ingredients, combine 1 egg, ¼ cup of Zevia Cola, a handful of crackers, 6 tbsp. of French dressing, 2 tsp. of parmesan cheese and ¼ tsp. of salt and then mix and shape into six patties. In a separate bowl, combine 4 tbsp. of French dressing with ¼ cup of cola.
Grill the patties for 3 minutes per side. Brush generously with cola mixture and then grill for 8-10 minutes. Serve on a low carb bun and enjoy!
Lemon-Lime Chicken Breast
Here's a great low carb recipe that takes no time to make and lets you use Zevia Lemon Lime Twist.
In a large Ziploc bag, combine 2 cups of soda, 1 cup of soy sauce, ½ cup of olive oil, ½ tsp. of garlic powder and ½ tsp. of horseradish. Add 6 boneless skinless chicken breasts and mix it around, making sure each is evenly coated. We recommend refrigerating the marinated chicken overnight if possible.
Then, all you must do is grill the chicken over medium-heat for 7-8 minutes per side.
Ginger Ale Baked Ham
With only three ingredients, including Zevia Diet Ginger Ale, you can make a succulent ham dish.
Place a 6-8 lbs. boneless ham in a roasting pan. Next, score it diagonally both ways with a sharp knife creating a diamond pattern on the surface. Pour an entire can of diet ginger ale over the ham and then sprinkle ½ cup of brown sugar ensuring you cover the entire ham. Give it a rub for good measure.
Bake the ham per the package instructions and we recommend serving with a side of low carb vegetables.
Root Beer Float
Root beer floats have been considered a diner classic since the 1950s. A float is a chilled beverage where vanilla ice cream is placed in a soft drink. By using Zevia Root Beer, you can finally include a root beer float in your low carb diet.
To make a float, add as many scoops of vanilla ice cream you want into a tall glass. Pour root beer until the contents reach the glass' rim. Some recipes like this one from Bobby Flay call for a splash of bourbon but we'll let you make that call.
Soda Cocktails
Cuba Libre
This classic combination of rum, lime and cola is always a hit at parties!
Mix 2 oz. of rum with 0.5 oz. of lime juice and as much Zevia Cola as you would like depending on how hard you want the drink to be. Stir with a bar spoon and toss a lime wedge in for good measure.
Presbyterian
This simple scotch-based cocktail is perfect to enjoy with colleagues after a long day at work.
To make a Presbyterian, add ice cubes to a highball glass. Pour 1-2 shots of scotch and top with Zevia Ginger Ale. Incorporate all the ingredients with a bar spoon. Some like to add a splash of club soda for a different flavour profile.
Try Zevia Today!
Zevia is a refreshing and wonderful alternative to traditional high sugar/carb sodas. Its nutritional value makes it a perfect addition to a low carb diet and carbonated beverage fans will fall in love with Zevia's flavour.
Shop for Zevia beverages today!