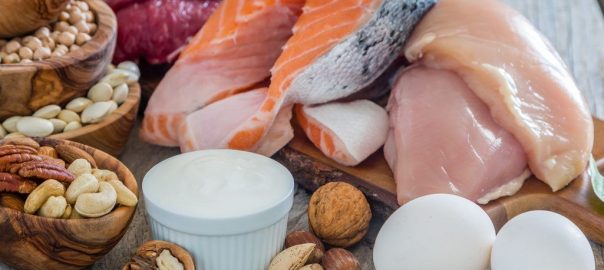 Low Carb Foods With High Protein
High Protein, Low Carb Food Ideas
A low carb diet doesn't have to be limiting. There are loads of options, many of which are delicious, high in protein in addition to offering other health benefits.
Food is meant to be enjoyed, right? Well, pairing the right protein with a satisfying side can help maintain your diet and ensure you won't be dreading your next meal. All you need is the knowledge as to what you can safely include in your weekly low carb meal plan.
Let's start by introducing you to certain high protein, low carb foods that you should be paying attention to, including meats, fishes, side dishes and even tofu. We'll also share a few recipes that will get you excited about living the low carb lifestyle.
Meat – Chicken & Turkey, Bison & Venison
Chicken – Free Range, Organic, Premium
Chicken has long been a popular choice among law carb dieters because it's high in protein and many of its cuts are naturally lean. It's also versatile and can be made into a healthy chicken salad for lunch or you can roast a whole one and portion it out so that you have dinner for days.
Spend the extra money for organic, free range or other premium types of chicken to ensure you're not getting chicken that's injected with antibiotics, hormones, water and food grade bleach. Most of the chicken found in big box grocery stores sell these types of chicken, especially the lower cost meats.
We recommend sprinkling some of Mrs. Dash Salt-Free Lemon Pepper Seasoning especially if you are using boneless skinless breast, which can be a bit light in flavour. Another idea is to cover a nicely roasted piece of chicken with Mayacamas Vegetarian Chicken Flavoured Gravy Mix so that it burst with that classic taste you love.
Check out some other healthy chicken recipes found in the Low Carb Lifestyle blog.
Turkey, Bison and Venison
Turkey, bison and venison are three lean proteins that are high-protein, low carb and often overlooked by people searching for new foods that fit their diet.
While most grocery stores carry turkey, bison and certainly venison, can be tricky to find. Look online before you head out and see who carries it.  As for turkey – all the issues mentioned above in the chicken section apply here, so ask questions if it's not clear on the packaging.
These proteins must be prepared carefully as to not become dry and chewy. You will want to use the right amount of seasoning and pair with a low carb side that brings out their flavour.
We recommend sprinkling some steak spice one these proteins. Try Hot Mamas No Salt Spice – Ultimate Steak, it can really kick the flavour up a notch.
Check out this article on The Low Carb Lifestyle blog about cooking with Bison – might give you some inspiration!
Eggs – Free Range/Cage Free, Organic
Since eggs are an animal product, we're going to include them under meat. They are a strong source of protein and amino acids and mix well with other low carb ingredients.
While there's some debate as to whether free range, cage-free hens produce better eggs – most of us choose these types of eggs because we care about how the animals are treated during the egg production process. So do your homework and try to learn more about the different types of eggs on the market so you can make an educated decision when you're in the eggs section of your favorite grocery store.
You can simply fry one and place it on top of red meat to add richness or make an omelette featuring such ingredients as bell peppers, mushrooms, spinach, asparagus or avocado. You can even spice it up with a dash of hot sauce. We like this flavour from Hot Mamas.
For a different flavour and to increase the health component of your eggs, try replacing butter or olive oil with Indigo – Organic Refined Coconut Oil.
If you're into omelettes, then check out this article in the Low Carb Lifestyle blog.
Fish & Seafood
There are a ton of health properties associated with fish and seafood.
Yellowfin tuna, halibut and tilapia are all high in protein and can be enjoyed guilt-free.
Raw Atlantic salmon is also a great option. It contains 20g of protein per 100 grams in addition to a good amount of heart-healthy fats like omage-3 fatty acid, vitamin B-12 and vitamin D3.
Another option is sardines. They might not be everyone's cup of tea but those who enjoy eating this nutrient-dense fish, can benefit from 25g of protein per 100g in the Atlantic version that is canned in oil.
While pricy – Lobster is a super healthy, a study done by the US Department of Agriculture revealed about one cup of lobster, contained 28 grams of protein, 129 calories, 1 gram of fat and 0 grams of carbohydrates. Lobster is also full of vitamins including:
Calcium
Vitamin A
Iron
Copper
Zinc
Phosphorous
Selenium
B1
Check out this post on cooking with lobster from the Low Carb Lifestyle blog, some great information here. If you plan on, or are already buying fish and seafood on a regular basis, read this post about choosing fish & seafood, as it provides loads of useful information on making sure you're getting the best fish & seafood.
Tofu
Vegetarians on a low carb diet can rest assured that they can get much needed protein from tofu. Tofu is also called bean curd and is prepared with soy milk and pressed into blocks. It can be soft or firm and is adept at absorbing different flavours.
They are a nice salad ingredient and go great with a Walden Farms dressing like Asian flavour, balsamic vinaigrette or honey dijon.
Find tasty tofu recipe ideas in this post about using tofu for a low carb diet. It's got some great information like how to prepare tofu, cooking ides and more.
Side Dishes
There's no point in enjoying a main that is high in protein and low carb only to undermine it with an unhealthy side like a baked potato smothered in butter, sour cream and cheese.
With respect to side dishes, your choices should start with a low carb vegetable. A few of the better options include:
Kale – 0.7g of protein per 1 cup
Spinach – 0.9g of protein per 1 cup
Broccoli – 3.7g of protein per 1 cup
Brussels Sprout – 4g of protein per 1 cup
Don't worry if the idea of cooked vegetables doesn't excite you. Mrs. Dash has a line of seasonings that bring out the flavour of vegetables. Flavours include Garlic and Herb,  Lemon Pepper and Table Blend.
If you're as confused as the next person regarding what vegetable are low carb, then you'll want to read this post we did on the best and worst veggies for a low carb diet.
Low Carb Recipes
To help you enjoy more high protein, low carb food items, here are some popular lunch and dinner recipes.
Fans of tuna salad have the right idea as it's high in protein, tasty and satisfying. This recipe is easy to make and the celery offers a nice texture contrast. Be sure to leave the bread, bagel or bun on the sidelines to keep the carbs in check.
The only ingredients you need are 5 oz. of canned tuna, 2 stalks of celery and 3 leaves of either Boston or Bibb lettuce. To make, drain the liquid from the can of tuna and dice the celery. You want to finely dice it so that it doesn't overwhelm the tuna's flavour and texture.
Combine the tuna with the celery and mix in a dressing, if you choose to include one. The last step is to serve a healthy dollop on lettuce leaves. You can also forego the wrap and eat directly with a fork.
If you are determined to add a creamy element like mayonnaise, then try Walden Farms Amazin' Mayo. Per tablespoon, it contains no fat or carbs.
This tofu dish is bursting with flavour. If you make a big enough batch, you can have delicious leftovers to take to work or school.
Gather the following ingredients: 1 block (15 oz.) of tofu diced into 1" cubes, 3-4 tbsp. of arrowroot flour and avocado oil. For the sauce, you will need 5 medjool dates pitted, 2 small garlic cloves, 2 tsp. of fresh ginger sliced, 5 tbsp. of coconut aminos, 4 tsp. of rice vinegar, 1.5 tbsp. of tomato paste (make sure it has no added sugar), 1 tsp. of toasted sesame oil and 2 tsp. of a hot chili sauce like Jok 'N' Al Chili Pepper Sauce.
Preheat your oven to 400F. Line a large baking sheet with parchment paper and lightly grease it. In a bowl, add the arrowroot flour and then the tofu and gently mix until each is lightly dusted. Add the tofu to the prepared baking sheet so that they are not touching. Bake on the middle rack for 15 minutes. Flip each piece of tofu and bake for an additional 15 to 20 minutes. You want to make sure they are a beautiful golden brown.
Now it's time to make the sauce. In a food processor, chop or mince the dates, garlic cloves and ginger. Add these ingredients to a bowl with the remaining sauce ingredients and give it a good mix. Now, make a simple slurry by combining 4 tbsp. of chicken stock with 1-2 tsp. of arrowroot flour. Set aside the slurry for now.
During the last five minutes of the tofu baking, heat the sauce in a skillet over medium-low heat, continuously stirring it. Once it is thoroughly warm, stir the slurry and then pour it into the sauce. This will thicken the sauce and help perfectly coat the tofu. It should only take one minute and you'll know it's done once it starts bubbling. Next, add the tofu so that each piece is covered.
If you'd like, garnish with toasted sesame seeds and scallions or green onions. This dish is best when served hot.
Get Cooking Today!
If you are adhering to a low carb diet, it's important that you are consuming foods that are high in protein. There are a ton of tasty options and a host of wonderful recipes that will keep things interesting. If you want to learn more about eating this way, check out this informative article by Harvard Medical School about Low-Carb, High-Protein Diets.
Shop The Low Carb Grocery store and find all the low carb foods you need to make delicious meals for breakfast, lunch and dinner.