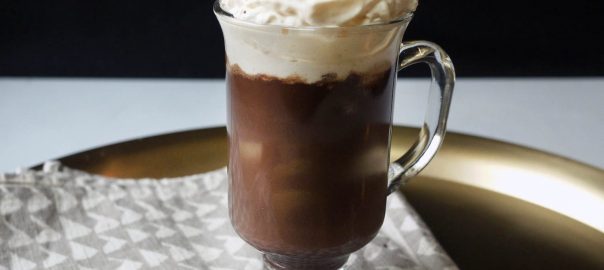 Low Carb Drinks & Snacks
Après Ski Drinks & Snacks to Warm You Up 
Winter brings with it this innate desire to stay indoors to avoid the frigid cold. You need to fight that urge because the winter is a great time to get outdoors and participate in some fun activities that can keep you in shape and let you spend time with your friends and family.
Part of the experience comes when the activity ends and you get to relax indoors. Whether it's inside a chalet or at someone's house, it's time to warm up with some food or drinks. For those on a low carb diet, you need to find ways to make classic après ski treats that won't undermine the great workout you just had in the snow.
Let's gear up for the last leg of winter by looking at the best activities to enjoy with other people. We'll also explore some popular drinks and snacks with a low carb twist that are delicious and warming.
Fun Winter Activities
There are a lot of reasons to turn off Netflix, throw on a snowsuit (they can be fashionable, don't worry) and head outdoors. The winter offers a ton of exciting activities that are fun and can get your heart rate up.
Here are some activities that make short winter days more tolerable. Most of these are also a lot of fun for kids.
Skating either inside an arena or on an outdoor rink or pond.
Downhill or cross-country skiing
Tobogganing or sledding
Snowshoeing, a fine replacement for people who like to hike in warm weather
Ice fishing (only if the ice is safe obviously, March can be hit or miss)
Making snowmen or snow forts
Football is a great game to play in the snow
These activities aren't just a reason to have an Irish coffee. They really help pass the time and make sure you stave off cabin fever and atrophy.
Post-Activity Low Carb Snacks and Drinks
Once you're done hitting the slopes or are tired from skating laps around the pond, it's time to kick back and warm up. These are some low carb takes on popular winter treats.
Drinks
Hot Chocolate
Hot chocolate is the go-to for most people after spending time in the cold. This low carb recipe is our favourite as it maintains the sweetness and cocoa flavour while being more nutritious than traditional recipes. The trick is finding the right milk alternative.
To make, combine in a saucepan 1 cup of low carb milk (your choice but we recommend almond milk), 1 tbsp. of cacao or cocoa powder, 1 tbsp erythritol as a sweetener, ¼ tsp. of vanilla extract, and a pinch each of salt and cinnamon.
Stir often as the ingredients melt and mix. Once it's ready, pour into the desired number of mugs and serve. To add more sweetness or richness, top with a dollop of whipped cream or some shaved chocolate.
Be careful because the additional toppings could increase the carb count.
Slow Cooker Mulled Wine
Warm spices in a slowly cooked red wine is one of winter's truly great pleasures. With this recipe, you don't need to slave over a hot stove for an hour. Just pop everything into a slow cooker, turn it on and go enjoy the snow.
Mulled wine is wine cooked with mulling spices like cinnamon, cloves, allspice, nutmeg and sometimes star anise. Think of it as an alcoholic apple cider with more kick to it. You can also make a non-alcoholic version that is still warm and satisfying.
Making low carb mulled wine is simple. Pour a bottle of dry red wine into a slow cooker. Add a whole orange or blood orange with your choice of mulling spices. You can add a low carb sweetener like stevia if you want. Otherwise, give it a good stir. Cook on low for 1 hour, which is long enough for the spices to infuse the wine.
Try using a dry wine as they tend to be lower in carbs. One glass is roughly 1-4g of carbs so it's okay as long as you don't indulge too much.
Irish Coffee
Irish coffee is coffee mixed with some Irish whiskey and served with a dollop of cream. You could just make a cup of coffee and splash a shot of whiskey in to but we prefer a more methodical approach to integrate the flavours. Plus, it's the winter, you have a little time to kill.
In a small saucepan, warm 9 fl. oz. whiskey over medium-low heat, making sure that it doesn't reach a boil. Stir in your 3 tsp. of sweetener or sugar substitute. Add the mixture to brewed coffee.
Snacks
Poutine
Now that your belly is full of a nice warm liquid, it's time to make some snacks.
Poutine isn't typically regarded as a healthy snack but here's keto bacon poutine recipe that's low carb, hot, gooey and satisfying. This recipe can get a bit complicated so we created a simpler version that takes less time to make. To whip up a hearty batch of Keto Bacon Poutine, do the following:
Over medium-low heat, cook bacon in a skillet for 4-5 minutes. Remove it before it's crispy and roughly chop. Don't throw the grease away.
Here's how you make the gravy. Over low heat, melt butter and simmer until it's brown and nutty about 3 minutes (make sure you swirl the butter so it doesn't burn). Add a clove of diced garlic and cook for no longer than 2 minutes. Finely chop some white button mushrooms and add them along with the reserved bacon grease, to the pan with the butter and garlic. Whisk in 1 cup of beef broth and 1 tbsp. of coconut flour and stir until fully incorporated.  Simmer for 5-10 minutes on low heat. Then, remove from the heat and add 1 tsp. of Dijon mustard, 1 tsp. of sea salt and a couple sprigs of thyme. Pour through a strainer so that it's nice and smooth.
Time to make the wax beans that will act as French fries in the dish. We recommend frying them to mimic the crunch and texture of fries. If you don't have a deep-fryer, then melt either duck fat or coconut oil in a large skillet depending on how nutritious you want the dish to be. Fry the beans for 4-5 minutes.
Reheat the gravy and start building your dish. Wax beans are the base. Top with cheese curds (or pieces of mozzarella if you want), bacon and, lastly, the gravy. You can garnish with green onions or parsley.  Yum – enjoy!
Nachos
The last recipe we're going to look at is nachos—a classic Mexican dish that is guaranteed to please a group of people. This recipe lets you up the cheese factor by using cheddar or parmesan crisps instead of tortilla chips.
Preheat your oven to 400 degrees Fahrenheit. On a baking sheet lined with parchment paper, sprinkle the cheddar cheese in a thin layer in a rectangular shape. Evenly sprinkle some parmesan cheese on top of the cheddar. In a mixing bowl, combine the cumin, garlic powder and chili powder and then dust the cheese with it.
Bake the cheese for 8-10 minutes and then let cool for 10 minutes. With a spatula, remove the cheese from the baking sheet and first cut into strips and then diagonally into triangles. You can broil the triangles for another minute to get them nice and crispy.
Let the chips cool for half an hour and then transfer to a plate. The last step is the best step: completely cover with your favourite toppings like tomatoes, jalapenos, black olives, guacamole, sour cream and chopped green onions.
Shop our Aisles Today!
Don't just sit around waiting for spring to arrive. Get outdoors and enjoy the snow while it lasts, and the wonderful activities it offers. Once you're ready to call it a day, we hope these recipes offer a warm respite from the cold and lets you enjoy your friends and family by a roaring fire.
Before you go, check out our inventory of low carb items. We have tons of products that we're sure will become new staples in your pantry!