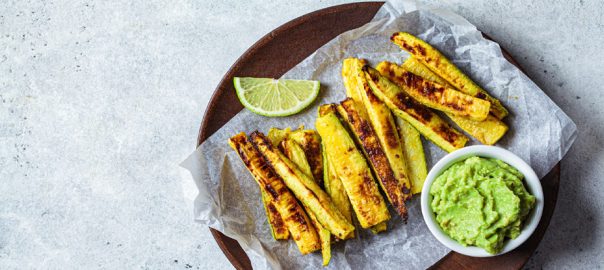 Make Amazing Low Carb Fries
How to Make Low Carb Zucchini Fries 3 Ways
Learn how to make low carb French fries three different ways using zucchinis instead of potatoes! Plus, shop other ingredients you'll need from The Low Carb Grocery.
French fries may have been your go-to side option during those pre-diet days. However, they probably haven't graced your plate in quite a while, at least not in traditional form! Potatoes are high in net and total carbohydrates and may not be the best choice if you are trying to stick to low glycemic foods to keep your blood sugar levels down.
Luckily, there are still ways to enjoy crispy finger foods alongside your lunches and dinners simply by substituting potatoes with a different low carb vegetable. One great substitute is zucchinis, packed with fibre, vitamins, minerals, and antioxidants that contribute towards good health and can even help reverse aging. With the recipes from this article under your belt, you can fight off those French fry cravings, stick to your diet, and even get your daily greens in!
Disclaimer: The information in this article is not intended to replace personalized medical advice. A low carb diet may not be suitable for you. Consult your health care provider before making any changes to your lifestyle or use this information at your own risk.
How to Substitute Potatoes on a Low Carb Diet
Instead of potatoes, we'll be using zucchinis to make our fries. Zucchinis are a great low carb alternative to potatoes since they have a very similar texture and mild flavour. Plus, one medium-sized zucchini contains just 4g of net carbohydrates, keeping you well under your daily carb count – even if you eat a whole plate of these fries!
You could also use summer/yellow squash, turnips, or any other low carb vegetables that you can cut into long, thin strips and bake in the oven or air fryer. The only thing you should keep in mind is the moisture level of the vegetable you choose, as this will affect the crispiness of your fries. Check out 7 of the best ways to substitute potatoes on our blog!
Now, let's dive into the recipes. We experimented with three different products from our shelves to help make crispy, golden zucchini fries. We love all of these recipes but try them out for yourself and let us know which one is your favourite! Snap a picture and tag us on Instagram (@lowcarbgrocery) or let us know in the comment section under this blog post on Facebook.
Lemon Pepper Nut Crusted Zucchini Fries made with Appel Foods Nut Crumbs
About the recipe…
Prep Time: 5 minutes
Cook Time: 20 minutes
Serves: 2
Net Carbs Per Serving: 6.5g
This recipe is incredibly easy to make using Appel Foods Nut Crumbs! It's so simple that even the kids can throw it together themselves after school for a healthy and nutritious snack ready in minutes. With almost no prep required other than slicing the zucchini and beating an egg, you can have these fries ready to eat quicker than you can say "All-Natural Vegan Gluten-Free Keto-Friendly Bread Crumb Alternative". Check out more kid-friendly low carb recipes on our blog, too.
Appel Food Nut Crumbs are your all-in-one solution for tasty, specialty-diet-approved flavour and texture! Since they are made from a blend of nuts including almonds, cashews, pistachios, and/or pecans, you also get the added benefit of increasing the nutritional value of anything you add them to. These Nut Crusted fries contain an extra 10g of healthy plant-based fats per serving and a good dose of essential vitamins and minerals, too.
In this recipe, we used Lemon Pepper Nut Crumbs, which have a savoury flavour that pairs well with just about anything, but goes especially well with veggies. But feel free to choose from any of the 8 available flavours of Nut Crumbs – BBQ, Everything, Spicy or even Ranch fries are perfectly OK in our books!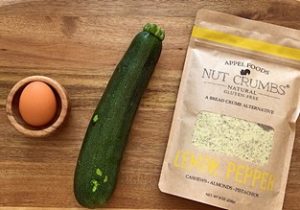 All you need to make this recipe is a bag of Appel Food Nut Crumbs, a zucchini, and an egg. So, if you've got these three ingredients on hand, you're ready to start cooking!
Cooking Instructions:
Preheat your oven to 400˚F.
Slice your zucchini into roughly finger-sized pieces.
*Note: It helps to use a zucchini that's on the firmer side, rather than one that is too ripe. The bitterness of a less ripe zucchini will get baked out in the cooking process, while its lower moisture content will help ensure crispy fries!
Set up your egg wash and breading station. Beat an egg thoroughly in a shallow bowl. On a plate or in another shallow bowl, add 6 tablespoons of Lemon Pepper Nut Crumbs.
Dip each zucchini slice into the beaten egg, then coat them in the Nut Crumbs. Transfer to a baking tray lined with parchment paper. Optional: Spray a light layer of cooking oil spray (olive or avocado oil are best) to help the fries crisp up even more.
Bake your fries for about 20 minutes, or until the Nut Crumb coating has turned golden brown. Remove from the oven.
Let the fries cool a bit while you grab some sugar-free ketchup for dipping and enjoy immediately!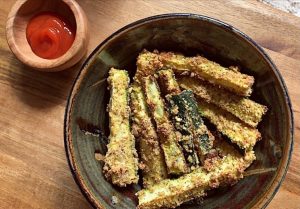 Pictured: zucchini fries coated in Appel Foods Lemon Pepper Nut Crumbs, served with a side of sugar-free ketchup.
hOMe Grown Zucchini Crisps made with hOMe Grown Living Foods Garlic Rosemary Pizza Crust Mix
About the recipe…
Prep Time: 5 minutes
Cook Time: 25 minutes
Serves: 2
Net Carbs: 6g
Midday salt cravings hitting you? Instead of reaching for a bag of chips (although you could grab a low carb chip alternative or crunchy cheese snacks), why not bake up a fresh batch of zucchini crisps? If you've got a bag of hOMe Grown Living Foods Garlic Rosemary Pizza Crust Mix lying around – as any low carb dieter who's ever tried it should – and an almost-ripe zucchini in the fridge, then you're set! Oh, and a little bit of cooking oil – these are all the ingredients you'll need.
The prep work is quick and easy:
Preheat your oven to 350˚F.
Slice your zucchini into ¼-inch thick rounds. Pat off any excess water with a paper towel.
Lightly coat your zucchini slices in some extra virgin olive oil or coconut oil.
Pour some of the Pizza Crust Mix into a bowl. Dip each zucchini slice into the mixture, then transfer to a baking tray lined with parchment paper.
The hOMe Grown Living Foods Garlic Rosemary Pizza Crust Mix packs so much flavour that you don't need to season these chips any further. This mix contains a delicious all-natural seasoning blend of garlic, rosemary, sea salt, and onion. It is also made with sprouted chia seeds, sprouted flax seed, and sunflower seeds. These super seeds provide a breading-like texture, and not to mention a number of health benefits, too. Chia and flax seeds are rich in omega-3 fatty acids and sunflower seeds provide vitamins and a bit of clean protein. So, have your chips and eat them, too – because these ones are delicious, healthy, and suitable for low carb, vegan, and gluten-free diets!
Bake your zucchini crisps for about 20 minutes. They should look slightly golden brown and crispy when done!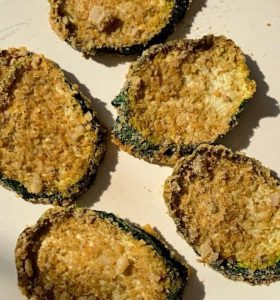 Pictured: Zucchini Crisps made coated in hOMe Grown Living Foods Garlic Rosemary Pizza Crust Mix
Be sure to enjoy them immediately as letting these crisps cool for too long will cause some of the moisture from the zucchinis to release, leaving you with less crisp-y crisps.
Don't forget to shop low carb condiments and sauces, too! Our favourite pairing with these crisps is a mixture of Chosen Foods Keto-Friendly Mayonnaise made with MCT oil mixed with a dash of Sinai Gourmet Low Sodium Vinegar-Free Hot Sauce!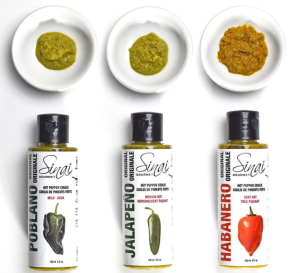 Pictured (left to right): Sinai Gourmet Poblano, Jalapeno, and Habanero Hot Sauces
Baked Coconut Zucchini Chips made with Organic Shredded Coconut, Almond Flour and Nutritional Yeast from Indigo
About the recipe…
Prep Time: 5 minutes
Cook Time: 20 minutes
Serves: 2
Net Carbs: 7g
Our third and final recipe is one that blends sweet, salty, and cheesy flavours to create a delicious chip that reminds us of panko-crusted or tempura-fried chips. By combining equal parts organic unsweetened shredded coconut, extra-fine natural almond flour, and nutritional yeast, we created up with perfect low carb, vegan, gluten-free breading mixture that you can even use on chicken, white fish, shrimp, or other low carb vegetables.
This breading is also packed with nutrients and healthy fats. The shredded coconut is a great choice for low carb dieters since it is easily converted into ketones, while nutritional yeast provides delicious cheesy flavour as well as loads of B vitamins! Extra-fine almond flour helps bind everything together, and also provides a few extra grams of healthy fats as well as protein, fibre, and nutrients, too!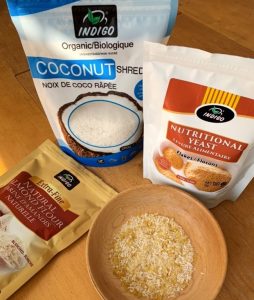 Pictured: Low carb breading made from Indigo Extra-Fine Almond Flour (left), Unsweetened Shredded Coconut (middle), and Nutritional Yeast (right)
Here's how to make your Baked Coconut Zucchini Chips:
Preheat your oven to 350˚F.
Cut your zucchini into ½-inch thick rounds or finger-length slices, whichever you prefer. We used a crinkle cutter for vegetables to create ridges in our chips that coat more breading!
Coat your zucchini slices in a little bit of extra virgin olive oil or melted coconut oil. Then, dip each slice into your breading mixture and coat evenly.
Place your chips on a baking tray lined with parchment paper and bake for 20 minutes, or until the breading looks slightly golden.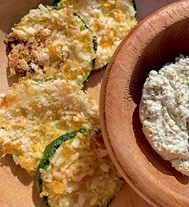 These chips briefly transported us somewhere far, far away without having to leave our kitchen! The textures and flavours are comparable to something you'd find at a restaurant, or maybe even a seaside café.
Enjoy these chips with low carb condiments or on their own. Since we cut the slices a bit thicker for this recipe, they hold up well with heavier dips and spreads. We chose a vegan cheese spread to pair with ours, but a sugar-free sweet chili sauce would also go great with this recipe!
Stay Connected
We hope that you enjoyed this article and are eager to try some of these zucchini fry recipes.
If you are interested in trying them, be sure to take advantage of our exclusive offers on all of the products mentioned in this article! Simply apply the following codes at our online checkout.
Codes are valid online only or redeemed for in-store pickup option, which is available at online checkout. Promotion may end without notice and/or while promotional quantities last. No substitutions or rain checks, please. Valid until 2022-04-25.
We'd also love to hear your direct feedback through a Google Review. And, remember to sign up to The Low Carb Grocery's email newsletter to be the first to know about our weekly sales and to stay on top of low-carb and keto news!