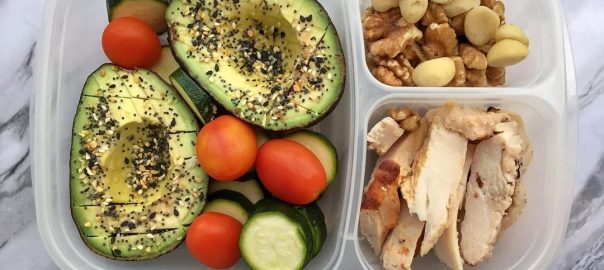 Keto Take To Work Lunch Recipes
Top 10 Keto Take to Work Recipe Meal Ideas
Low carb diets like Keto or Atkins require a strict commitment. This means only wavering during a strategically placed cheat day and making sure you don't give into mid-day cravings.
Let's be honest, after a stressful morning, it's easy to give in and eat a heavy lunch that's high in carbs. But with the right recipes and ingredients, you can stick to your diet and enjoy satisfying meals that are easy to prepare in advance.
Let's begin by providing some insight into a proper keto diet. Then, we'll introduce you to 10 of our favourite low carb recipes so you can get cooking!
The Keto Diet
The ketogenic diet is a low carb and high fat diet that has grown in popularity over the years. Studies suggest that it can help people lose weight, improve their overall health and provide certain preventive measures against epilepsy, diabetes and Alzheimer's.
There are several types of keto diets:
Standard ketogenic diet
Cyclical ketogenic diet
Targeted ketogenic diet
High-Protein ketogenic diet
Regardless of which type you choose, many find lunch to be the hardest meal with respect to low carb options.
Keto Lunch Recipes
Here are some amazing recipes you can take to work with you. Be sure to properly label it so that a sneaky co-worker doesn't "accidentally" eat it.
Best of all is that some of these recipes don't even require cooking.
Bento-Style Lunches
For these lunches, you might want to invest in a bento-style lunchbox. These sturdy containers allow you to separate components and create meals that feature a variety of foods.
Turkey-Cheddar Roll-Ups
Replace tortillas with turkey slices to keep carbs in check. Simply wrap a slice of cheddar cheese inside a rolled-up piece of turkey. If this is a lunch you want to eat multiple times a week than switch up the low carb cheeses to keep things interesting.
Consider a sliced avocado, almonds and a berry of your choice as the sides.
Pepperoni Picnic Box
To enjoy this lunch at work, pack as many pepperoni slices as you want with celery sticks and cheddar cheese. You can include a low carb ranch dressing for your celery sticks.
It's incredibly healthy and surprisingly hearty.
Hard-Boiled Egg Snack Plate
Fans of the rich and hearty hard-boiled egg will love this lunch. Cook two hard-boiled eggs, slice them in half and enjoy with cucumber slices and cheddar cheese. You can also add some homemade guacamole to the mix.
Smoked Salmon and Cream Cheese Roll-Ups
Spread cream cheese on some laid out stripes of smoked salmon, and then roll to make pinwheels. Next, toss some lightly cooked zucchini noodles with lemon juice and olive oil. Add a side of grape tomatoes and you're good to go!
Hot Smoked Salmon
If you prefer hot smoked salmon, then this recipe should fit nicely into your weekly meal plan. The nice thing about this lunch is that hot smoked salmon flakes nicely into big chunks, making it easy to eat. For the sides, we recommend roasted broccoli, blueberries and a couple handful of almonds.
Keto Salads and Bowls
If bento boxes aren't your thing, then try some of these salad and bowl recipes that are ideal low carb, high protein lunches.
Think of this as keto-friendly potato skins with the only difference being the replacement of potato with cauliflower. Trust us, it's as delicious and satisfying as anything you can order in a pub.
Gather 8 slices of bacon, 1 head of cauliflower, ½ cup of sour cream, ½ cup of mayonnaise, 1 tbsp. of ranch seasoning, 1 cup of shredded Colby and Monterey Jack cheese, 1 cup of cheddar cheese and 6 tbsp. of chopped chives (divided into two portions).
Preheat your oven to 370F and grease or oil a baking sheet. The first step is to fry bacon until it is crispy and naturally crumbles. Next, steam the cauliflower until it comes apart, which takes about 15-20 minutes. Combine the sour cream, mayonnaise, ranch seasoning and black pepper. Toss in the steamed cauliflower, half the bacon, the cheddar cheese and 3 tbsp. of the chives. Mix thoroughly, then transfer to the baking dish and top with the Colby and Monterey Jack cheese. The last step is to add the remaining bacon.
Cover and bake for 20 minutes. Once it's ready, remove the foil and bake for another 5-10 minutes until the cheese is nicely melted and bubbly. Garnish with the rest of the chives and enjoy!
Antipasto Salad with Italian Dressing
Lunch should be simple since most people don't have a full hour to sit down and eat. For this recipe, all you need is 1 large head of chopped romaine, 4 oz. of prosciutto cut into strips, 4 oz. of pepperoni cubed, ½ cup of sliced artichoke hearts, ½ cup of black and green olives (mixed however you want), ½ cup of hot or sweet peppers.
To make an Italian dressing, which is really just a vinaigrette, gather 1 tbsp. of Italian flat parsley, 1 tsp. of dried oregano, 1 minced garlic clove, ½ tsp. of sea salt, ¼ tsp. of fresh cracked black pepper, ¼ cup of red wine vinegar and ¾ cup of extra virgin olive oil.
Now, just combine all the ingredients and toss with the dressing.
If you love sushi, then you'll love this deconstructed salmon roll that packs a ton of flavour. Head down to the fish market and buy an 8 oz. yellow fin tuna. Ask the person at the fish counter for a cut that's at a quality and freshness to eat raw.
The other ingredients, include: 1 tbsp. of coconut aminos, 5 sprigs of cilantro, ½ Haas avocado, 2 tbsp. of sesame oil, 1 tbsp. of sesame seeds, ¼ cup of pili nuts, ¼ rube red grapefruit and 1 tsp. of sea salt.
To start, chop the tuna into ¼ inch cubes and place in a bowl. Add the coconut aminos, sesame oil, salt and combine. Slice the grapefruit into sections, mince the cilantro, chop the pili nuts, dice the avocado and add everything to the tuna mixture. Lightly toss as to not destroy the tuna and avocado and garnish with sesame seeds.
This dish is an unbelievable way for keto fans to enjoy some delicious Asian-American flavours. All you need is 1 lbs. of ground pork, 1 thinly sliced head of cabbage, ½ thinly sliced medium onion, 1 tbsp. of sesame oil, ¼ cup of liquid aminos (replacing soy sauce), 1 minced garlic clove, 1 tsp. of ground ginger, 2 tbsp. of chicken broth, 2 stalks of green onion and salt and pepper.
Start by browning the ground pork in a large pan over medium heat. Next, add the sesame oil and the onion to the pan. It's time to mix the liquid aminos, garlic and ground ginger together in a bowl. Add to the pan once the onions have completely browned. Toss the cabbage into the pan and make sure all the vegetables are coated in the sauce. Pour in the chicken broth and give it a good stir. Now, all you must do is continue cooking for three minutes, making sure you stir often.
Garnish with as much salt, pepper and green onions as you'd like.
Cobb salad is a keto staple as it offers hearty ingredients that are high in protein. You can enjoy this version of egg salad on a low carb bun or as a salad to really keep the carb count low.
All you need is 6 large hard boiled and peeled eggs, 4 strips of bacon cooked and chopped, ¼ cup of diced grape tomatoes, ¼ cup of arugula, ¼ cup of shredded cheddar cheese, ¼ cup of crumbled blue cheese, 6 tbsp. of mayonnaise and 2 tsp. of dry ranch dressing mix.
Simply chop the eggs and toss them in a bowl. Add the other ingredients and stir until everything is combined.
While you can get creative with ingredients, we recommend not substituting cherry tomatoes for grape tomatoes as this will increase the number of carbs.
Shop for Keto Friendly Ingredients
Eat healthy at work with these keto lunch recipes that are both filling and delicious.
Browse our massive inventory of nutritious low carb ingredients that can help you prepare these and tons of other amazing keto friendly meals with ease.