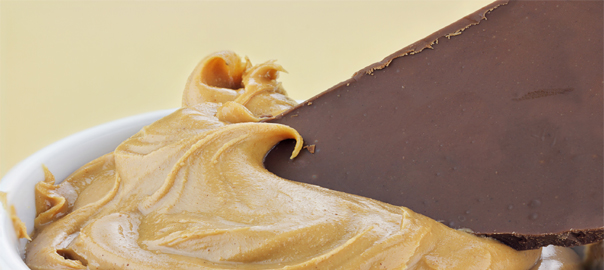 Peanut Butter and Chocolate Recipes – The Low Carb Way
Fantastic Low Carb Recipes for Peanut Butter and Chocolate Lovers
There are very few flavour combinations that has more ardent fans than peanut butter and chocolate. The creamy nuttiness of peanut butter perfectly complements chocolate's sweetness. Together, they contribute to some delicious and memorable desserts.
Let's get started and introduce you to some low carb recipes featuring peanut butter and chocolate. We'll offer a few that are on the more complex side for experienced bakers and a couple that are quick and easy to make. Either way, you'll be enjoying some peanut butter and chocolate treats in no time!
Decadent Low Carb Recipes
Chocolate Peanut Butter Fat Bars
This high fat and low carb treat is a total dream for those with a sweet tooth. You only need five ingredients: 1 cup of all-natural peanut butter (drippy), 1/3 cup of melted coconut oil, ¼ cup of unsweetened cocoa powder, ¼ tsp. of stevia and a pinch of salt.
To make, fill a cupcake tin with mini cupcake liners. Next, add peanut butter and melted coconut oil to a bowl and mix. Then, add cocoa powder and stevia and thoroughly combine all the ingredients. Using a teaspoon, scoop 3 large teaspoons of the mixture into each tin compartment (it should make about 24 fat bombs). Be sure to sprinkle some sea salt on top.
Now, put the tin in the freezer for 1-2 hours. If they haven't set after two hours, then leave for a bit longer.
The great thing about this recipe—besides the fact that it's awesome—is that they can be stored in the freezer for up to three months.
Chocolate Peanut Butter Molten Lava Cake
Molten lava cake is beloved for its gooey centre that oozes warm liquid goodness, which in this case is savoury peanut butter.
Gather ¼ cup of butter, 1 oz. of unsweetened chopped chocolate, 3 tbsp. of swerve sweetener, 1 large egg, 1 large egg yolk, 3 tbsp. of almond flour, ¼ tsp. of vanilla extract, 2 tbsp. of peanut butter and salt.
Begin by preheating the oven to 375F and grease three ramekins and then lightly dust with cocoa powder. Melt butter and chocolate in the same bowl and then whisk until smooth.
Next, whisk in the almond flour, vanilla extract and salt until everything is incorporated. Divide roughly 2/3 of the batter between the ramekins, making sure you completely cover the bottom. Add peanut butter to each one and cover with the remaining batter. Bake for 10-12 minutes until you notice the edges of the cakes are set but it's still jiggly in the middle.
Don't forget to let it cool for up to 10 minutes and to only remove by running a sharp knife along the edges and then flip onto a plate.
Peanut Butter Chocolate Chip Blondies
A blondie is a popular dessert bar. It looks like a brownie but it uses vanilla and brown sugar instead of cocoa, giving it a lighter tone. If this sounds intriguing, then give this recipe a try.
The ingredients include: 1 cup of almond flour, ½ tsp. of baking soda, ¼ tsp. of salt, ½ cup of peanut butter, ¼ cup of softened butter, ½ cup of Swerve sweetener, 2 large eggs, 1 tsp. of vanilla extract, ¼ tsp. of liquid stevia extract and ½ cup of sugar-free chocolate chips.
Preheat the oven to 325F and grease an 8×8 square baking pan. In a bowl, whisk almond flour, baking soda and salt. In another bowl, beat peanut butter, butter and Swerve sweetener until smooth. Next, beat the eggs, vanilla extract and stevia extract into the mixture until everything is combined. Beat in the almond flour and then stir in the chocolate chips.
Spread the mixture into the baking pan and smooth it with a spatula. Bake for 15-20 minutes. One indicator that it's close to done is that the top will turn light brown.
Remove and let it cool for a minimum of 25 minutes.
Keto Peanut Butter and Chocolate Truffles
Truffles are usually seen as this opulent French dessert that is off-limit to home bakers. This doesn't have to be the case. They are surprisingly easy to make and great for low carb fans craving a little decadence.
Gather these ingredients for the truffles: 1 cup of natural (sugar-free) chunky peanut butter that's at room temperature, 1/3 cup of zero carb vanilla protein powder, 1 tsp. of vanilla extract, 2 tbsp. of softened unsalted butter, 3 tbsp. of heavy whipping cream and 1/3 cup of granulated sugar substitute (ideally a powder).
And for the coating, all you need is either 2 tbsp. of unsweetened cocoa powder or 2 squares of cocoa dark chocolate at 85% or more.
Let's get baking! Begin by whipping together all the ingredients with a mixer or food processor. Roll into 18 one-inch truffles. Before anything else, it's recommended to chill the unbaked truffles for 5 minutes. Next, roll each one in cocoa powder or drizzle with melted dark chocolate. Store in an airtight container in your refrigerator for up to 10 days.
Seriously, it's that easy to make low carb truffles.
Simpler Recipes
These low carb peanut butter bars require little effort and you can make a big batch that your friends and family can enjoy all week long.
To make these bars, you need ¾ cup of almond flour, 2 oz. of butter, ¼ Swerve icing sugar style, ½ cup of creamy peanut butter and vanilla extract. For the topping, you will need ½ cup of sugar-free chocolate chips.
Mix all the ingredients in a bowl and then spread into a 6-inch pan. Melt the chocolate chips in a microwave oven for 30 seconds and, once it's done, give it a good stir. If it's not melted, microwave in 10 second increments until it gets there. Spread the topping on top of the bar.
Lastly, refrigerate for 1-2 hours until the bars are nice and thick. These not only keep well but actually get better over time as they harden.
Slow Cooker Peanut Butter Swirl Cake
Fans of less rich cakes will love this recipe. And because it uses a slow cooker it's super easy even for novice bakers.
The ingredients list includes: 2 cups of almond flour, sweetener of your choice that is equal to ¾ cup of sugar, ¼ cup of coconut flour or ½ cup of peanut flour, ¼ cup of unflavoured whey protein powder, 1 tbsp. of baking powder, ¼ tsp. of salt, ¾ cup of melted peanut butter, ½ cup of melted butter, 4 large eggs, 1 tsp. of vanilla extract, ½ cup of water and 2 oz. of melted sugar-free dark chocolate.
Thoroughly grease your 6-quart slow cooker. Whisk together almond flour, coconut flour, whey protein, baking powder and salt. Then, stir in the melted peanut butter, eggs, vanilla extract and water until all these ingredients are combined.
Spread roughly 2/3 of the batter in the slow cooker and on top spoon half of the melted chocolate. Swirl it with a knife and then add the remaining batter and chocolate and swirl again.
Bake on low for 3 ½ to 4 hours, making sure the middle stays a bit under cooked as it will continue to cook from the slow cooker's residual heat. Once it's ready, turn off the slow cooker and let the cake cool.
This recipe makes about 12 servings.
Shop for Ingredients
We hope you try one or more of these amazing desserts that highlight the true possibilities of what can happen when you marry these two flavours together.
Don't forget, you can enjoy the delicious taste of peanut butter and chocolate with these great low carb products.