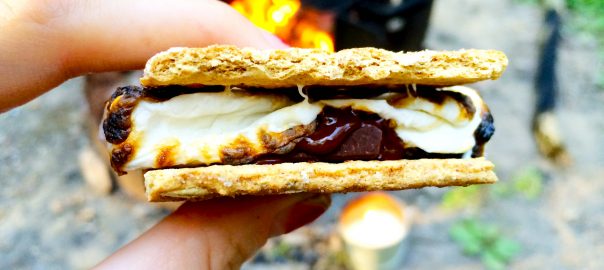 Camping Tips and Low Carb S'mores
Handy Camping Tips and Great Low Carb S'mores
Planning a great camping menu takes some strategy and forethought, especially for low carb dieters. You will need to approach foods very differently than what you'd typically do in your own kitchen, with all the modern conveniences and appliances at the ready. In the woods, you won't find a fully-stocked fridge or outlets to plug in your food processor. Fortunately, we've gathered together a few handy tips that you can use to make food storage, preparation, and clean-up easier and faster.
Of course, no campfire would be complete without the warm, gooey deliciousness that is an authentic S'more. Unfortunately, the basic ingredients of these world-famous camping treats aren't exactly what you'd normally expect to be part of a low carb diet. Typical marshmallows, chocolates, and graham crackers are loaded with sugar and carbs. However, low carb campers will be thrilled to know that this article will detail everything you need to know to make delicious versions of these classic camping snacks without all the unnecessary carbs and sugars.
Before we get to the sweet stuff, we should first cover a few handy tips and tricks that we've learned over several camping trips that help make meal planning and preparation much easier when you're at the campsite.
Easy, Portable and Compact Food Planning for Camping
It's a fact that camping requires a very different approach to food than what we take for granted in our kitchens. First off, you need to leave your campsite cleaner than when you arrived, so everything you pack in must be packed out. This means you should put an emphasis on foods that produce a minimum of waste and garbage to keep things easy and clean. Aside from making things easier overall, this also means you are working to minimize your impact on the environment whenever you head outdoors, and that's a very good thing.
Next, you'll want to consider how well they will keep with minimum refrigeration. If you're taking a giant camper with a working fridge, it's not so much of a concern. However, for tent campers, every square inch of space in the cooler is very valuable. Unfortunately, ice packs don't stay cold forever, and having to buy fresh bags of ice every few days can be a hassle. If you can choose alternative foods or ingredients that don't need refrigeration, such as dehydrated foods or just-add-water meals, you'll save on essential cooler space and make things lighter to carry as well.
One thing that is often overlooked is the fragility of certain foods and their packaging, and whether they can stand up to the rigors of camping. For example, we are huge fans of scrambled eggs cooked over an open fire, but they also need special care in their packaging so they stay intact until you need them. You can purchase special egg cartons made from plastic that are more protective than typical egg cartons. Alternatively, you could even pre-crack your eggs in to plastic storage containers and then you don't need to worry about disposing of egg shells. Other things to avoid are glass containers and thinly-sealed products. You don't want broken glass or a punctured seal leaking all over your camping gear.
The key to packing food for camping trips is one word: Simplicity. The simpler you can keep things, the easier it will be to transport, and to prepare at your campsite. Think about how you can save time, reduce waste, and maximize your space by choosing different foods, ingredients, or packaging options specifically for your camping trip. The benefits are definitely worth the extra time and planning!
World Famous Low Carb S'mores
Now that you've got some tips to help you maximize your cooler space and reduce waste, let's take a look at the highlight of any camping menu; delicious S'mores! For those of you who've never experienced a classic S'more, the basic components include a freshly toasted marshmallow, squished between two graham crackers and a piece of milk chocolate to make the gooiest, tastiest dessert sandwich ever invented. In fact, the name itself comes from the fact that it's tough to say 'some more!' with a mouth full of melty chocolate and marshmallow, and it usually comes out 'S'more!'.
Now, from a low carb perspective this treat may seem like it's something you'd want to steer very clear of. However, there are plenty of options for making great low carb S'mores.
First things first, you'll need a delicious sugar-free chocolate bar that you can use. Some of the best options for chocolate come from Lily's. Depending on your preference, you can choose from Milk Chocolate, Dark Chocolate, and several others. Check out the full range of Lily's chocolate bars here.
Next, you'll need a graham cracker alternative to contain your S'more. Fortunately, this is where you can let creativity take the reins. Pretty much any kind of cookie will work as a graham cracker alternative, including these sugar-free Fudge Striped Shortbread Cookies or Oatmeal Cookies, from Voortman. Ideally, you want a larger diameter cookie so there is lots of space for the marshmallow to squish, and a thinner cookie so that it's easy to bite through. Of course, when all is said and done, you can simply choose whatever you prefer.
Finally, we come to the marshmallow. There are a few different options for sugar-free marshmallows that you can choose from. For a classic S'more, you'll want to go with something like these La Nouba Marshmallows, which have the same shape and size of traditional big marshmallows. For a no-heat option, you could always switch things up and use a marshmallow spread instead. This Marshmallow Dip from Walden Farms tastes great and makes it easier than ever to make S'mores any time, even when you don't have a campfire.
But those aren't the only options for low carb S'more lovers. In fact, if you're feeling extra adventurous, here's one of the best recipes that we've found for making a delicious S'more completely from scratch, without the carbs and sugars.
How to Make Amazing Keto Low Carb S'mores
This fantastic recipe from Megha and Matt at KetoConnect.net is totally unique, and produces an incredible tasting S'more that you can make any time, no fire required. The marshmallow filling is a delectable concoction made from Marscapone and whipped cream, the graham crackers are amazingly simple to make. These are low carb and keto friendly, so you've definitely got to give these a try!
Conclusion
Camping is a great way to spend some quality time with the family, and reconnect with nature with lots of fun activities. Making S'mores together around the campfire is a guaranteed recipe for laughs and smiles, and with these tips you can be sure that you're cooking up delicious treats without all the extra sugar.
So, check out your local campsites and book your next outdoor family adventure! Or, keep things closer to home (and to indoor plumbing) and setup the tent in your backyard one weekend for a surprise family camping adventure, complete with an outdoor fire and genuine S'mores. Happy trails, campers!