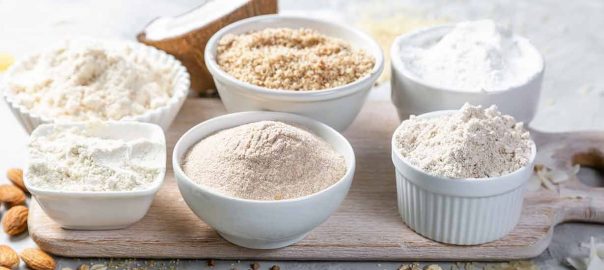 Cooking & Baking With Low Carb Flour
Low Carb Flour Options
For those trying a low carb diet for the first time, you might be surprised by the plentiful flour options. The challenge is determining which should become a new pantry staple to replace traditional flour.
Flour is often a fine powder derived from wheat or grain, nut, root or seed. Low carb versions are typically made from almond or coconut, to name a few, and they behave and taste differently than traditional wheat flour. That doesn't mean they're bad, though. In fact, they can add a lot of flavour and texture to meals and baked goods.
Let's begin by looking at low carb flour and what it can mean for your diet. Next, we'll explore the different types and their nutritional content. Lastly, we'll share a couple of recipes that showcase how good low carb flour can be and why you should make the switch.
Low Carb Flour
Making the switch from high-starch wheat flour to low carb flour can drastically reduce the number of carbs in a meal. To make sure the transition is smooth, we recommend trying out a few recipes that already contain a low carb flour as an ingredient. Remember that because each flour type absorbs liquid differently you can't do straight substitutions.
Additionally, you don't want to turn to gluten-free flours as an alternative. They tend to be extremely processed and contain starches. Generally speaking, low carb flours are healthier and produce better baked goods and batters.
Types of Flour
Popular flours include all-purpose flour, cake flour, pastry flour, bread flour and whole wheat flour, none of which fit into a low carb diet.
Instead, you should try almond flour, coconut flour, all-purpose low carb flour or lupin flour the next time a recipe calls for this ingredient.
Which type to use typically depends on what you're trying to make. For instance, there is a specific flour to make pizza crusts and different ones to make either low carb muffins or biscuits.
Let's review a couple of low carb flour options that our customers love.
Almond Flour
Almond flour is vitamin and mineral-rich and contains a good amount of calcium. It is made by blanching almonds and then removing their skin and finely grounding them. Per ¼ cup, there should only be about 6g of total carbs. Be sure to review a product's nutritional information for the exact number of carbs per serving.
Almond flour is great for pancakes, scones, meatballs, pasta and to bake certain cookies.
Coconut Flour
Coconut flour is naturally grain-free. It's derived from dried coconut meat, which is prepared at a low temperature and pulverized until it is incredibly soft and fine enough for baking. In addition to being low carb, it is high in fibre and protein.
If using coconut flour, keep in mind that it requires more moisture when baking. You might need to include an extra egg or butter as part of a recipe to offset this. When using it to make waffles or pancakes, allow the batter to sit and thicken for a few minutes.
Most coconut flours only have 3g of total carbs. Make sure you double-check prior to using.
Low Carb Flour Options
Here are some popular brands that are worth trying as you delve into the world of low carb flour.
Anthony's Goods makes a line of low carb flours perfect to use in a variety of recipes. It's finely ground and light enough to produce fluffy baked goods. Additionally, it's batch tested, gluten-free, non-GMO, vegan and complements any low carb diet.
Their extensive product line includes a blanched extra-fine almond flour, nutritional yeast flakes, organic coconut flour, flaxseed meal and organic psyllium husk. Per ¼ cup of the Blanched Extra-Fine Almond Flour, there are 15g of fat, 2g of net carbs, 3g of fibre and 6g of protein.
Popular brand, Dixie Diner, makes an all-purpose low carb flour that can help produce delicious baked goods or thicken sauces. Per ¼ cup, there are only 1g of fat, 2g of net carbs and a whopping 13g of protein.
Inari Organic Coconut Flour is made from fresh coconut meat. With its slight nutty taste and scent, it perfectly complements chocolate or vanilla flavours. Another benefit is that it can increase a baking yield by up to 38%. Per ¼ cup, there are 4.5g of fat, 7g of net carbs and 5g of protein.
Recipes using Low Carb Flour
Each of these recipes feature a low carb flour. We recommend not replacing the listed flour with another type unless you know the exact measurement conversion.
Blueberry Muffins with Almond Flour
You can whip up a batch of these moist muffins in under 30 minutes. They're perfect for breakfast or to enjoy as a mid-afternoon snack.
To make, gather 2 ½ cups of blanched almond flour, ½ cup of erythritol, 1 ½ tsp of gluten-free baking powder, ¼ tsp. of sea salt, 1/3 cup of coconut oil melted, 1/3 cup of unsweetened almond milk, three large eggs, ½ tsp. of vanilla extract and ¾ cup of fresh blueberries.
While your oven is preheating to 350F, line a muffin pan with 10 or 12 silicone or parchment paper muffin liners. Next, mix the almond flour, erythritol, baking powder and sea salt until all the ingredients are incorporated. Add the coconut oil, almond milk, eggs and vanilla extract. Lastly, fold the blueberries into the batter.
Evenly distribute the batter among the liners and bake for 20-25 minutes. Once the tops are a nice golden brown they are good to go. You can also test a batch's doneness by inserting a toothpick into a muffin and if it comes out clean then they are ready.
Keto Chicken Tenders  
With a low carb breading and the right flour, you can enjoy these perfectly baked chicken tenders that are best slathered in tangy Buffalo sauce and accompanied by with a delicious dip.
The ingredients list includes 1 lb. of chicken breast tenders, 1 cup of almond flour, one large egg, 1 tbsp. of heavy whipping cream, 6 oz. of Mild Wing Time Buffalo Sauce, salt and pepper plus a dip of your choice. Incidentally, if you're not a fan of Buffalo sauce, we carry a wide variety of hot sauces.
Preheat your oven to 350F and lightly grease a pan. Generously salt and pepper the chicken and the almond flour. Beat the egg with the heavy whipping cream. Carefully dip each piece of chicken into the egg wash followed by the almond flour. Alternatively, you can coat the chicken by placing it in Tupperware or a Ziploc bag with the flour and giving it a good shake.
Put the tenders on baking sheet so that they're not touching and bake for 30 minutes. Once they are cooked through, you can broil for 2-3 minutes if you prefer a crispy exterior.
As soon as the tenders have cooled, place them in a Tupperware container with the Buffalo sauce and gently shake. This is the best coating method as it prevents the batter from falling off.
Enhance the flavour of this meal by including a low carb sauce on the side like this Ranch Dip from Walden Farms. They also offer French Onion Dip or Bleu Cheese Dip.
Find Ingredients Today!
If you're excited about low carb living, then make sure you stock your pantry with the right type of flour.
While you're here, check out our inventory of amazing low carb products and brands so you can make wonderful meals for breakfast, lunch and dinner.