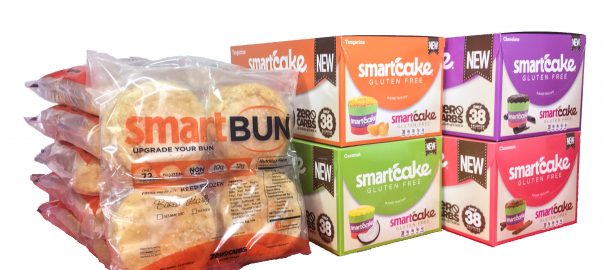 Introduction to Smartcake & Smartbun Low Carb Products
Cake and buns aren't exactly the first type of foods that spring to mind when you think of the low carb diet, but the bakers over at the Smart Baking Company have made it their mission to completely change that. They've created an amazing series of baked products that shatter every stereotypical image of diet food being bland and boring.
In this article, we're going to take a quick look at the Smart Baking Company, and what has driven them to produce such amazing cakes and other low carb products that our customers can't stop raving about.
About the Smart Baking Company
Based in Florida, the Smart Baking Company was founded to prove to the world that, in their words, 'healthy and fun can go hand in hand'. They are dedicated to making delicious and healthy foods that are perfect for low carb, gluten free, and low sugar diets. Smartbun and Smartcake products are free of gluten, starch, and sugars, but are dense in nutrients such as omega-3 fatty acids many essential vitamins. To learn more about the Smart Baking Company, visit their website.
The Smart Baking Company has quickly risen to the top of the list of popular low carb brands, thanks to their consistently delicious products and dedication to using only the finest healthy ingredients. You can be sure that when you buy their products, you're getting top quality in addition to amazing taste. Now, let's take a look at their products, and learn just what it is that makes them so good!
About Smartcakes
Finding delicious and healthy snack foods can be a challenge for many people, especially if you have a notoriously powerful sweet tooth. Sugars and carbs abound in traditional cakes and baked goods, and for low carb dieters, this means being very careful about enjoying cakes and other baked foods. Smartcake brings cake back in to the spotlight for low carb snackers. Fans of Smartcake simply can't stop raving about the taste and texture of these delicious little cakes, and the fact that they are contain zero net carbs, no sugar, and no gluten just makes them even more satisfying!
Smartcakes are conveniently packed in pairs, and these delicious snack cakes that come in a wide array of flavours. Some of the most popular include Chocolate, Cinnamon, Coconut, and Tangerine. Smartcakes are made with a proprietary fibre blend including oat, corn and flax, and each cake contains 5g of fibre and 4g of protein. You can browse the entire range of Smartcake products here.
About Smartbun
Burger lovers rejoice! No longer are you forced to skip the bun, or resort to dry and tasteless bread options to hold your burger. Smartbun is the answer to the prayers of low carb hamburger aficionados. Developed specifically to address the needs to low carb and gluten free diets, the Smartbun is high in fibre and omega-3 fatty acids. Smartbuns have a light and flaky texture, just like traditional gourmet hamburger buns, and are the perfect low carb platform for your fresh grilled patties. These buns use only top-quality ingredients, including a similar proprietary fibre to that which is used in Smartcake. Smartbuns are available in both plain and sesame seed varieties.
These buns are one of our customers all-time favourite low carb bread products, and the reviews we get are definitely some of the best we've ever about a low carb bun. Don't think that the use of Smartbuns are limited to simply hamburgers. You can use them to create all kinds of sandwich concoctions, and have zero-worries about the carb count of the bun. Use them for everything from grilled chicken to Reubens, or even breakfast sandwiches. There are lots of options available, and the only limit is your creativity! You can shop for Smartbun products here.
Summary
Just in case you may need a bit more convincing to try out Smartbun or Smartcake products, check out this great video featuring Juli from Livin Large on Lifetime as she talks about her experiences with Smart Baking Company products, and does a quick review of the latest flavour of Smartcake, Tangerine!
If you find yourself frustrated or disappointed with the typical low carb cake and bun options, then you simply have to try these products from the Smart Baking Company. Smartcake and Smartbun products have built an outstanding reputation in the low carb world for being some of the most delicious and healthy baked goods that are available.
We're sure that if you give them a try, you'll agree that Smartcake and Smartbun are anything but ordinary, and they're a perfect addition to any low carb lifestyle!