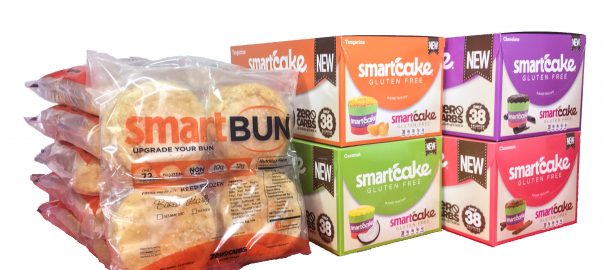 SmartCake & SmartBun – Low Carb Cakes and Buns
Upgrade your Buns & Cakes to Gluten-free & Low Carb Alternatives!
Cakes and buns aren't exactly the first things that come to mind when you think low carb food, but the bakers at the Smart Baking Company have made it their mission to change that! They have created two amazing lines of baked products that shatter every stereotype of boring diet food. Read on to learn more about why we love the Smart Baking Company and two of their featured products: SmartCake and SmartBun!
About the Smart Baking Company
The Smart Baking Company was founded to prove to the world that healthy and fun can go hand in hand. Whether you are gluten free, diabetic, on a keto diet, eating for weight loss or just trying to be more mindful, they want to make sure you enjoy the food you eat!
The company has quickly risen to the top as one of the most popular low carb brands, thanks to their consistently delicious products and dedication to using only the finest healthy ingredients. You can be sure that when you buy their products, you are getting the best quality ingredients and amazing flavours in every bite!
Here are some of the ways the Smart Baking Company differentiates its products:
All of their products are certified Gluten-Free by the National Celiac Foundation.
Gluten is great for baking because it holds dough together and gives the end product a chewy texture, but it is not so great for consumers who are gluten intolerant. Instead of traditional wheat flour, the Smart Baking Company's products are made with a blend of oat fibre, rice fibre, corn fibre and flaxseed meal. This blend adds a healthy dose of fibre to their products and ensures that they are safe to consume for all! Plus, flaxseed meal provides heart-healthy omega-3 fatty acids that make these an even smarter choice.
Everything has zero carbs, zero sugar and zero starches!
The Smart Baking Company's products are safe for low carb and keto dieters! When the founders learned that the average American consumes 130 lbs of added sugars a year, or 22 teaspoons a day – they knew that something wasn't right. Research has shown that a diet high in sugar can affect the body in a multitude of negative ways. The good news is that once you eliminate sugar from your diet, the cravings tend to subside. This is also great news for low carb and keto dieters, or those suffering from diabetes. There is a way to manage your diet, the first step is to eliminate things that are damaging to your body, such as sugar. It's a big step, but it will help rewire your brain and change your habits, making it easier over the long term.
They never use artificial flavours, colours or dyes.
Food dyes found in highly processed foods have been shown to have many negative side effects. Did you know that these dyes are made from petroleum or crude oil? Save that for your car, not your food! You never have to worry about the Smart Baking Company's products containing these harmful chemicals, as they use only naturally-derived flavours and do not add any synthetic colours.
All of their ingredients are naturally sourced and non-GMO.
Enough said! Many consumers look for these qualities in the food they buy, so the Smart Baking Company is committed to only using natural and non-genetically modified ingredients.
Their products contain protein in each serving!
Proteins are the building blocks of just about everything – bones, muscles, skin, blood cells and cartilage. They are also used in the synthesis of enzymes, hormones and other bodily chemicals. As you can tell, protein serves many vital functions and that's why it's so great that the Smart Baking Company's products contain healthy sources of protein.
So, what are these sources? One of the ingredients that the Smart Baking Company uses is whey protein isolate. This complete protein is derived from dairy and contains all ten essential amino acids. It is more easily digested and absorbed by the gut compared to other sources of protein. In addition, the Smart Baking Company uses eggs to add a boost of protein as well as other nutrients to their products. Eggs also contain essential amino acids which promote healthy liver function, normal cell activity and efficient transportation of nutrients throughout the body.
They even care about their water sources!
The Smart Baking Company has partnered with Cool Blue® water purification systems to ensure that the water they use in their baking is of the best tasting and purest sort. It does not contain any added chemicals and retains several naturally occurring beneficial minerals, taking the quality of their products one step even further.
Now that we've covered some of the reasons why we love the Smart Baking Company, let's get into the delicious products they make!
About SmartCake
Finding delicious and healthy snack or dessert foods can be a challenge for many dieters, especially if you have a notoriously powerful sweet tooth. SmartCake brings cake back into the dessert options for low carb dieters! Fans of SmartCake can't stop raving about the taste and texture of these delicious desserts. Plus, the fact that they contain zero net carbs and a myriad of healthy nutrients makes them even more satisfying!
Each SmartCake contains 9g of carbohydrates, 5g of which are dietary fibre and 4g of which come from erythritol, a sugar alcohol that is not processed by the body like regular carbohydrates. This means that there are 0g net carbs in each SmartCake, making them a safe and delicious snack for low carb and keto dieters. They are not only delicious, but nutritious, too. Packed with vitamins and minerals, SmartCakes are part of a healthy diet that promotes good eyesight, healthy skin and bones, proper immune function and several other benefits! Each serving also contains 4g of protein – the icing on the "SmartCake"!
Similar to SmartCake
If you like SmartCake, check out these other brands offering similar nutritious, low carb solutions to your favourite sweet snacks!
Thin Slim Foods 
Thin Slim Foods makes sugar and gluten free brownies, muffins and signature baked goods. Their products are naturally sweetened with erythritol, making them safe for keto dieters and diabetics. Hand crafted from one-of-a-kind recipes using simple, high quality ingredients, Thin Slim Foods products not only taste moist and decadent, but are also low in carbohydrates, fat, and calories.
All of these products are ready-made and ready to be enjoyed! They are a great snack on the go or when you are short on time. Plus, they are high in protein and fibre so you can get the most nutritional value out of your snack or dessert.
HoldTheCarbs
HoldTheCarbs was born when the founder, Viktoria Brown (now an avid marathon runner and ironman triathlete!), was looking for a solution to her boring diet food. She wanted to enjoy her favourite foods again, such as pizza, pancakes, brownies and muffins, but ensure she could do so while sticking to her low carb, high protein diet. After experimenting in her home kitchen, she came up with recipes that are all gluten-free, keto-friendly, high in protein and fibre and – most importantly – taste great!
These baking mixes are easy to prepare; simply add liquid and eggs (or vegan substitute) and follow the cooking instructions. They are also highly versatile so you can customize them with additional ingredients to your liking. Now you can enjoy your favourite indulgences guilt-free while nourishing your body with important nutrients.
About SmartBun
Burger and sandwich lovers rejoice! No longer are you forced to skip the bun or resort to dry, tasteless bread alternatives. Developed specifically to address the needs to low carb and gluten free diets, SmartBun still allows you to enjoy your favourite foods but in a safer and more nutritious way. SmartBuns have a light and flaky texture, just like traditional hamburger buns and unlike any other low carb bun on the market today. They are available in two classic flavours: Plain and Sesame.
Once again, they are completely carb, sugar and starch free! With 12g of dietary fibre and 4g of erythritol, your net carb intake won't budge an inch. Plus, you'll be getting a good amount of omega-3 fatty acids, 10g of protein and other essential nutrients in every SmartBun. Use them for any kind of sandwich, from burgers to BLTs to breakfast sandwiches. SmartBuns are also great for making low carb stuffing, low carb bread pudding, croutons, breadcrumbs, and much more!
Similar to SmartBun
The Low Carb Grocery carries several low carb bread and bun alternatives. There is no need to say goodbye to your favourite sandwiches with these nutritious and various diet-friendly options.
Bakers Deluxe
Bakers Deluxe Dream Buns are soft and light and contain only 1g net carbs per bun! Each bun also contains 14g of protein and 17g of fibre – truly a dream! Made with high quality ingredients such as oat fibre, golden flaxseed meal, olive oil and almond meal, these buns are naturally packed with nutrients. Available in Dinner Roll, Hamburger Bun and Hot Dog Bun formats. Note that these buns are not gluten-free, and contain protein and fibre from wheat sources, as well.
Unbun 
Unbun Keto-Friendly Buns are gluten-free, grain-free and high in fibre and protein. With just 5g net carbs per bun, they can be enjoyed whenever cravings for bread strike. These buns freeze well and thaw perfectly, allowing you to store them to maintain freshness for up to 3 months. They are available in two delicious versions: original and plant-based! By removing eggs from the original recipe and replacing them with pumpkin seed protein powder, the plant-based buns are vegan-friendly and still packed with nutrients! Plus, they do not fall apart and can be loaded with all of your favourite toppings. Also try Unbun Mini Baguettes – great for deli-style sandwiches!
Stay Connected
We are sure that the products mentioned in this article will change the way you think about low carb and gluten-free foods! If you have tried any of these products, let us know on Facebook or tag us on Instagram. We also love to stay connected with our Weekly Newsletters for updates on the latest products and special sales. And please leave us a Google Review with your Low Carb Grocery experiences!