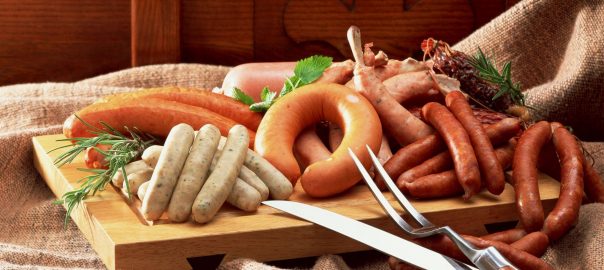 Healthy Low Carb Sausage Recipes – Meal Planning Ideas
5 Healthy Low Carb Sausage Recipes
Sausages are a wonderful ingredient to use as part of a wide variety of low carb recipes. They come in many different styles and flavours, and are a great source of protein. They are an important ingredient in many Italian recipes, contemporary American recipes, and many other types of cuisine from around the world. In this article, we share five fantastic recipes that use different kinds of sausage as a focal point of the meal, and are great low carb options to work in to your weekly meal plans.
Now, get right to the list of the most common kinds of sausages. We'll take a look at their different characteristics, and provide an example of a great recipe that you can use them with.
Italian Sausage
Italian style sausages are usually made from seasoned pork and are extremely popular. They are commonly found in either spicy or sweet flavours. Spicy Italian sausages are available in varying levels of heat, from mild to very hot, so always check the label to ensure that you are getting ones that suit your tastes. Italian sausage is a common element in many different pasta recipes, as well as a delicious pizza topping, or tastes great simply grilled and served on a nice, toasty low carb bun with your favourite condiments.
One Pan Italian Sausage Dinner Skillet
This recipe from Vicky at Tasteaholics is an amazing meal full of big flavours that complement the bold taste of Italian sausages. It also has the added convenience of being made in a single skillet, so there are fewer dishes to clean up, which is always a bonus. This recipe is fast and easy to prepare and is the perfect dinner for two on a busy weeknight.
This popular sausage type hails from Poland, and is made from pork that is typically smoked and can be served either hot or cold, making it a very versatile sausage for many types of recipes. Kielbasa is a great addition to any cold cut platter or charcuterie plate, and it pairs well with many kinds of cheeses. It's also a handy way to add some protein to a lunch box that even kids will enjoy (just watch the garlic content, or the kids won't be very popular at school).
We found this recipe at PeaceLoveandLowCarb.com, and we echo the sentiments of the author, Kyndra, who says that you've got to love any recipe that "contains inexpensive ingredients, is quick to make, and tastes like you've spent hours on it." This recipe definitely hits all of those marks, and is low carb and gluten free to boot. You can have this ready to serve in 30 minutes, and it's sure to be a big hit each and every time.
This is definitely one of our favourite types of sausage. A good 'Brat' on a soft low carb bun and smothered in sauerkraut is just about as close to perfection as you can get. Bratwurst is a German sausage made of pork and veal, mixed with a blend of seasonings such as salt and nutmeg, as well as a few others. Bratwursts are usually served either grilled or fried, and are a great addition to any low carb menu.
Bratwurst with Onions and Sauerkraut
Like we said, it's hard to beat a perfectly grilled Bratwurst that's topped with sauerkraut, and this recipe delivers on that promise. This particular recipe from the chefs at Atkins does away with the bun, however, and adds onions to the mix to create a fantastic one-pan low carb meal you can have ready in just 15 minutes that is packed with protein and delicious flavours.
This zesty sausage of Mexican origins, is typically made from either pork or occasionally beef, and is seasoned with a variety of spices and seasonings including chilies and garlic. Chorizo is a popular ingredient in Southwest style recipes since it is often hot and spicy, and works well with the other ingredients that are common in those kinds of dishes.
Easy Low Carb Chorizo Chili Recipe in a Skillet
This incredible recipe for a low carb chili goes the extra mile by using a chorizo sausage that is made from scratch, and tastes absolutely amazing. It's perfect for all kinds of low carb diets, including paleo and keto, and is gluten free, too. Kim at LowCarbMaven.com created a home-run with this recipe, and we're sure that once you try it, you'll definitely be including it on many of your future meal plans.
This smoked type of pork sausage is a staple of Cajun and Creole cuisine, and is seasoned from a blend of spices and ingredients that includes garlic, onions, and even wine. While it can be more difficult to find in traditional grocery stores, you simply can't make jambalaya or gumbo without a nice andouille sausage. It's got a nice spicy kick that you can use to heat up all kinds of other recipes, too.
Low Carb Cajun Style Sausage Recipe with Cauliflower Rice
With a Cajun style sausage, you've got to have a Cajun style recipe to use it in, right? Well, this delicious creation from Jenni at PastryChefOnline.com definitely falls in to that category. This flavourful dish combines the spiciness of the andouille sausage with plenty of fresh vegetables, a bold and creamy Cajun sauce, and serves it all on top of a fluffy bed of cauliflower rice. Absolutely delicious!
Conclusion
Using sausages as a main ingredient produces some amazingly flavourful low carb meals that the whole family will love to have as part of your weekly meal plans. In addition to these fantastic recipes, don't forget about the classic breakfast sausages that we all know and love.
If you're in the mood for something different from bacon to accompany your morning meal of scrambled eggs, sausages are a delicious way to get some more protein and start your day off right. We hope that you've found these recipes inspiring, and that your next meal plan might just include some of these ideas. Happy eating!