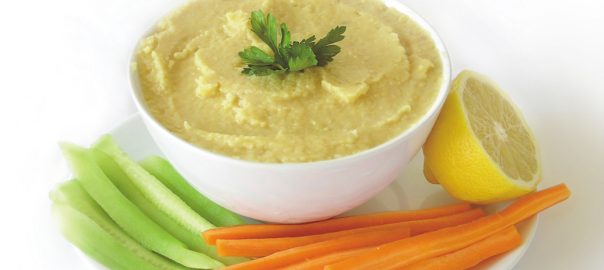 Low Carb Hummus – Homemade
Make Gourmet Low Carb Hummus at Home
Of all the different types of dips and spreads that exist in the world, hummus is definitely one of the most widely known and popular. It's great for dipping almost anything, from veggie sticks to crackers, and can also be used in a lot of other ways. Some people use it as a sandwich spread, as an ingredient in salad dressings, and even in some soup recipes. It's a very versatile food that has a distinctive taste, and it's very easy to make.
In this article, we'll give you the essentials on how to make your own delicious hummus right in your own kitchen. We've got some great suggestions on how to season and flavour your hummus to create a few different unusual taste combinations, and we've even discovered a fantastic recipe for hummus made from alternative ingredients that brings the carb count down even lower. With these recipes and tips at hand, you'll be well on your way to becoming an expert in the world of hummus in no time. Let's dive right in and get started by learning about the origins of hummus and the basic ingredients you'll need.
What is Hummus?
The origins of hummus stretch back hundreds of years, as far as the 13th century, actually. It's a common staple of Middle-Eastern cuisine and comes in a wide range of variants that stem from regional differences in ingredients. The primary ingredient in hummus is chickpeas, which belong to the group of foods known as legumes, alongside beans, peas and other similar foods.
While chickpeas on their own do contain carbs, it's important to note that they are also extremely high in fiber and contain a good amount of protein, in addition to many other vitamins and nutrients. The carbs from the chickpeas are usually offset by the fact that hummus is typically used as an accent for other foods that are either carb-free or extremely low in carbs, such as vegetables and meats.
Chickpeas aren't the only ingredient needed to make a great hummus, however. Other essential ingredients include tahini, which is a condiment made from ground toasted sesame seeds, as well as olive oil, lemon juice, salt and garlic. Several different ingredients can also be added to hummus to create a wide range of tastes such as red pepper, sun-dried tomato, jalapeno, and many more.
Now that you've got an idea of where hummus came from and what you'll need to make it, let's take a look at a couple of fantastic recipes that are easy to follow and allow you to make delicious, healthy homemade hummus. First, let's start with a traditional hummus recipe that covers all the basics.
This simple, but amazing, recipe for classic hummus comes from Ali over at GimmeSomeOven.com. This delicious hummus can be ready in just minutes, and all you really need are the ingredients and a food processor or blender to make it happen. Once you've got the basic hummus done, you can easily customize it with a variety of toppings to suit your taste. The chef recommends things like an extra drizzle of olive oil, perhaps some red pepper flakes, a sprinkle of paprika, or even some toasted pine nuts or pesto. Go ahead and get creative and add some personal flair to your hummus.
As you can see, making your own hummus at home is super simple. But what if you want to drop the carb count even lower? Can you still make great hummus from alternative ingredients? You bet you can!
Low Carb Cauliflower Hummus Recipe
We've found this incredible recipe from Melissa at IBreatheImHungry.com for a hummus made from cauliflower, and you've just got to try it. This creation is a fantastic alternative for low carb dieters who are keeping to a very strict level of carbs, but still want to enjoy a tasty hummus dip with a variety of foods. As a bonus, it's also paleo-friendly, so many different types of dieters will benefit from this unique method for making tasty hummus.
Ready-Made Hummus Products
Of course, not everyone has the time to make fresh hummus from scratch. For hummus fans who are in a bit more of a hurry, you can find all kinds of delicious prepared hummus in a variety of flavours from Wild Garden, including delicious flavours like roasted red pepper hummus. Browse the full range of Wild Garden hummus here.
Conclusion
Hummus is a great fit for low carb dieters and it works in all kinds of healthy meal plans as a condiment, snack, or ingredient for main dishes or side dishes.
We certainly hope that you've found this information helpful, and that the next time you need some hummus for a table full of appetizers, that you consider trying your hand at making your own. It's a simple food to prepare, and fresh hummus always tastes better. Plus, you'll be able to customize the flavours to suit your tastes or create exciting new combinations for your guests to try.