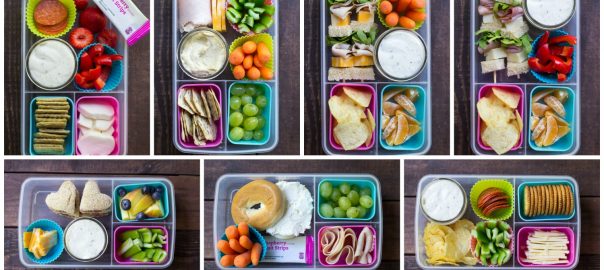 Lunch Gear Guide – Buy The Right Containers, Utensils & More
Lunch Gear Review – Easy Packing for Work & School Meals
Most weekday nights, parents are preoccupied with making lunch for the next school or camp day, on top of making something for their lunch time meal. Once you've decided on what to take, you need to pack it in a way to give it a fighting chance to survive until it's consumed the next day. This means investing in containers and bags for protection and making sure everyone has the utensils to eat without making a mess.
Stores and online retailers are rife with lunch gear so it can be daunting to find the best products in your price range. You also must know what to look for with respect to safety, features and durability.
Don't worry, we're here to help! Let's first look at what features make a lunch product worthwhile. Next, we'll review the best lunch containers and bags and review the most impressive utensils. Lastly, we'll explore a couple of unique products that parents will love and kids won't be able to destroy.
Features to Look For
The first thing you should do is make a budget so you don't rack up too high of a bill as you shop for lunch gear. As every parent knows, kids tend to either lose or destroy things so you want to look for value in case you must buy replacement products.
As you shop for the basic lunch necessities, consider the following features:
Cold and heat Insulation
Multiple compartments
Ease of cleaning
Durability
Weight (remember you have to carry it)
Material used – avoid industrial chemicals like BPA
You want to buy the products that offer the most benefits and that you feel comfortable sending out into the world with your kid every day.
Food Containers
Lunch containers keep food safe and fresh until it is time to eat. You want containers that are durable and compartmentalized so you can keep different items separate and secure. The last thing you want is for a juice box to puncture and destroy a sandwich.
YUMBOX
Bento boxes are a great model for lunch containers. These containers from Japan offer single-portion compartments, allowing someone to enjoy a full meal made of different components.
The YUMBOX allows you to pack a lunch in the style of a bento box. It's leak-proof so you can pack yogurt or water without worry.  It comes with a single lid and removable tray. All materials are food-safe, meaning there are no BPAs or phthalates.
Rubbermaid LunchBlox
These durable containers are comprised of modulated and colour-coded containers so you can pack in an organized fashion. Another benefit is that they are stackable so they take up less space in a lunch box or your fridge if you prepare meals the night before.
A Blue Ice freezer pack attaches directly to the containers, keeping food chilled so it doesn't spoil. This is a great option for when your kids go on field trips and their lunch needs to keep while on a hot bus or out in the sun.
A kit includes one sandwich container, two side containers and one medium Blue Ice freezer pack. All items are microwave and dishwasher safe.
Lunch Bags
Here are some popular lunch bags for students and campers that you should check out.
Wildkin
This lunch container features a durable and sturdy exterior with vibrant designs and an insulated interior with spacious compartments to fit items of different sizes. There is a zippered pocket at the front to separate certain items or to hide a special treat.
This lunch bag allows you to secure a juice box or water bottle in place and a mesh pocket for utensils or napkins or to place used wrappers.
Rubbermaid LunchBlox Lunch Bag
This lunch bag is a far cry from the run-of-the-mill brown paper bag. It's made to specifically work with the above featured Rubbermaid LunchBlox food containers.
This lightweight bag secures contents with a zip closure and is designed with a comfort-grip handle and removable shoulder strap to make it easy for a kid to carry. Inside, you will find individual compartments for bottles and utensils and a BPA-free liner. Additionally, it is insulated to keep food fresh all day.
L.L. Bean Flip-Top Lunch Box
More rugged kids need a lunch box that can withstand a high level of rigor. Enter the L.L. Bean Flip-top, which comes in a variety of sizes.
It's made of the same durable material as L.L. Bean book packs and is water-resistant, fully insulated, the lining is easy to clean and it comes in a multitude of colours. This is one lunch box that will survive a day of rambunctious activity.
Utensils
Every lunch box needs a good set of reusable cutlery for eating everything from pudding to pasta. Here are some popular choices.
Blowholes Biodegradable Paper Straws
To go along with all these excellent reusable containers and bags, we recommend swapping out plastic drinking straws with something much more environmentally friendly. These 100% biodegradable paper straws from Blowholes.ca are tough, durable, and will last for hours in hot or cold drinks. They're the perfect way to sip all kinds of beverages without clogging up our oceans and landfills. It's a simple substitution that you can really feel good about!
Fuel 2 Piece Foldable Cutlery Set
This fork and spoon combo is made of polypropylene and stainless steel. They are compact with the unique ability to fold so that they take up less space and will not break or puncture another item inside a bag. They are also dishwasher safe, which is important because cutlery needs to be thoroughly cleaned after each use.
Kids Bamboo Utensil Set
This environmentally-friendly utensil set is crafted with renewable bamboo that is built to last.  Easy to take wherever your kids go whether it's school, summer camp, camping or a field trip. Each set includes a fork, knife, spoon, all of which can be kept safe in a nifty carrying case. If your kid is too young to handle a knife, simply remove it from the kit.
The concern with a material like bamboo is that it will get stained by certain foods like blueberries or strawberries or that it will absorb flavours. This product has proven to be stain-proof and maintain its neutral flavour regardless of the foods it encounters.
This set is recommended for kids 18 months and older. It is free of harmful chemicals and is CPSC tested and approved.
Other Cool Gear
Check out some other cool lunch gear that can prevent spills or messes or keep foods like soup or pasta warm until it's lunchtime.
Drink in the Box
This is a product that most parents don't even know exists but would find very helpful. This reusable juice box holds liquids without squirting or leaking and makes sure your kids can easily have a sip whenever they need it.
The interior will not grow mold and since it's reusable there is little impact to the environment.
Thermos Foogo Vacuum Insulated Food Jar
Not every kid likes a peanut butter and jelly sandwich. Some have more refined tastes and will only eat soup or pasta for lunch. This thermos contains vacuum insulation technology that keeps contents cold for up to seven hours or warm for up to five hours.
A product constructed with kids in mind. It's stainless steel body and interior is durable and can hold up to 10 ounces of food. The rubber lid allows a child or adult to grip it cleanly and open it without much effort. Additionally, it's super easy to clean and scratch resistant.
Shop for delicious Ingredients
Now you have the information you need to pack a lunch that will keep food safe and either cool or warm so your kids can get the fuel they need.
Once you have the right gear, make sure you have delicious low carb ingredients to make meals your kids will love. Browse our inventory to find wonderful and nutritious lunch items.