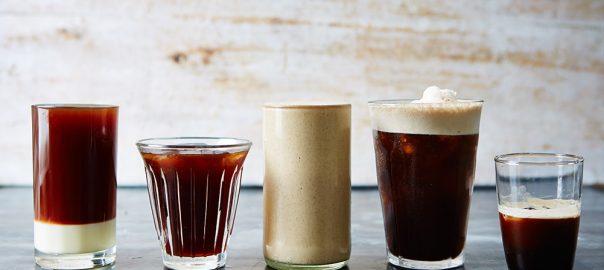 Sugar Free Iced Coffee Drinks
Cool and Refreshing Sugar-Free Iced Coffee Drinks to try this Summer
When you roll out of bed in the morning, if you're anything like us, you probably head straight for the kitchen to start the day off with your favourite cup of coffee. On those hot and humid summer days though, you may not be overly keen on sipping on a hot beverage and would prefer something cold and refreshing instead. For those of us who need their daily shot of caffeine but are in the mood for something cool to chill out with, this collection of sugar free iced coffee drinks should be exactly what you're looking for.
Iced coffee drinks are really gaining in popularity and are now available at most major coffee chains. Unfortunately, many of the options available at these places are loaded with sugary syrups to sweeten and flavour their drinks. This is no good for low carb dieters, but don't worry, because we've got you covered with these awesome drink recipes that you can make at home. Plus, we've picked a few coffee brewing products that you're going to want to add to your kitchen. Let's go!
Basic Method for Cold Brew Coffee
For starters, let's keep things simple and go with your basic cold brew coffee. One of the common complaints that come from people who are just starting to learn to make their own iced coffee is that it can come out watery or bitter. Most of this is due to the fact that taking regular hot brew coffee and simply chilling it in the fridge or adding ice doesn't give the best results.
There's a proper method for cold brewing coffee, which is very much like making iced tea, so it's pretty easy. Starting with coarsely ground coffee, you simply add water and let it steep for a period of time, which is usually around 10-12 hours. Then, you just need to strain out the grounds and you're ready to serve.
This method has a few specific benefits to be aware of. First, the slow steeping process gets all the great flavour out of your beans, so the flavour is much more robust. Second, it has an inherent but subtle sweetness to it, meaning most people don't even need to add any sweeteners to it. Third, the bitterness that typically comes with hot brewed coffee is reduced, making it very smooth and easy to drink.
Once you've got your cold brew coffee ready to go, you can drink it straight away and add milk, cream, or your favourite sweetener to customize the taste. Many people like to make large batches so you always have some handy in the fridge for any time you want a fresh, cold pick-me-up.
Sugar Free Iced Coffee Recipes
Sugar Free Caramel Mocha Iced Coffee
We're going to kick off the list of recipes with something truly decadent! This delicious iced coffee creation features some of the most popular flavours that adorn the menus of fancy coffee shops all over the world. Infused with mocha and caramel flavour drops, and sweetened with Stevia, this amazing treat truly is a dessert in a mug! If you want, you can make it even more impressive by topping it with sugar-free whipped cream and a sprinkle of crushed coffee beans for some added flair.
Sometimes when you're running short on time, it helps to have a quick and easy alternative to making a great iced coffee, and this one definitely fits the bill. Using your preferred brand of instant coffee, all you need is some ice cold filtered water, your favourite coffee creamer, and a few ice cubes to make this tasty and refreshing iced coffee. It's just that simple!
Sugar Free Nutella Iced Coffee Frappe
Blended coffee drinks like this are exactly why iced coffee is gaining such widespread popularity. This recipe uses a homemade version of the classic hazelnut chocolate spread to bring the distinctive taste without the sugar, adds cold brew coffee, unsweetened almond milk, and a few drops of hazelnut stevia. Blend it all with some ice and serve for a frosty treat on a hot summer day.
This simple recipe is a great example of how you can take a basic batch of cold brew coffee and add in some flavoured creamer to bring some variety and new tastes to your coffee routine. This particular recipe calls for a hazelnut flavoured sugar-free creamer, but you could easily use whatever your favourite flavour may be, such as French vanilla or Mocha, for example. You can always mix things up and make it your own!
Iced Coffee Brewers
Brewing your iced coffee at home is a lot easier with the right equipment. Here are a couple of iced coffee brewers you should check out.
Primula Cold Brew Iced Coffee Maker – For making big batches of cold brew coffee, this brewer from Primula has a 50oz carafe, making it perfect for keeping your fridge stocked up with fresh iced coffee.
Cool Gear BRU Single Serve Iced Coffee Brew System – Just need a single cup of iced coffee? This is the brewer for you. Comes with its own double-wall travel tumbler so you can just brew and go with ease.
Mugs & Tumblers for Iced Coffee
Once you've got your drink ready to serve, why not serve it with some style? Here are a couple of products that will keep your drink cool, and definitely have enough class to accompany even the fanciest iced coffee creations.
STTOKE Ceramic 16oz Angel White Travel Cup – Now here's a sophisticated travel tumbler that has as much durability as it does cool style. It's stainless steel & ceramic vacuum-insulated construction will keep your drinks cool from start to finish, and it's big enough to hold a very generous serving of your favourite iced coffee drink.
Bodum Pavina Double-Wall Coffee Glass Set – These beautiful coffee glasses bring elegant styling and practical functionality to your coffee table. The double-wall glass construction provides plenty of insulation to keep things cold, and the crystal-clear glass shows off the layers of your fancy iced coffee drinks for all to see.
Keep Your Cool with Iced Coffee
With these recipes, tips, and tools at the ready, we're sure that you'll definitely enjoy sipping on some delicious iced coffee drinks this summer. These drinks are a great way to change up your morning coffee routine, especially on those hot and humid summer days. Now, go brew up something cool, and enjoy!