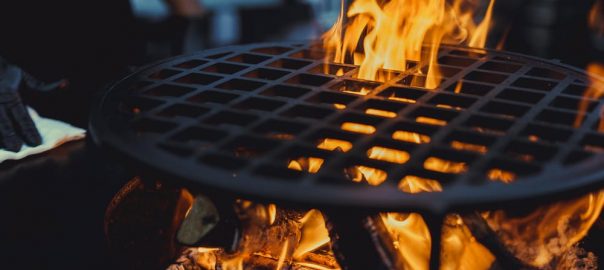 Summer Grill Recipes – The Low Carb Way
Exciting New Grill Recipes to Try this Summer
Perfect cross-hatching, the smell of smoke wafting in a backyard, marbled meats—these can mean only one thing…it's time to fire up the grill because summer has arrived.
Grilling is an art form independent of cooking. It doesn't matter if you're a seasoned veteran or developing a newfound love of the barbecue, all you need is the right ingredients and some inspired recipes.
To help kick the summer grilling season into gear, we'll introduce you to some recipes that feature seasonal produce and tender proteins begging to be kissed by a flame. Of course, each recipe fits perfectly into popular low carb diets like Atkins and Keto.
The Awesomeness of Grilling
Grilling food on a barbecue is a fun event that often lends itself to backyard get-togethers or big family dinners. The smoky scent can even draw out your reclusive neighbours.
Food prepared on the grill should have a nice char, which means slightly burned or blackened, and rendered fat. Rendered fat intensifies the flavour of meat and makes it leaner. Because a lot of the fat drips off as the food cooks it's a healthier alternative to frying with less calories in addition to greater depth of flavour.
Whatever protein you choose, you should try pairing it with the perfect low carb barbecue sauce.
Here are a few of our more popular brands:
These perfectly complement just about any grilling recipe.
Beef Recipes 
Beef lovers should add these recipes to their weekly meal plan immediately. Each is easy-to-make and features a unique twist.
Grilled Flat Iron Steak with Chimichurri Sauce
A flat iron steak is a cut of beef that is extremely flavourful and relatively affordable. Try this recipe which pairs it with a vibrant, fresh chimichurri sauce.
To start, gather these ingredients to make both the steak and the sauce: one flat iron steak (1 ½  – 2 lbs), Montreal Steak Seasoning (optional), ½ cup of finely chopped cilantro, ½ cup of finely chopped flat lead parsley, 2 tbsp. of garlic, 2 tbsp. of fresh lemon juice, 2 tsp. of red wine vinegar, 1 tsp. of Aleppo pepper flakes (or a smaller amount of cayenne), 1 tsp. of ground cumin and ½ cup of olive oil.
To cook the steak, make sure it is at room temperature by removing it from the fridge at least 30 minutes before grilling. Preheat your barbecue to medium-high heat. Place the steak on the rack at an angle. Cook for 3-4 minutes and then move it 45 degrees and cook for an additional 3-4 minutes. Flip the steak and continue cooking until it reaches your preferred level of doneness. Medium rare usually takes about 12 minutes. Once you're happy with your steak, take it off the grill and let it rest for 5 minutes. This will allow the juices to reconstitute. Thinly cut into slices across the grain.
To make the sauce, toss the cilantro, parsley, garlic, lemon juice, red wine vinegar, pepper and cumin into a bowl and give it a good stir. Add the olive oil and blend well so that it emulsifies.
Spoon the chimichurri over the steak and serve to your family or some very happy guests.
Low Carb Steak and Mushroom Kabob
A kabob is usually a combination of meat and vegetables cooked on a skewer. They let you mix different flavours, have fun with seasoning and are easy to grill. Cooking these on a barbecue makes them so tender they'll practically melt in your mouth.
We recommend using a top sirloin or a New York steak. Create a marinade by mixing together ¼ cup of olive oil, 1 tbsp. of Worcestershire sauce, 1 tsp. of garlic powder, ½ tsp. of salt and some freshly ground pepper. Place the cubed meat and the marinade in a Ziploc bag, give it a shake and refrigerate for one hour.
Next, wash the mushrooms and let them dry naturally in a colander. Afterwards, add them to the marinating steak and let it all sit for another hour. Crank the grill to high and make sure it is oiled so that the kabobs won't stick.
Build your skewers by alternating between steak and mushrooms. Grill until the steak reaches the temperature you want. For medium rare, it should take about 3-4 minutes per side. Remove from grill, let it rest for a minute and then remove from the skewer or serve as is.
We recommend enjoying this dish with a side of Hickory Flavoured – G. Hughes Smokehouse Sugar-Free BBQ Sauce.
Chicken Recipe
Chicken is a perfect summer protein and cooking it on the grill keeps it juicy while bringing out its natural flavour. Here is a chicken kabob recipe you will love.
You need four large boneless, skinless chicken breasts and some high smoke-point oil. For the marinade, gather ¼ cup of peanut oil, ¼ cup of soy sauce, 1 tbsp. of garlic puree, 2 tsp. ground ginger, 3 tbsp. of lime juice, 2 tbsp. of Sriracha.
Trim the chicken and cut into chunks. Next, mix oil, soy sauce, ginger, lime juice and garlic. Add the chicken to the marinade and let it soak for 6-8 hours.
Heat the grill to medium-high. Thread the chicken on skewers and be sure to keep the marinade close by as it is also a glaze you will be using during the cook. Add the skewers to the grill and baste generously with the glaze. Rotate the chicken every four minutes, continuously adding glaze. Total cook time should be 12-13 minutes but it does depend on the heat of the grill and the size of the chicken.
To enhance this dish, splatter some of Guys Bacon BBQ Sauce on top. It mixes wonderfully with Sriracha.
Fish and Seafood Recipes
Mediterranean Swordfish Steaks
Swordfish isn't the most popular choice for grill fans but it's always good to try new things. This meaty steak can handle the heat and takes on strong flavours very well. Enjoy this recipe that will have you craving swordfish often.
All you need is ¼ cup of extra virgin olive oil, 1 fl. oz. fresh lemon juice, 1 tsp. oregano, ½ tsp. lemon zest, ½ tsp. dried rosemary, ½ tsp. of salt, ½ tsp. of black pepper and a cut of swordfish that weighs about 1 ½ lbs.
It couldn't be easier to grill this delectable dish. Simply zest and juice the lemon. Mix them with olive oil, oregano, rosemary, salt and pepper. Coat the swordfish with this marinade and let it sit for 30 minutes at room temperature.
Get your grill up to medium. Cook the swordfish for 5 minutes on each side until it's at medium.
We love adding a little hot sauce to this dish and find that Hot Mamas – Splash Caribbean Gold takes it up a level.
Find Amazing Ingredients Today!
We hope you give these recipes a try or let your imagination run wild while you're grilling this summer. Remember, winter is right around the corner.
You can find the best ingredients for the most wonderful grilling recipes on the shelves of The Low Carb Grocery. Check out our selection of sauces that will enhance any protein or vegetable you toss on the barbecue.