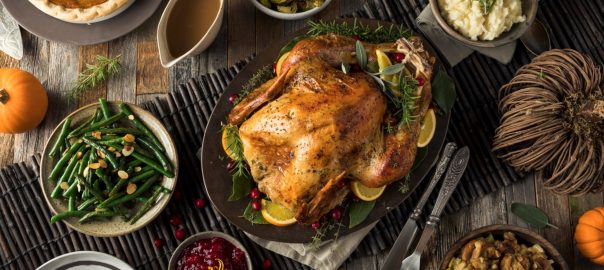 Low Carb Holiday Meal Ideas
Low Carb Holiday Menu Mods
Learn how to cook holiday-inspired low carb food and the best tips for modifying mashed potatoes, gravy and more!
Disclaimer: The information in this article is not intended to replace personalized medical advice. A low carb diet may not be suitable for you. Consult your health care provider before making any changes to your lifestyle or use this information at your own risk.
The holidays can be a tricky time for low carb dieters. While you could settle for a plateful of turkey and Brussels sprouts, there are other ways to enjoy some of your favourite holiday classics – the low carb way.
In this article, we share our suggestions that can turn staple holiday foods into low carb and keto-friendly dishes that will wow everyone at the dinner table! Whether you have family members sharing the low carb journey with you, or you just want to give yourself some satisfying options, don't miss out on these recipes and tips.
Below are some food roadblocks you might hit during the holidays and how you can overcome them with simple recipes and tips. Happy Holidays and happy cooking!
Mashed "Potatoes"
Who doesn't love smooth, creamy mashed potatoes? Everything you need to make mashed potatoes is low carb-friendly except, of course, for the potatoes. Luckily, there are some simple swaps you can make to totally dupe this holiday classic. Some low carb alternatives to mashed potatoes include:
Cauliflower: 3g net carbs per cup
Celery root (AKA celeriac): 7g net carbs per cup
Turnips: 5g net carbs per cup
Daikon radish: 9g net carbs per radish (about 7" long)
To take these mashed "potatoes" up a notch, you'll need a few more things:
Heavy cream, sour cream or cream cheese (or plant-based alternative)
Butter or plant-based alternative
Sea salt
Garlic (optional)
Cheese (optional)
Herbs such as chives and parsley (optional)
Black pepper
To make basic mashed "potatoes" simply boil your low carb vegetable of choice until they are easy to poke with a fork. Then, strain and add the heavy cream, sour cream or cream cheese, depending on the consistency you want (heavy cream will yield a thinner mixture, while cream cheese will yield a thicker). Add a couple table spoons of grass-fed butter or plant-based alternative and sea salt. Mash everything together until it forms a nice, even consistency. Finish with chopped herbs and ground black pepper.
For garlic mashed "potatoes", you can follow the same steps as before, but in addition, add roasted garlic cloves. Roasted garlic has a more subtle garlic flavour and the roasting process will make the garlic cloves easy to mash along with the other ingredients. Cut whole garlic heads lengthwise (so you get a crosshatch of the cloves) and bake in the oven for about 40 minutes at 400 degrees Fahrenheit. Once roasted, add the garlic to your "potato" mixture and combine everything evenly (or leave it chunky, if you don't mind bursts of garlic flavour).
Another way to make garlic mashed "potatoes" involves simmering minced garlic with heavy cream (or half and half) in a saucepan. You can add this garlic-cream mixture to the cooked "potatoes" along with some sea salt, black pepper, and herbs and combine evenly. But if either of these methods add too many steps to your already busy holiday dinner preparation, try simply sprinkling our favourite Garlic Lovers Seasoning from Hot Mamas Spice Blends over plain and simple mashed "potatoes"! This premium garlic seasoning is made with non-GMO, pesticide-free, non-irradiated garlic grown in Ontario. You could also add it to roasted vegetables, your holiday roast – really anything!
Finally, you can also finish your regular or garlic mashed "potatoes" with some cheese! Transfer the mashed "potatoes" to a baking dish and sprinkle a couple handfuls of shredded cheese over the top to crisp up in the oven for 10-15 minutes. The cheese adds yet another layer of flavour and makes the dish more keto-friendly since it increases the fat content. Yum!
For more on this topic, check out the article we wrote about low carb potato substitutes here!
Low Carb Gravy
Gravy is great with just about everything! But several spoonful's of gravy can rack up your carb count due to the traditionally high carb thickeners used to make gravy. Luckily, there are lots of low carb thickening agents you can use instead of flour to make a scrumptious gravy. For example, you could use almond or coconut flour, if you already have these on hand. Blanched almond flour (which has very little flavour) or a mixture of almond and coconut flour will likely yield the best texture. However, these might not make for the best consistency when it comes to gravy (they can be used in other sauces and soups, though).
Some other options that will more closely mimic the effects of wheat flour include xanthan gum or konjac flour. Both of these thickeners contain zero net carbs, are low in calories and made from natural ingredients. Xanthan gum is also a good source of dietary fibre (we could all use a little digestive aid around the holidays)! Konjac flour, also known as glucomannan, comes from the root of the konjac plant, which can also be made into pasta and rice substitutes. If using konjac flour, be sure to mix it with a little bit of liquid (cold water, stock or wine) before adding it to your pan drippings to make gravy (this will ensure it combines more evenly).
Learn more about making low carb gravy and other sauces. You can also find low carb gravy mixes on our website.
Stuffing
Another turkey feast classic that you just can't pass up around the holidays is stuffing! Luckily, you don't have to. There are several options when it comes to low carb bread that can be used in place of traditional bread to still make a great stuffing. However, since most low carb and keto-friendly breads are made with an alternative to wheat flour, they may not absorb moisture the same way that day-old traditional bread does when stuffed inside a giant bird dripping with juices! So, we recommend making more of a "dressing" which is like a stuffing but baked separately in a casserole dish. This also makes it super easy and non-dependent on getting the stuffing ready the same time as the roast.
To make your low carb stuffing, start by crumbling your low carb bread into small pieces. Place these on a baking tray, drizzle with a bit of olive oil and let them toast up a bit in the oven (approximately 5-10 minutes). Pull them out when they look golden brown.
In the meantime, prepare the rest of the ingredients. Sauté chopped vegetables (celery, green onions, leeks, fennel, mushrooms and turnips are all good options) in olive oil for a couple minutes to bring out their flavours. In a large bowl, combine the sautéed vegetables with a couple tablespoons of melted butter, ½ cup of chicken broth, fresh herbs (i.e. rosemary, sage, thyme, etc.), salt, and pepper. Fold in the toasty low carb bread bits and make sure everything is combined well. Transfer to a greased baking dish and cook covered for 30 minutes at 350 degrees Fahrenheit. Remove the foil and cook for another 10-20 minutes, or until the bread looks crisp on top.
There are other ways you can make your stuffing more keto-friendly, as well! You could substitute cauliflower instead of low carb bread (like they did in this recipe) or add sausage, pork rinds, nuts, or really anything else that seems fitting!
Cranberry Sauce 
Cranberries contain very little natural sugar (hence why biting into a raw cranberry will leave you with a funny look on your face!). This is why they are typically cooked and sweetened to make the holiday classic, cranberry sauce. You could skip this element in your low carb holiday feast, but it just wouldn't be the same! We found a keto-friendly cranberry sauce recipe (check it out here) that you can make instead.
Dinner Rolls
Keto-friendly dinner rolls are also easy to make at home, and you can add your own custom flavours to make them a little more exciting. Check out some of these recipes below:
Dessert
Low carb and keto-friendly desserts can still be super indulgent and enjoyable. Plus, sugar isn't good for anyone so a few sugar-free options at the dessert table never hurt!
Pumpkin Pie
Yes, pumpkin pie can still remain a holiday tradition without forgoing the most important ingredient – pumpkin! One cup of pumpkin puree contains just 9g net carbs. Most recipes call for about 1.5-2 cups of pumpkin puree. So, eating a (single) reasonably sized slice of pumpkin pie should still keep you within your carb limit for the day – and if not, it's the holidays, allow yourself some leeway!
Check out this recipe for low carb pumpkin pie, featuring a simple crust made from just almond flour, Powdered Swerve Sweetener and coconut oil! You can find these and others in our baking ingredients catalog.
If you aren't much of a pie-baker, but still love the taste of pumpkin around the holidays, check out this recipe for Pumpkin Pie and Goat Cheese Mousse – creamy, decadent, and still just as impressive as a homemade pie!
Cheesecake
This one is a little more keto-friendly, since it does not require any starches or fruits by nature. That said, we found a great holiday-themed keto cheesecake recipe with cranberry and citrus flavours, check it out here! These fruits are both low in carbs and still evoke the holiday spirit.
Since cheesecake is so versatile and works well for low carb and keto diets, here are a few more recipes with different holiday-inspired flavour combinations:
Drinks
We had to cap this low carb holiday menu off with some keto-friendly eggnog! Does anyone actually drink eggnog? We aren't sure, but we do know that keto eggnog is delicious! Check out this recipe for Super Creamy Keto Eggnog. You can keep things family-friendly or add a splash of dark rum for boozy eggnog! For this recipe, you'll need eggs, almond milk, heavy cream, a granulated sweetener, vanilla, and some holiday spices! You can also customize this recipe by adding a flavoured sugar-free syrup. Some of our recommendations include this all-natural Pumpkin Spice Liquid Stevia Sweetener, Butter Rum Organic Stevia Drops or even Eggnog Organic Stevia Drops (because why not take it up a notch?)!
Get Cooking!
We hope this article helped make your low-carb holiday season a bit easier – even if you take away just one of our suggestions!
Have a comment or low-carb recipe of your own? Share your thoughts on our Facebook page or tag us on Instagram! We'd also love to hear your feedback on a Google Review. Also, be sure to subscribe to our weekly newsletter for the most up-to-date keto and low-carb news, products and sales!