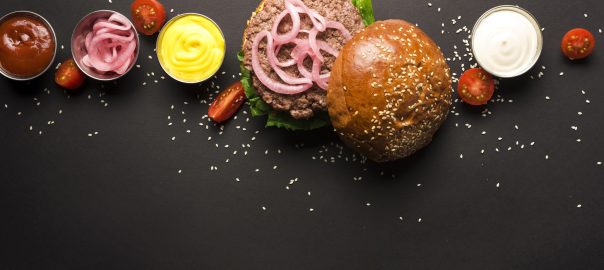 Healthy Low Carb Burgers
It wouldn't be summer without a hot grill and sizzling burgers, that's for sure! Burgers can be a perfect fit for low carb and keto diets, but there are some handy tips and tricks you should know to eliminate all the unnecessary carbs. Here, you'll find the best ways to make delicious low carb and keto burgers with top-quality ingredients.
Let's face facts; Burgers are the best. Of course, normal, everyday burgers often have a lot of carbs in the buns, added sugars in some of the condiments, and even in the breadcrumbs and binders used to make the patties. Fortunately, it's easy to trim out these unwanted carbs and make an amazing burger with just a few substitutions and some clever ingredient choices. Today, we've got all the tips you need to drop the carbs from your burgers, and a few jaw-dropping recipe ideas that will have you running to fire up your grill!
Tips For Taking Carbs Out of Burgers
Burgers are great for low carb and keto dieters, because the carbs are normally hiding in just a few places. This means they're easy to swap out for low carb options without blowing up the whole concept of what makes a good burger. Bite for bite, any burger made using these tips will match or beat any competing burger made using ordinary high-carb methods, and we stand by that.
Swap Out The Breadcrumbs In Your Meat Blend
One of the simplest ways to reduce the carb count in your burgers is to simply skip the addition of breadcrumbs in your ground meat blend as you make your patties. Most common burgers use a blend of ground beef, sometimes mixed with ground pork for a different flavour profile, along with seasonings, breadcrumbs, and eggs to help the patties hold together better when cooking. However, plenty of burger chefs opt to skip the breadcrumbs entirely and end up with great tasting burgers, so they're not absolutely essential to the process.
With that said, if a breadcrumb-type binding ingredient really is necessary, there are low carb options that do the job exceptionally well. Some of the most popular options are grated parmesan cheese, almond crumbs, and crushed pork rinds. Each of these low carb binder ingredients has a distinctly different taste and texture when made into a burger, so you might want to experiment with each until you find which one gives you the combo you're looking for. We recommend Appel Foods Nut Crumbs as a universal low carb and keto-friendly breadcrumb alternative that works great in burgers, meatballs, casseroles, and many other types of recipes.
Choose A Low-Carb or Keto-Friendly Bun
Obviously, one of the biggest sources of carbs in a normal burger is the bun, but we're not worried about building a 'normal' burger today. When it comes to the bun, there are plenty of options available to choose from that offer the softness and structure you need to support even the beefiest patties, along with the delicious taste you want to accentuate your burger. These are some of the most popular low carb burger buns that our customers love here at The Low Carb Grocery. 
 

UnBun Keto & Paleo Hamburger Buns

are gluten-free, grain-free, high in protein, and work for the low carb, keto, and paleo diets. With all those benefits, you'd think there must be some catch, but you'd be wrong. Each of these great tasting hamburger buns is loaded with 10g of protein, and has the perfect softness and texture that isn't affected when frozen.
 

Carbonaut Keto-Friendly Hamburger Buns

might be one of the newer products on our shelves, but our customers haven't wasted any time scooping them up. With great nutrition stats including 11g of protein per bun at just 3g of net carbs, they're made entirely from plant-based ingredients, making them a perfect fit for low carb and keto diets.
 

Low Carb Bakers Deluxe Dream Hamburger Buns

come in with the lowest number of net carbs at just 1g per bun and the highest amount of protein at 14g, all at just 130 total calories. This bun toasts up perfectly but still stays soft on the inside. When you've set your mind to building the ultimate burger, Dream Hamburger Buns are aptly named.
Go For Low-Sugar or Sugar-Free Condiments
Finally, you can easily cut the number of carbs in your burgers even further by choosing your condiments wisely. Normal ketchup and barbecue sauces can have a lot of added sugar in them, but there are plenty of sugar-free and low-sugar ketchups and bbq sauces to choose from to top your burgers. There are also low carb versions of popular condiments like mayonnaise, relish, hot sauce, and more. 
Low Carb & Keto Burger Ideas You've Got To Try This Summer
Sure, the traditional burger toppings are always great, but this is a chance to really get creative and discover a new world of tastes and flavours. Here's three fantastic low carb burgers you've absolutely got to try this summer. Check these out!
Spicy Southwest Low Carb Burger
Spice heads will love this burger that doesn't skimp on the heat, but fear not, for a milder burn simply dial back the amount of hot stuff or swap out the salsa for something a little less intense. For starters, you're going to want to season up the patties with a healthy shake of Hot Mama's Southwest Spice Blend as you're mixing it up with the rest of the meat blend ingredients we talked about earlier. This bold seasoning will get that south-of-the-border flavour infused throughout the entire patty.
Once you've got the meat grilled up, toss it on a toasted bun and pile it high with extra-spicy Desert Pepper Fire-Roasted Habanero Salsa, pepper jack cheese, fresh lettuce, tomato, and a smear of Walden Farms Chipotle Mayo. The flavours are big and bold, the salsa cranks up the heat, and the fresh lettuce and tomato give you a nice cool contrast that balances out each bite. It's a serious burger that will have anyone who tries one begging to know your secret.
Secret Menu 'Animal Style' Low Carb Burger
If you're familiar with the US restaurant chain 'In-N-Out', then you may have heard of their famed 'secret menu', from which comes the unbelievable Animal Style burger. Fortunately, it's easy to replicate this amazing burger right in your own kitchen! To begin, you'll want to mix up your own low carb version of the classic secret sauce by combining 4 tbsp mayonnaise, 2 tbsp Walden Farms sugar-free ketchup, 1 tbsp Mt. Olive No Sugar Added Sweet Relish, and 1 tsp white vinegar. The patty itself is pretty basic, as the best patties are, made with fresh ground chuck and seasoned liberally with just salt and pepper. This is typically made as a double-patty burger, with each patty starting out about 3-4oz, smashed thin onto a flat-top so they cook fast and develop a nice crispy edge. The 'animal style' trick refers to spreading a layer of yellow mustard on the patty when it's cooking, then getting the mustard sizzled right into the beef when you flip it. Might sound strange at first, but when you taste it, you'll understand. Top each patty with a slice of American cheese to melt on the grill, along with some caramelized onions.
Now, it's time to get your bun and toppings assembled. On the bottom part of your toasted bun, spread some of your special sauce and top with pickles, tomatoes, and lettuce. The double patties with their melted cheese and caramelized onions get stacked on top, and finish it off with a little more secret sauce spread on the top bun. That's all there is to making this super-trendy and tasty burger, with no trip to California required!
Korean Kimchi Bacon Low Carb Burger
Kimchi, traditional Korean pickled cabbage, is super healthy and has a unique flavour that makes a dynamite burger topping, especially when combined with the saltiness of crispy bacon and a creamy sweet chili mayo. This Asian-fusion burger is sure to deliver an unforgettable taste experience! To start things off, prepare your Keto Kimchi according to this easy recipe. If you don't have fish sauce handy, you can easily substitute a low-sodium soy sauce. Many grocery stores now carry prepared kimchi, however store-bought kimchi might not be as low in carbs as one you prepare at home, as some of them will contain added sugar, but this recipe sticks to the keto-friendly essentials and gives you a fantastic result.
Next, prepare a patty using a pork and beef blend, but as a binder we recommend using crushed Southern Recipe Small-Batch Korean Kimchi Pork Rinds for added flavour. Mix together 2 parts Primal Kitchen Paleo mayonnaise with 1 part Naked and Saucy Organic Sweet Chili Sauce to make a creamy sauce for the burger that's got a nice combo of sweet and heat to elevate the flavours to another level. Grill up the patty, place on a nicely toasted bun and top with a good portion of kimchi and a dollop of the sweet chili mayo. This burger is so good you'll definitely be coming back for more!