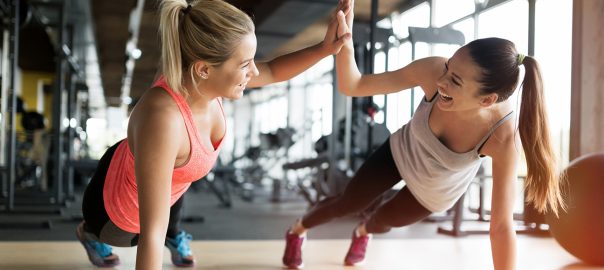 Springtime Workout and Exercise Tips
Refresh Your Workout Routine with These Springtime Exercise Tips
Whether you've got spring fever of cabin fever, the prescription is the same; get out, get moving, and get fit! This time of year, when the sunshine and warm weather become much more frequent, we feel the pull of the outdoors and the desire to shake ourselves out of the winter blahs with a fun new routine that gets us active and helps improve our fitness. Unfortunately, many people struggle with just what to do in order to add some much-needed change in to their fitness regimen. That's where this article should come in handy.
Here, we've decided to gather together a fun collection of tips and tricks that anyone can use to help refresh and rejuvenate their exercise and workout routines, just in time for the warmer spring time weather. These tips are easy to follow and can be just what you need to get inspired and rethink your fitness habits. Now, let's get moving!
Gear Up to Get Out
It's no secret that picking up a cool new piece of gear can get you really excited to start using it, and the same goes for your fitness equipment. Of course, you don't need to spend a ton of money just for the sake of getting something new. Often times something as simple and affordable as a new pair of running shoes can be a great catalyst to a new season of running and improved cardiovascular health. Cyclists may choose to go for a fancy new helmet, or perhaps install that new set of tires you've been wanting to try out. Canoers and kayakers could check out the latest in personal flotation devices and see what cool new styles are hitting the shelves this season. Whatever your sport of choice may be, the springtime is the perfect time to indulge a little bit and score a cool new piece of gear that makes you want to get out more and keep moving.
Runners, Get off the Road
Running is one of the simplest ways to get active, and there are very few barriers to getting started with this healthy activity. If you've never actively run before, or if it's been a really long time since your last run, we recommend you check out the running clinics offered by many specialty running stores. These 'learn to run' classes are a great resource for new runners to learn the proper methods to avoid injury and maximize the benefits.
Also, these local running groups can be a great way to learn about nearby trails that you could start to explore with trail running. Trail running is an exciting alternative to running in a gym or simply on the road. It gives you the ability to experience nature in a new way and presents many unique challenges due to the constantly changing grades and direction you experience as you wind your way along the trails. You'll need a more aggressive shoe for trail running, so ask for recommendations on what would be a good choice for this style of running.
Fresh Air to Freshen the Spirit
If you've never tried yoga or Pilates before, it's definitely something that you should consider as an addition to your healthy lifestyle. The benefits of these types of relaxation and meditation exercises are well-documented, including a reduction in stress, improved flexibility, and more. Many yoga and Pilates studios offer outdoor classes, weather-permitting of course, at local parks. This is a great way to get some fresh air at the same time that you're rejuvenating your spirit and body with a group of friends. Ask around your area for recommendations on which studios offer these types of experiences. Or if you're already a yoga or Pilates pro, why not take the initiative and start your own outdoor sessions with friends? Just be sure to follow park usage guidelines and make appropriate bookings or arrangements if necessary.
Get Pumped with New Workout Tunes
It's been proven that the right tunes playing can have a huge impact on how you feel when you are exercising or working out. You might not find that Beastie Boys is perfectly suited to your yoga session, but it works great when pounding out an intense 5k run. Spend some time on your preferred music streaming or downloading sites and check out what's new and hot on the charts to liven up your exercise playlist and inject some new energy to your tunes. Subscription services such as Spotify are great at providing recommendations for new music based on the stuff you've listened to in the past, or based on genres, other artists, or simply what's hot around the world. Spend some time exploring and discovering new music and build out a kick-ass new playlist for your workout routines.
Get the Kids on Board
You're not the only one in the house who can benefit from getting out and moving more. Many kids these days are far more sedentary than we were in our youth, so it's important to instill good healthy living habits in them, and that includes exercise. This could be something as simple as teaching your pre-teen how to run in one of those 'learn-to-run' classes we talked about earlier, or maybe you could strike up a pickup game of ultimate Frisbee at your local park.
Getting your kids excited about regular exercise usually hinges on how much fun it is, so see what you can do to work in some competitive elements, or just some random silliness that keeps them engaged or laughing. Take turns quoting your favourite goofy TV show, or challenge each other to a quick race, for example. Whatever it takes, just make it fun for them, and it'll inevitably be more fun for you, too.
Conclusion
There's no reason that you can't use the springtime as the perfect excuse for making a change to your fitness regimen. In fact, many people use this season as the springboard in to a complete overhaul of their healthy living lifestyle, including changes to their exercise routines, meal plans, and more. Spring is the season of rebirth and rejuvenation, so take a cue from Mother Nature and do the same for yourself. Your body will thank you, and the benefits will be well worth the effort. Now, get out there in the sunshine and get moving!