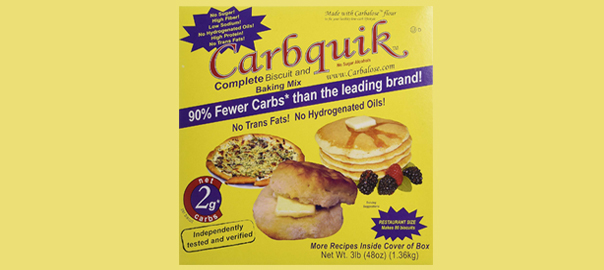 Carbquik – Low Carb Biscuits & Baking Mix
What is Carbquik?
When you commit to a low carb diet, the belief is that you must throw out your baking mixes and say goodbye to comfort food like pancakes, biscuits, pizza and any food that involves dough. Therefore, Carbquik is a low carb game changer. It's a baking mix that doesn't sacrifice nutrition for quality and allows you to make some of the best baked treats around.
Let's explore what makes Carbquik a worthy new staple to your pantry and look at some amazing recipes that you, your family, friends and any dinner guests will love.
What Makes Carbquik Nutritious?
Carbquik contains only 16g of carbs per 32g of dry mix in addition to 6g of fat, 110 calories, 1g of saturated fat and a whopping 14g of fibre. It's tailor-made for the keto or Atkins diet and even helps people stick to their diet by offering delicious alternative to traditional low carb food.
It is the perfect pantry addition allowing you to create delicious comfort food for breakfast, lunch and dinner. We would recommend keeping a box or two on hand as it opens a ton of possibilities when you're running late and need to get food on the table.
Recipes
Here are some delicious recipes featuring Carbquik that you should include as part of your low carb meal planning. Remember to combine with other low carb ingredients with Carbquik so that you don't undermine the overall number of carbs per meal. This means choosing the right vegetables and meats.
Pancakes
Carbquik helps you make fluffy pancakes without any additional cooking time. To make the batter, combine 2 cups of Carbquik mix, ¾ cup of half-and-half, 1 stick of melted butter, 1 beaten egg and 2 tbsp of water. You can add more water if the batter is too dense and be careful not to overmix.
Next, ladle equal portions onto an oiled griddle or pan and cook at medium high heat. When bubbles form and the edges are cooked, flip the pancake over and cook for a bit longer until the batter solidifies.
Add maple syrup, chocolate chips, whipped cream or your favourite berries or fruit and then dig in. 
McGriddle-style Pancake Sandwich
Most people don't equate McDonald's with any kind of diet, and they're right. With Carbquik you can create your very own McGriddle sandwich which rivals what any fast food chain sells.
To create, mix the Carbquik ingredients to make pancakes.  The one difference is you will add some maple syrup to the mix to sweeten the batter. Using the pancakes as the bun, layer an omelette, ham and American cheese and then broil to melt the cheese. Before placing a pancake on top, drizzle a small amount of maple syrup. It's the perfect combination of sweet and savoury.
Southern-style Biscuits and Sausage Gravy
This classic dish is the ultimate comfort food featuring salty and soft biscuits covered in a thick gravy with the perfect amount of heat.
With the right ingredients and recipe in hand you can enjoy low carb southern cooking. To make the gravy, crumble sausage in a hot pan until it browns. Sprinkle Carbquik into the pan and stir, cooking the sausage a bit longer. Add a cream and water mixture (1 cup of cream and ½ cup water) and season everything with salt and pepper. The gravy is now ready and waiting to smother homemade biscuits.
For the biscuits, mix 1 ½ cups of Carbquik, 1 tsp baking powder, 1 egg, ¼ cup of heavy cream, ¼ cup of water and a pinch of salt. Place the dough in a buttered pan and flatten with a spoon so they are closer to the circular shape of a biscuit. Bake for 10 minutes at 425 degrees Fahrenheit. Remove from oven and brush with melted butter.
Pour as much of the sausage gravy as you like over the fresh biscuits and find a corner to indulge in one of the best meals ever. Oh, did we mention that this entire dish is low carb thanks to Carbquik?
Pizzas
You can make mouth-watering low carb pizza with Carbquik. There are a few ways to make Carbquik pizza dough but we prefer the simple method of combining the baking mix with salt and Italian seasoning. Then you stir water into the mixture and work it until it becomes dough. You know it's done when the dough sticks together but not to your hands.
Now that your pizza dough is ready to go, let's toss some amazing ideas into the air!
Double Crust Stuffed Pizza
Follow this recipe to enjoy a low carb version of Chicago style pizza.
Combine 8 oz. of crushed tomatoes, 1 tbsp brown sugar, ½ tsp garlic powder, 1 tsp olive oil and a pinch of salt into a saucepan and cover. Let it simmer until the tomatoes begin to break down, which talks half an hour.
Divide the dough into two equal pieces. Roll one piece into a 12-inch circle. Roll the other into a thicker 9-inch circle. Place the 12-inch dough into an ungreased springform pan. Add 1 cup of low carb cheese. Crumble sausage on top and then layer pepperoni, mushrooms, green pepper, red pepper and then another thin layer of cheese. Top with the 9-inch circle of dough and pinch all around the edges to seal. Slice some of the top to vent and spread the sauce evenly around the crust.
Bake for 40-45 minutes at 450 degrees Fahrenheit until the crust firms and the cheese melts. Let rest for 15 minutes before serving.
White Pizza
A white pizza is a pizza made without tomato sauce. It can be sauceless or feature a white sauce like alfredo. Carbquik makes the perfect crust for your favourite white pizza.
To make a delicious topping, whisk together eggs and crème fraîche (you can substitute sour cream if you prefer). To the mix add ¾ cup of shredded cheese, 1 oz. of parmesan cheese, 1 tsp of fresh rosemary and some black pepper. You should let this mixture sit for 5-10 minutes.
Bake the dough until the crust turn light brown. Once it has cooled spread the mixture on top and then add grated cheese. Sprinkle with more rosemary and pepper. Bake for another 10 minutes or until the edges are a colour that looks good to you.
White Pizza with Mushrooms and Pesto
Another white pizza you can make is one with mushrooms and pesto. This is like the white pizza described earlier but you sauté button or cremini mushrooms and add them to a homemade pesto sauce. To make a quick pesto, use a food processor to combine fresh basil, pine nuts, garlic, salt and pepper—feel free to eyeball the measurement. While the machine is on, slowly add olive oil to emulsify.
All you need to do is stir the mushrooms into the pesto and then dollop over the top. Bake for a few minutes to warm the sauce and you're good to go.
What are you Going to Make Today?
Carbquik is a wonderful biscuit and baking mix that makes a strict low carb diet that much easier to adhere to. We hope you try these delicious recipes or discover others to add to your regular meal rotation. The more options available to eat your favourite foods like pancakes, biscuits and pizza, the more likely you are to see results from your low carb diet.
While you're here, browse our selection of ingredients to get everything you need to make amazing meals using Carbquik.