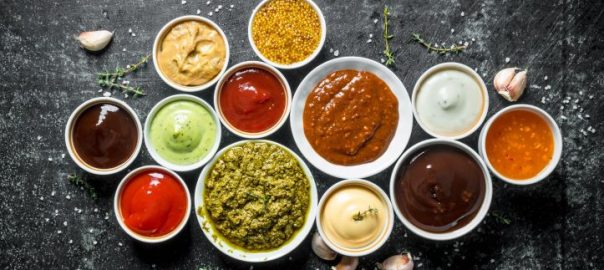 Low Carb Spices, Sauces & Seasonings

Excite Your Palette With Big New Flavours
Every now and then you've simply got to shake up your spice rack and refresh your seasoning and sauce collection with some exciting new flavours that will rejuvenate your kitchen, renew your joy of cooking, and get your taste buds dancing again. Here, we've compiled some of the hottest and most popular brands offering bold, savoury, and zesty flavours in low carb cooking sauces, seasonings, and spice blends for you to discover.
Whether you're looking to change up your chicken routine, spice up your steaks, or elevate your veggies to a new level, you need to have a variety of different spices, seasonings, and sauces to choose from that will suit your mood and bring the right taste to your table. Discovering new flavour combinations is one of the most fun and exciting parts of cooking, in our opinion.
We love trying new things in the oven, on the grill, or in a pan, and are always on the lookout for the next big taste trends. Fortunately, there are dozens of amazing products to choose from right here at The Low Carb Grocery, and we're always adding more to our store shelves and online selection.
Let's explore some of the most popular brands in low carb cooking sauces, seasonings, and spice blends that are sure to kickstart your creativity in the kitchen and freshen up your weekly meal plans with delicious new taste experiences the whole family will crave.
Fire in the Kitchen Spice Co. Seasonings & Rubs
Fire In The Kitchen Spice Co. products are made right here in Canada from only the finest fresh spices for amazingly robust and well-defined flavours. Whether you're planning your next big backyard BBQ, or are getting ready to slow roast a fantastic cut of meat in the oven, the diverse range of flavours that Fire In The Kitchen has to offer is sure to deliver exactly what you're after. Try delicious low carb seasonings and meat rubs like original Fire Rub, Caribbean-inspired Jerk Rub, bold Portuguese Piri Piri, and more from Fire In The Kitchen Spice Co.

The Garlic Box Marinades & Cooking Splashes
What would the world be like without garlic? We don't even want to think about it, because that would mean that the delectable sauces, tapenades, and seasonings from The Garlic Box just wouldn't be the same. You've just got to try their cooking 'splashes', like Garlicky Lime Chicken Splash, Garlic Steak Splash, and Horseradish Garlic Marinating Splash. These cooking enhancements are free of calories, fat, and carbs, but full of mouth-watering flavour and infused with roasted garlic throughout. Be sure to check out their scrumptious Garlic Mashed Potato seasoning and garlic-infused Balsamic Vinegar, too!

Crazy Mooskies Sauces & Condiments
Who was the first in Canada to introduce sugar-free BBQ sauces sweetened with Stevia? Crazy Mooskies, that's who! The natural sweetness of Stevia makes it the perfect low carb substitute for sugar in barbecue sauces and condiments like ketchup, and one taste of any Crazy Mooskies product will prove it to you beyond a shadow of a doubt. Discover the delicious sauces including Island Spice BBQ, Smok'n Garlic BBQ, and Crazy Hot BBQ, or try some of Crazy Mooskies' crazy-good spice rubs like Beer Can Chicken, Smok'n Steak, and Chicken & Rib.

Hot Mama's Seasonings & Spice Rubs
Canadian's definitely know great taste, and the same culinary geniuses who brought you Crazy Mooskies started out by first forging the world-famous brand, Hot Mama's. Supplying authentic Caribbean flavours to Canadian kitchens from coast to coast, Hot Mama's uses genuine Jamaican scotch bonnet peppers and fresh, natural ingredients to bring their exciting seasonings to life. Choose from hot and spicy seasoning rubs like Island Jerk and Cajun style to liven up chicken, pork, and beef, and try their wide array of spice blends including Ultimate Steak Spice, Smokey BBQ, Garlic Lovers, and Southwest spice blends, among many others. These will surely become your go-to seasonings for all types of low carb dishes.

G.Hughes Smokehouse BBQ Sauces
When you take barbecue this seriously, there's no question that it's going to be good. G. Hughes Smokehouse sauces are rich, smooth, and loaded with the big barbecue flavours that will have you stocking up on ribs, chicken, and all kinds of other meaets so you can try each and every sauce. Each bottle of G. Hughes Smokehouse BBQ sugar-free sauce lineup is gluten-free, low calorie, and comes in at just 2g net carbs or less per serving. Choose from finger-licking good varieties such as Carolina Gold, Hickory, Maple Brown, Sweet and Spicy, and classic Original BBQ.

Mayacamas Seasonings & Sauce Mixes
Tired of taco seasonings that just don't have that authentic taste? Look no further than Mayacamas to bring the real taste of Mexico to your next Taco Tuesday. You can buy Mayacamas taco seasoning in single packets or stock up with a convenient pack of 12. Of course, low carb tacos aren't the only kind of meal that you can look to Mayacamas to make better. They also offer Hollandaise sauce mix, Bearnaise sauce mix, Mushroom gravy mix, and even White Cheddar Cheese sauce mix, and all can be ready in just minutes on your stovetop.

Sinai Gourmet Hot Sauce & Coulis
It's time to crank up the heat and the flavour with incredibly fresh-tasting hot pepper coulis varieties from Sinai Gourmet. Super-spice lovers will be all over the sweet heat of Habanero Maple, while those who are looking for a milder burn will surely adore the rich flavour of Poblano. Perfect for burgers, sandwiches, and literally anything else that you want to add a little heat to, Sinai Gourmet products are made from fresh hot peppers and the finest natural ingredients, right here in Canada.

It's not easy to create a sauce that transcends national borders and achieves fame around the world, but the guys behind Guys BBQ Sauces surely have done it. Hailing from Ohio in the USA, Guy's was founded with the promise of making great tasting, authentic barbecue sauces that cut out unnecessary sugars and deliver a healthier way to enjoy the best food in the world. Whether you're in the mood for Spicy, Hot Sweet Thunder, Smokey Bacon, Smokey Garlic, or Guys classic Original BBQ, you'll know that these sauces are no joke from the very first bite to the last.
---
Different Ways to Use Spices, Seasonings, and Sauces in Your Low Carb Kitchen
Now that you've got a wide array of exciting new spices, seasonings and sauces to try out, how about we also give you some fun new ideas on how to use them in unusual or different ways? After all, seasonings, spices, and sauces like these are not just one-note wonders that only work on meats or in specific dishes. Here are some creative and easy ways to throw more flavour into your life!
 

Season Your Popcorn & Baked Snacks –

Make popcorn and other types of hot snacks better than ever by sprinkling with spice blends like Hot Mama's Cajun Style, Smokey BBQ, or Garlic Lovers. Season in the bowl, toss it up, and enjoy.

 

Spice Up Your Scrambled Eggs –

Scrambled eggs are a great high-protein breakfast that pairs perfectly with hot sauces like Sinai Gourmet's Poblano Maple (Mild) or Habanero Maple (Hot).

 

Make Your Own Condiment Blends –

Mix a little of Guys Hot Sweet Thunder BBQ sauce with mayo to make a tasty slow-burn spread for burgers and sandwiches. It's really fun to experiment mixing spices into other condiments like ketchups and mustards, too.

 

DIY Infused Oils –

It's easy to make your own infused olive oils by blending them with different types of spices and seasonings and allowing them to steep. Garlic-heavy, hot & spicy pepper, and smoky-style seasonings are ideal for this.

 

Seasoned Dips For Veggies & Crackers –

All you need is to take some hummus, sour cream, or baba ganoush, and add your choice of seasoning to create a spectacular new dip that's bursting with great taste and perfect for carrot sticks, celery sticks, or your favourite

low carb snack crackers

.
---

Explore The Entire Selection of Seasonings, Spices & Sauces At The Low Carb Grocery
Ready to change up your spice cabinet and fridge sauce rack with some exciting new additions? We bet you are! Browse around the complete range of delicious low carb sauces, bold spice blends, and versatile seasonings available here at The Low Carb Grocery, and discover the next big flavour. It's waiting there for you right now!