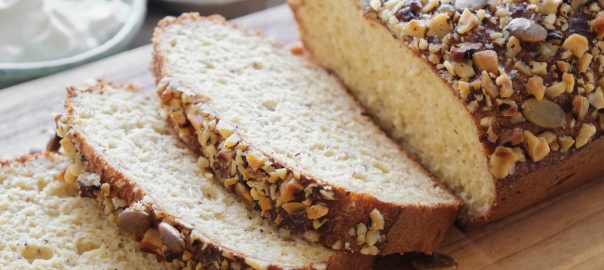 Buying Low Carb Bread – Tips & Ideas
Looking to Cut Carbs but Don't Want to Give up Your Bread?
Bread is a staple in our day-to-day lives, and often a key component of breakfast, lunch, dinner and even snacks. But it's tough to say goodbye when we start a low-carb diet. Fear not! There are a number of great low-carb bread options, plus additional options that you can substitute for bread in your diet.
Here's the Problem with White Bread…
White bread will throw you out of ketosis, and furthermore, it has gone from a traditionally homemade kitchen staple to an unruly, highly refined grocery commodity. Commercialization has caused bread manufacturers to forego nutritional value in the wake of mass production and cost savings. What we find now in our grocery stores is highly processed bread made from refined flours with added sugars and preservatives. During the refining process, the grains are stripped from naturally occurring vitamins, minerals, fibre and protein – leaving behind starch as the primary ingredient. This makes the body absorb whatever nutrients are left very rapidly during digestion, which can spike blood sugar levels and lead to sudden crashes. Side effects of this may include but are not limited to irritability, digestive issues and inflammation (consult your doctor if you're experiencing any of these symptoms).
Next time you're at your local supermarket, grab the most popular bread brand and take a look at the ingredients on the back. Chances are, it'll be the length of half the loaf and contain a number of items you might not even recognize.
What Should You Be Looking For?
Buying the right bread for you isn't easy. There are a number of things you might consider when shopping for a bread to meet your keto, low carb, gluten-free, diabetic or other needs. Here's a list of our suggestions for things to look for, good things, regardless of your diet or lifestyle choice:
The absence of food additives – AKA, short ingredients lists with things you recognize or have some idea of what they would be.
Added fibre sources (oat fibre, wheat fibre, psyllium husk, chia seeds, flax seeds, etc.).
Added protein, or protein sources, such as almond flour, vital wheat gluten, or other protein sources.
Any other vitamin or mineral source that can amp up the nutrition of your bread.
Low Carb Breads We Love
At The Low Carb Grocery, we are always on the lookout for the latest health food trends in Canada, with a focus on low-carb and sugar-free dieters' needs in particular. We believe that there is a great low-carb substitute for all of your favourite foods!
Here are some of our favourite low carb breads:
Bakers Deluxe Dream Bread taste very similar to your previously favourite bread and toasts well. You can enjoy a variety of flavours, including plain, pumpernickel and rye with caraway seeds. With only 2g of net carbs per 2 slices, it is the perfect low-carb substitute for your sandwiches, toast, or even repurposed as breadcrumbs.
In addition, 2 slices of Bakers Deluxe Dream bread will give you 14g of protein (from wheat) and 16g of fibre! The addition of oat fibre, wheat fibre, golden flaxseed meal and almond meal gives this bread a well-rounded nutrient profile. Oat fibre is great for preventing blood sugar spikes, keeping you feeling full and energized longer, and it can even support the good gut bacteria for overall health. Oat fibre also allows for the soft and crumb-less texture of this bread.
What the nutrition facts won't show you is that this bread is also high in essential omega-3 fatty acids, Vitamin E which has anti-aging properties, and manganese, which is necessary for many functions of the body.
Chompies Breads has been praised for its miraculous similarity to high-carb bread. Thick slices and a higher moisture content mean that you won't feel like you're eating dieters' bread, often characterized by dryness and unsatisfyingly thin slices. The best part? Chompies Breads has only 1g net carb per slice.
Enhanced with vital wheat gluten, sesame seeds and nutritional yeast, this bread packs a protein punch with 8g of protein per slice. It also has flax seeds, oat bran, rye flakes and millet to give it a well-balanced earthy taste and no added preservatives. Available in sesame or multigrain flavours!
Formerly named Carb Smart Bread, Dimpflmeier PowerSlice Bread is similar to a Scandinavian-style rye bread – but packed with powerful nutrients! It is baked with artesian spring water giving it the best clean, light flavour that nature can provide. With only 1g net carbs per slice, this bread can be enjoyed by low-carb dieters or anyone looking for a more nutritious substitute for their regular bread.
Dimpflmeier PowerSlice Bread also contains 15g of protein per slice due to the additions of wheat, pea, whey and rice protein. It also contains some great sources of fibre including oat fibre, brown and golden flax seeds, wheat fibre, psyllium husk, and chicory root fibre (inulin). All of these will aid in healthy digestion, promote the growth of good gut bacteria and keep you feeling full and satisfied longer. Who knew you could unlock so much power in a slice of bread!
Slice of Life Carb Wise Bread is not only low-carb, but also gluten-free! With only 3g net carbs per 2 slices, you can enjoy its nutritional benefits as a part of any diet. Made with almond flour and flax meal, this bread is packed with protein (10g per 2 slices) and has an added boost of fibre from psyllium husk. Pumpkin seeds also provide a good source of magnesium, an important mineral that is often lacking in our diets.
Other Low-Carb Bread Substitutes
Don't limit your options to bread look-alikes – many vegetables can be prepared or used in a way that mimics bread, too! And, vegetables can be just as low-carb as the products listed above. Here are some of our top suggestions:
Lettuce, chard or collard green wraps. The larger leaves of either swiss chard or collard greens make these a great substitute for keto and paleo-friendly wraps.
Nori (seaweed) sheets. Seaweed is a powerhouse of nutrition, and another great substitute for traditional high carb wraps. Its nutritional benefits including high levels of antioxidants, calcium, folic acid, iron and a host of other vitamins and minerals.
Sweet potato toast. Using just a sliver of this nutrient-rich root vegetable, you can bake it with some olive oil and seasoning until it becomes slightly crispy and toast-like. Layer it with avocados, greens, eggs, nut butters, or any other toppings you usually put on a toasted piece of bread and be amazed!
Roasted cauliflower slices. Roasting cauliflower is a great way to add a carb-like texture to your plate – minus the net carbs! Packed with fibre and other important nutrients, cauliflower is a great carb substitute in many recipes. Try out slices of roasted cauliflower instead of an English muffin for delicious, keto-friendly eggs benedict!
Check out our blog article about low-carb potato substitutions for more similar recipes and inspiration!
Other Low-Carb Bread & Bakery Products
At the Low-Carb Grocery, we also carry low-carb versions of other products that are traditionally high in carbs, such as low-carb bagels, buns, flatbreads, wraps, and tortillas. See our selection below:
These great products can be transformed into homemade low-carb burgers, tacos, burritos, wraps, flatbreads and more! Note that not all products may be low enough in carbs to be suitable for a keto lifestyle. Be sure to read the Nutrition Facts on our product pages!
Shop our Store Today!
Whether you are new to low-carb eating or a seasoned pro, check out some of these low-carb bread alternatives. Low-carb food trends are always evolving and innovating – you might just find your new favourite low-carb bread, wrap, tortilla, pita, bagel, bun or flatbread! The Low-Carb Grocery is the best place to shop for these carb-conscious products but can't find them at your local big box grocery store.
Stay Connected
If you tried and loved any of these low-carb bread options, please leave us a review on our website or on Google Reviews! We also love to stay connected via Facebook, Instagram, and our Weekly Newsletters to keep you updated with the latest product releases and special sales.