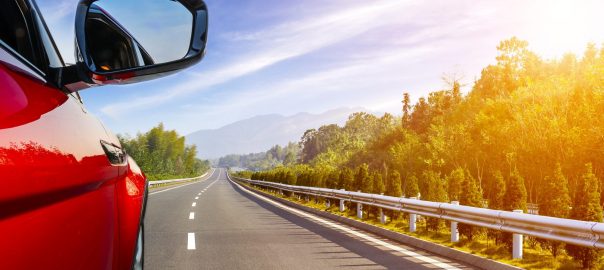 Low-Carb Guide to Eating & Snacking on Road Trips
Ultimate Guide to Eating and Snacking Low-Carb on Road Trips
It's hard enough to find healthy food on a road trip. Try sticking to a low-carb diet at the same time. While not impossible, it will test you, for sure.
When the weather warms, everyone throws off their winter wrappings and sets off to explore the world outside. For many of us, this entails getting out of the neighborhood and poking around far afield. This could involve a quick jaunt to visit friends and family down the highway. Or it might mean an all-out sea-to-shining-sea extravaganza where you hit every conceivable roadside attraction along the way.
Whichever way you go on your road trip, you'll still need to take care of your nutrition. Going low-carb takes dedication. Even if you allow yourself the occasional cheat day, a multi-day journey will demand careful planning to pull it off the low carb way.
There's so much to consider. Where you're going. How you'll get there. What you'll eat along the way. And what you'll keep on-hand in the car to fuel you between stops.
It's a daunting task, but one you can manage with ease. All it takes is a little planning and preparation. But don't worry. We're here to help guide you through.
Prepare for your trip
The best way to stay on-plan while you're on the road is to make sure you have a plan you can stick to. That means stocking up on snack food and filling a cooler, so you have something handy to snack on in the car. How much you'll need depends on how far you're going, how long you'll be driving, and how many people you'll have in the car with you.
If you're going on an extended road-trip, plan to stop at a good grocery store every few days to restock the cooler. Relying on the snacks available at gas stations isn't going to cut it. Your options can be severely limited. As much as anyone can love pork rinds, every so often your body just screams out for more variety.
Plan your route
Take meal planning to heart when you plan your route. Use a map service like Google Maps that will show your restaurant options along the way. If you're unfamiliar with a diner's menu, you're already online. Just look it up. When in doubt, get the buffalo wings.
If you're going to be on the road a while, also figure out where your favorite grocers are so you can restock the car cooler on a regular basis.
One feature of Google Maps lets you plan a route that goes by certain businesses. See if your fave food options aren't too far off the beaten path.
It might sound a little nutty on the planning and organization front. But if you do it right, your belly will be much happier overall.
Try planning for a few meal options to choose from on each leg of the trip. That way you can stick to a tight schedule and still feel like you're being spontaneous.
Know your options
It happens sometimes. You're bombing down the Trans-Canada Highway in the middle of the prairies. And there's literally no other option than grabbing lunch at a roadside rest stop. Relax. The world won't end.
The secret to dealing with this thorny scenario is to know how to order at a fast-food restaurant. Even if their menu specifies no low-carb options, you're the customer, and therefore always right. Tell them you want your burger wrapped in lettuce and see what happens. It can't hurt to ask, and sometimes they'll give you just what you want.
Some sandwich shops will let you order a naked sandwich or a sub-in-a-tub. It's basically the stuff they'd put in the middle of a sandwich—minus the bread. Tell them not to skimp on the meat, cheese, or olive oil. You get a big bowl of food that'll keep you going for hours.
Most of the burger chains have salad options, too. You can often get grilled chicken or steak to accompany your leafy greens. Maybe they'll even have spinach or a sugar-free dressing. If you're not happy with the dressing options, you can always swap it out for aioli, mayonnaise, or extra virgin olive oil. Pack a bottle of olive oil in the car cooler so you can order your salad to go if necessary.
Stay hydrated
Sometimes when you're on the road, what you take for a sign of hunger is, in reality, your body telling you it's dehydrated.
People often think of travel dehydration as something that happens when you're flying. But it also happens with long car trips, too. Being in a car warms your body, causing you to sweat more. But you don't really get a chance to notice you're sweating. The air circulating around the car constantly removes the water from your skin. To compensate, your body sweats even more.
Add to that the water you lose when you breathe, and you end up losing moisture at a constant and rather alarming rate. It seems crazy because you're baring exerting energy. But there you have it.
Studies suggest that dehydrated driving is a big problem on par with drunk driving or driving while sleep deprived. Dehydration leads to:
slow reflexes
tiredness
blurry vision
light-headedness
dizziness
lack of focus
All things to avoid behind the wheel. Stay hydrated.
Pack plenty of water along. If you're trying to use less plastic, bring along a refillable bottle. If you're not into the taste of water, you have two options. One, acquire the taste. It's an essential building block of life, after all. Or two, jazz it up a bit. Throw in some wedges of lemon or lime. Maybe some cucumber slices. Or a cinnamon stick. Perhaps some Flavorall Liquid Stevia.
10 great in-car snacks
Here are some great low-carb snacks to put in your cooler. Some should remain cold. Put some ice packs in the cooler and make sure you consume the cold stuff first.
Hard-boiled eggs – peel before leaving if traveling without a copilot
Fresh vegetables – carrot sticks, cucumber slices, etc.
Cheese – slices, cubes
Berries
When all else fails, splurge happens
Okay. You're on the road. You've planned. You've prepared. You've kept your options open. And still, there will be that odd time you're stuck with no low-carb options. Or—dare we say it—you say to yourself, "You know what, I'm on vacation, and I'm going to eat something bad for me just this once."
Totally your call. You're an adult, you've been driving all day—you have earned an indulgence. It's okay to splurge a little on occasion.
Remember the adage: Everything in moderation. Don't make it a common occurrence.
One tiny slip won't ruin everything. Just stay disciplined and get back on-track next meal.
Road trips are all about staying fueled
Road food is rarely healthy, let alone low-carb. But whether your road trip lasts for a few hours or several weeks, you'll be happier about it nutritionally if you do a little planning.
Stock a cooler with ice packs and lots of quick and easy snacks. Plan your route with food in mind. And know you have non-menu options if you end up somewhere the food pickings are slim.
Stay hydrated, and if you choose to give yourself a splurge meal, remember moderation is crucial.
It can be a nightmare task if you're not the most organized, but this is your health we're talking about here. Rise to the challenge, stick to the plan, and your stomach will be much happier in the end.