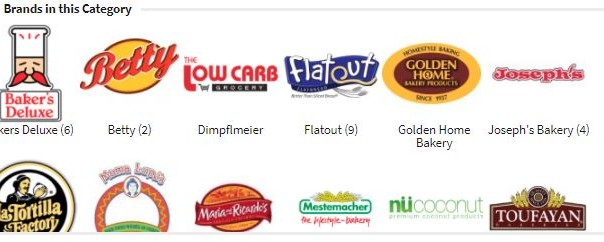 Shopping by Brand at The Low Carb Grocery
Shopping by Brand at The Low Carb Grocery
While you may likely be familiar with some of the biggest brand names in the world of low carb foods, you might be surprised to learn just how many fantastic products are available from a vast number of top-quality brands. It's not always easy to sort through them all, and sometimes discovering the best new brands takes a bit of guidance and advice.
That's why we're here! In this article, we'll explore the wide variety of brands available at The Low Carb Grocery, including some of the biggest brand names in the world, and the most popular specialty low carb brands that our customers simply rave about. Let's get started by exploring the wide range of product categories that are available in the world of low carb food products.
Wide Variety of Product Categories
As we've discussed in our article, Low Carb Myths: Busted, there are many people who believe that going low carb is as simple as cutting bread out of your diet and going all-in on meats and vegetables. The reality is that the sources of carbs in our diets come not only from breads and grains, but also in the form of added sugar in many of the food products we buy. This is why you'll find such a diverse array of product categories at The Low Carb Grocery. In addition to essential low carb products such as breads, noodles, and baking supplies, you'll also find sauces, snacks, beverages, sweeteners, and sweet treats that are sure to keep the carb counts low.
To browse our entire selection of categories, click here. Once you enter a category page, you'll easily be able to sort or filter by selecting a particular brand at the top of the page. Here's an example, showing the brands selector for our Hot Cereals category: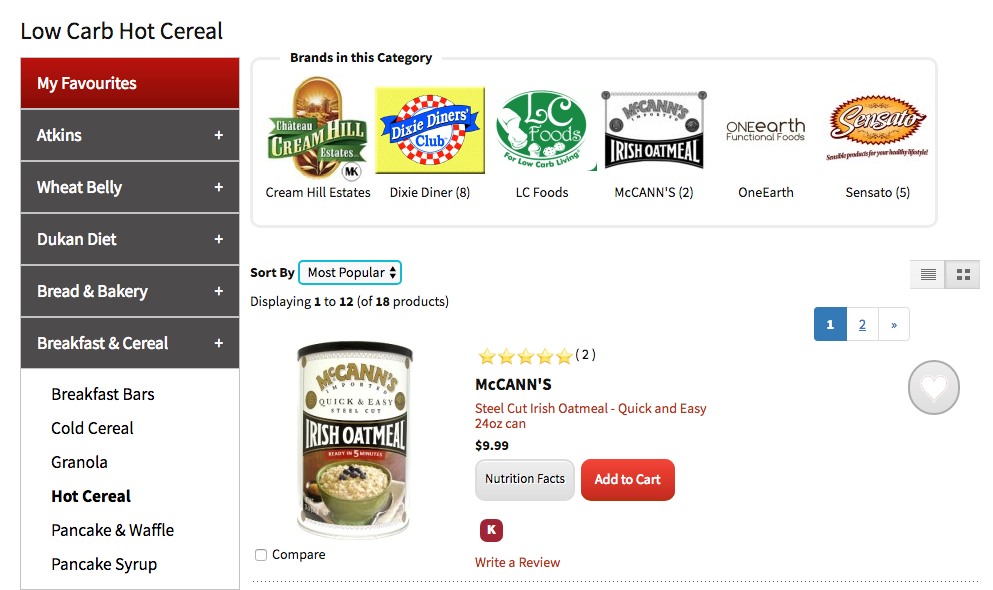 Simply by clicking on the logo of the brand you're interested in at the top of the product list, the page will automatically filter the results for you, making it even easier to discover all kinds of great products from your favourite brands.
But that's not the only way you can find brands at The Low Carb Grocery. You can check out our entire list of low carb brands sorted alphabetically here, and start checking out hundreds of great new products. It's easy and fun to discover amazing and exciting new brands here at The Low Carb Grocery!
The Biggest Names in Low Carb Foods
The widespread popularity of the low carb lifestyle has made many low carb brands into common household names. You'd be hard pressed to find anyone who doesn't recognize the name Atkins, for example. As the most well-known low carb brands in the world, Atkins has dozens of great products across categories like snacks, protein shakes, breakfast bars, and sweet treats, to name a few. You can browse our entire selection of Atkins products here.
Dukan Diet is also a very well-known brand to many, and we carry a wide range of their products for many different types of low carb meals, such as noodles, sauces, snacks, breakfasts, and more. Check out the full range of Dukan Diet products here.
In the world of low carb noodles, you'll definitely recognize names such as Miracle Noodle, nuPasta, Al Dente, Dreamfields, and Fiber Gourmet, along with many more. These brands are renowned for their amazing low carb noodles, perfect for any Italian or Asian recipe. For our full selection of low carb noodles, click here.
Our Most Popular Specialty Brands
It's not just the giant, international brands that you'll find at The Low Carb Grocery, however. Some of our customers' favourite brands are specialty brands that produce absolutely amazing foods that we're confident that you'll fall in love with, too.
For example, if you're a big fan of southwest style foods and salsas of all kinds, then you've got to check out Desert Pepper. Their selection of salsa is sure to set your taste buds ablaze with amazing spicy flavours. Check out Desert Pepper here.
For cereal lovers, you'll find a variety of extremely popular low carb cereal flavours from Nutritious Living. Their Hi-Lo cereal line gets stellar ratings from our customers, who love the taste and the great crunch that they want in a nice cold breakfast cereal. Give them a try by checking out the full selection of Hi-Lo cereals from Nutritious Living here.
Walden Farms is another name that you've just got to know if you're on the low carb diet. They have a huge selection of products to choose from, including fruit and nut spreads, jellies, syrups, salad dressings, and more. Check out the full range of products from Walden Farms here.  If you want to learn more about Walden Farms and their history of low carb products, click here.
Special Deals on Great Low Carb Brands
If you're interested in checking out the latest offers and special pricing on products from these brands, check out our Sales and Promotions page for what's new this week. On this page, you can easily sort and filter the deals in several ways, including viewing products from specific brands.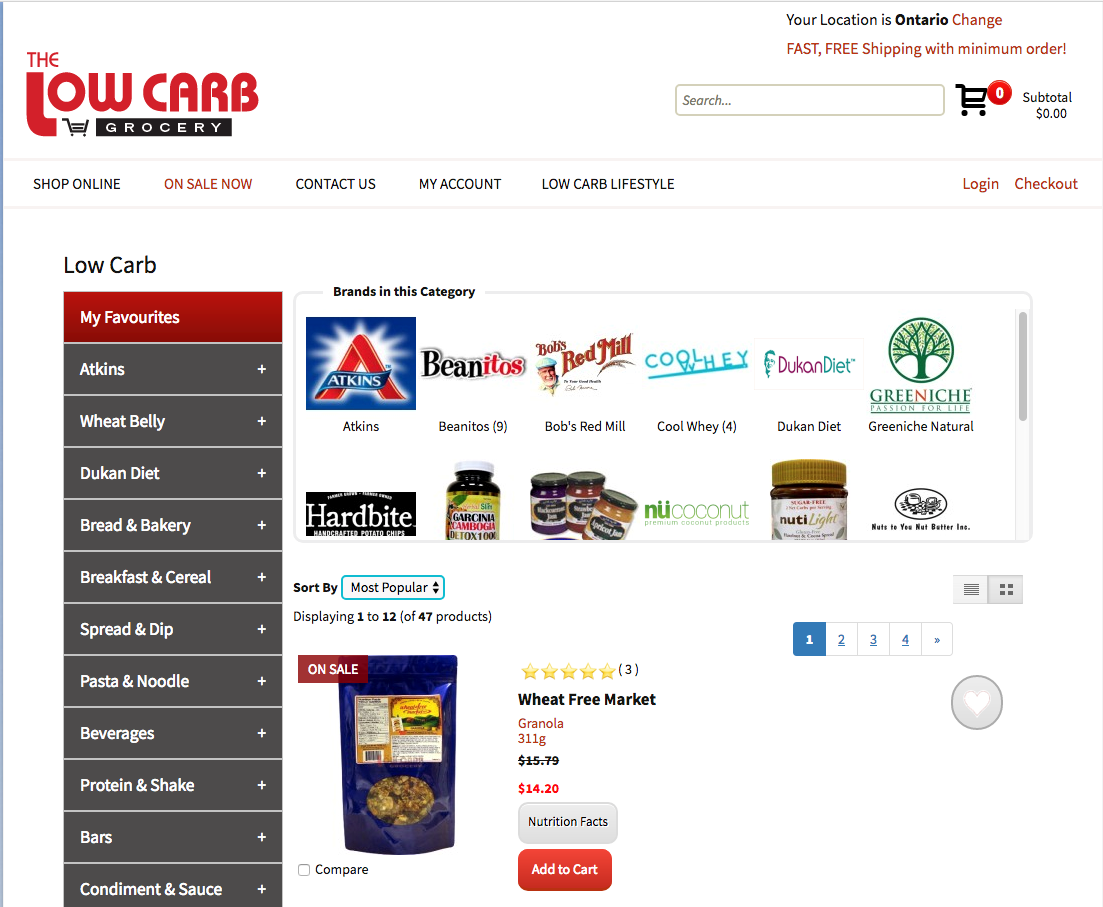 If you're on the hunt for great prices on popular products from your favourite low carb brands, this is the place to go! Check out the latest special low carb deals here.
Conclusion
Well, as you can certainly see, there's definitely no shortage of choices or options available to people living the low carb lifestyle. No matter what cuisine you prefer, or what your dietary needs might be, you can be sure that the top-quality brands you'll find at The Low Carb Grocery will have whatever you may need. Our team is always available to help answer your questions, too. So, drop us a message online here, or pop in to any one of our locations in Canada and explore the wide world of low carb foods and all these great brands with us. We look forward to seeing you soon!