G Hughes Sugar-Free BBQ Sauces & Dressings
Authentic BBQ Experiences with No Sugar Added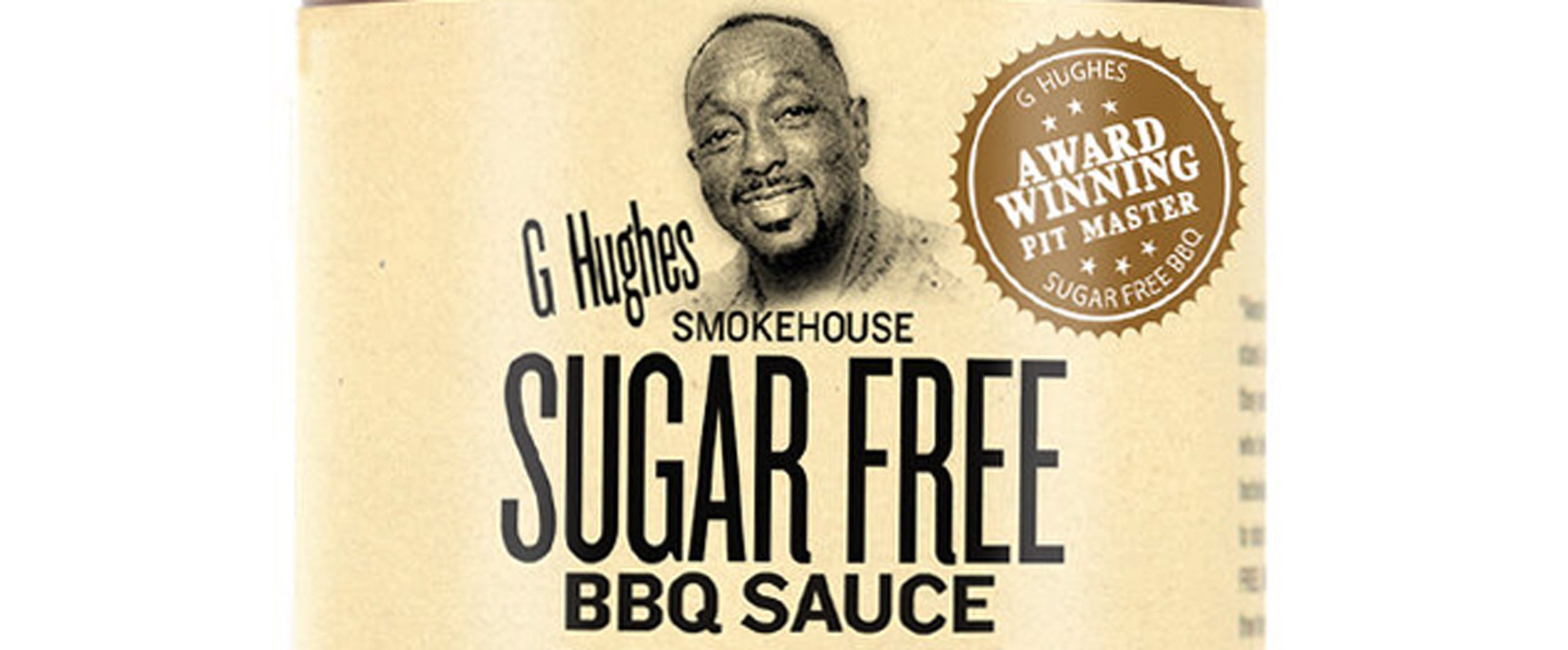 Summer is here, and summer always means it's time for great BBQ! The problem is, so many regular grocery store sauces are loaded with sugar and unnecessary carbs. For authentic low carb BBQ, G Hughes Smokehouse has perfected their BBQ sauces to deliver the big, bold, smoky & sweet flavours you want without the added sugars!
If you've ever had really, REALLY good BBQ, you know that it's all about the sauce. Making meat tender and fall-off-the-bone is actually pretty easy once you learn the basic technique, but the flavour of the sauce can make or break the meal in an instant. When you choose a sauce for your next BBQ recipe, you definitely want to look for one that uses only top-quality ingredients and delivers the authentic BBQ taste experience that you know and love. Allow us to introduce you to the world-famous master of sauces, G Hughes!
The G Hughes Story – Meet Ira 'Guy' Hughes
The founder of G Hughes Smokehouse started down the road to success with a passion for great BBQ and a traditional family sauce recipe. Building a reputation as an award-winning BBQ pit master and gaining fame among BBQ enthusiasts from coast to coast, Guy began to receive numerous requests for his sauces from customers. The next step was to take all the great flavour of authentic BBQ and put it into his very own line of sugar-free sauces so that everyone could enjoy it, even those with special dietary needs.

Today, the name G Hughes is synonymous with great BBQ and sugar-free sauces that are perfect for the low carb lifestyle, but Guy didn't stop there. Over time, the G Hughes product line grew to include a wider range of sauce flavours, and also expanded to salad dressings, dipping sauces, and meat marinades. Each and every G Hughes product is made to the highest standards of quality using only the best ingredients to provide the ultimate taste experience for BBQ lovers.
Sounds pretty good, right? Well, just wait until you get to know more about each of the different product types that you'll find under the G Hughes banner! Let's start with the ones that started it all; G Hughes Sugar-Free BBQ sauces.
Big BBQ Flavour, Minus the Sugar
When we say that G Hughes sauces are the real deal when it comes to BBQ, we mean it. With a wide range of flavours and premium-quality ingredients, the taste of BBQ made with G Hughes sauces is sure to impress you! All G Hughes BBQ sauces are made sugar-free and gluten-free, so everyone can enjoy the great taste of delicious BBQ foods with no guilt and no worries! The Low Carb Grocery is proud to carry a broad selection of G Hughes sauce flavours: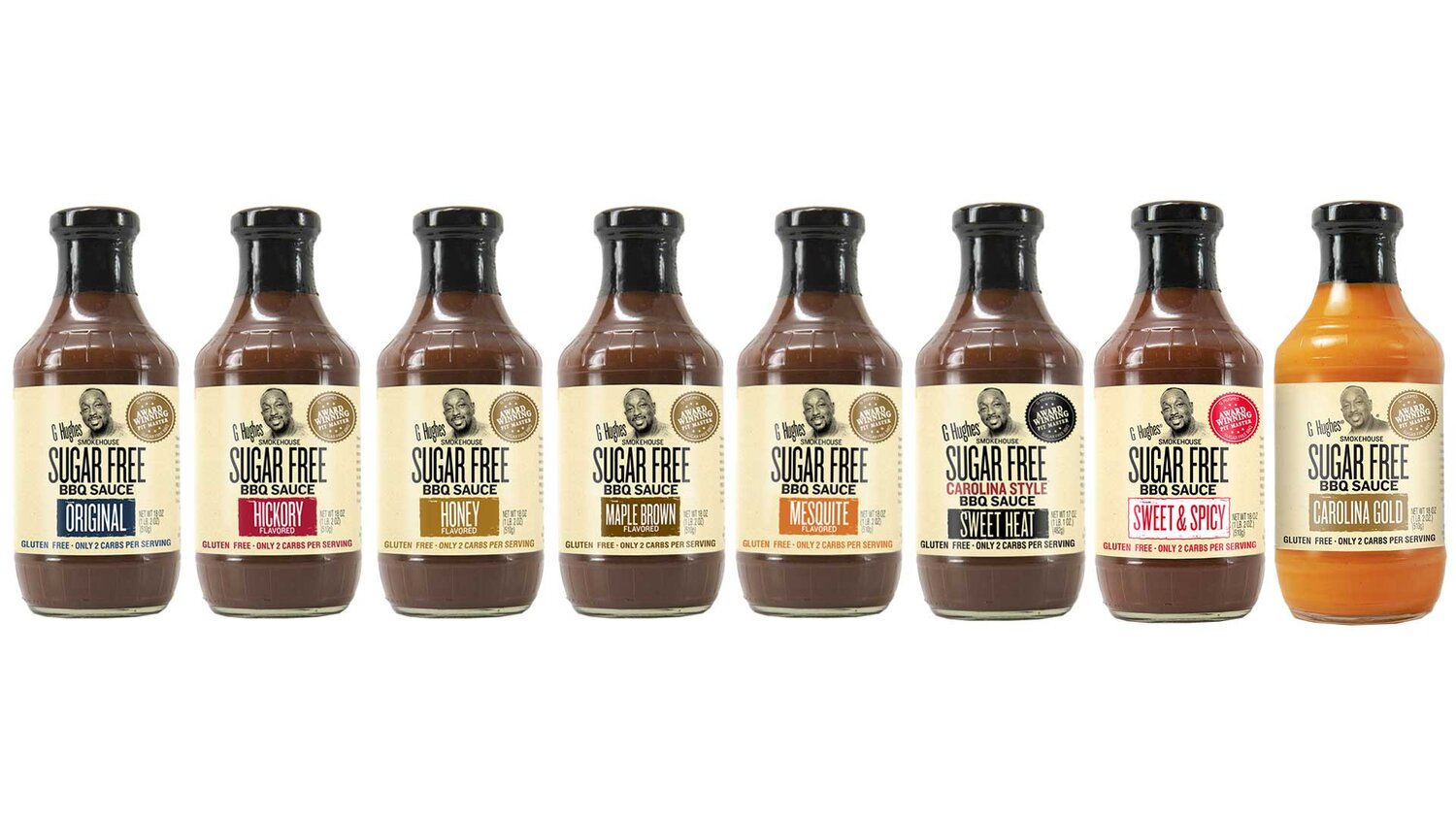 Mouthwatering Meat Marinades
Infusing flavour throughout meat using a marinade is a great way to elevate the taste experience of chicken, beef, pork, and other proteins. G Hughes uses the same approach to their delectable marinades as they do with their BBQ sauces – sugar-free, gluten-free, and big on flavour. These sauces are fantastic for a wide variety of meats, and are versatile enough to be used in stir-fry dishes and as a dipping sauce as well. Here at The Low Carb Grocery, you'll find a great selection of G Hughes marinades: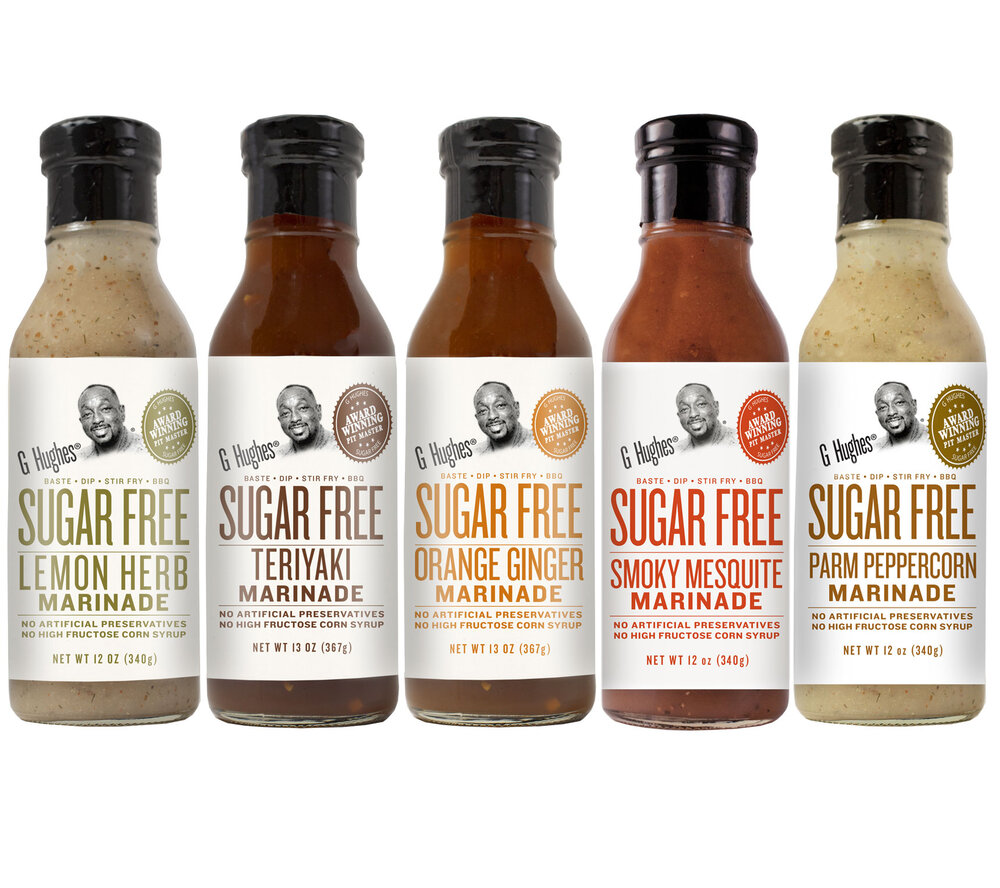 Delectable Dipping Sauces
When you're in a dipping mood, the right sauce will take your meal from good to great. G Hughes sugar-free dipping sauces are amazing accents to all kinds of bite-sized foods like chicken nuggets, dumplings, French fries, meatballs, and many others. Forget about those sugar-heavy dips and condiments that you'll typically find at a regular grocery store and replace them with these great-tasting sugar-free sauces from G Hughes here at The Low Carb Grocery: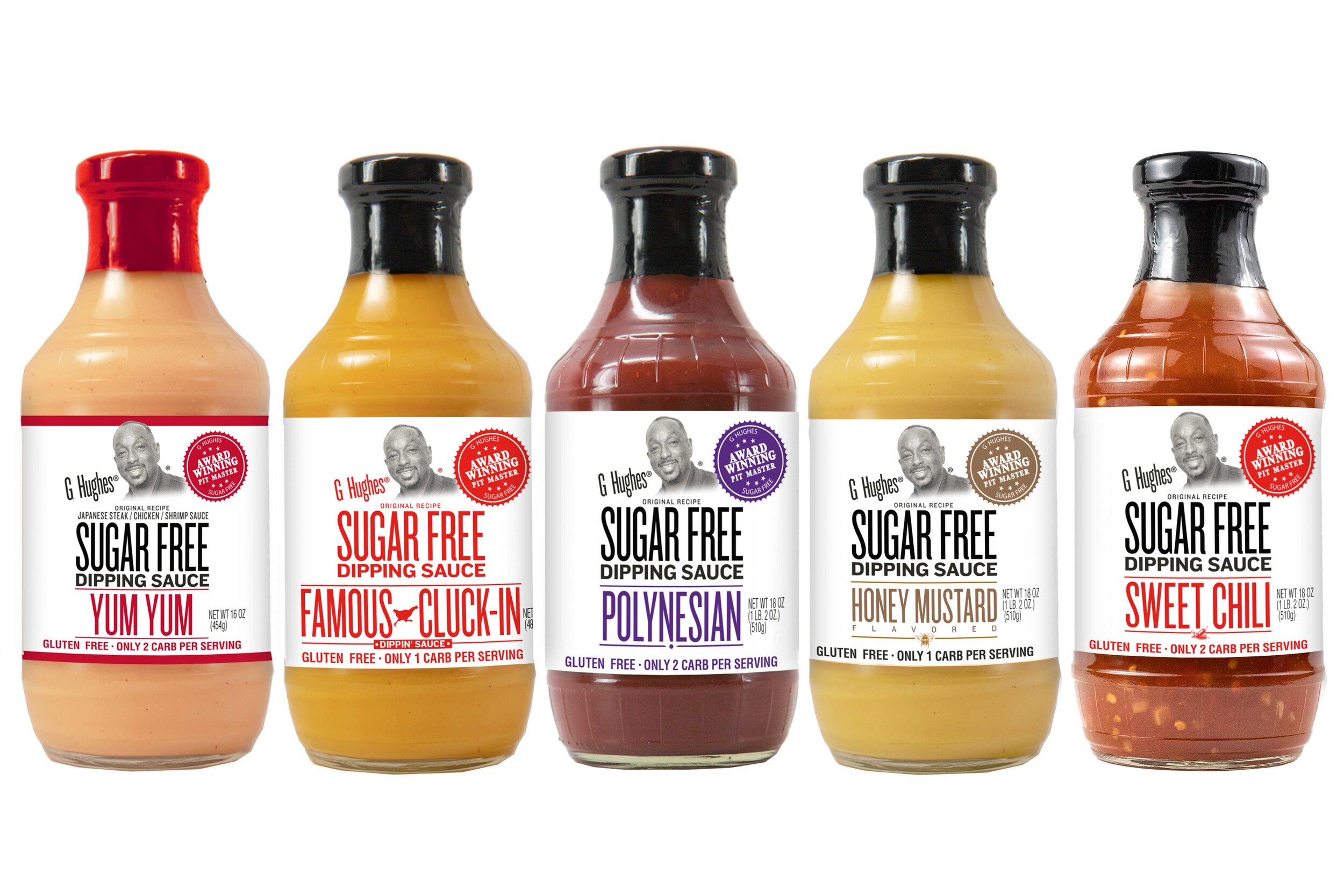 Flavourful Dressings for Fresh Salads
When you want something cool to pair with a hot plate of BBQ, a light and fresh salad is the perfect choice. Of course, finding a great salad dressing for your greens is easy when you're shopping here at The Low Carb Grocery. Our expansive range of G Hughes sugar-free salad dressings is sure to have exactly the taste you're looking for! From light and zesty to thick and creamy, G Hughes dressings are what your salad is calling out for. Check out all these great flavours: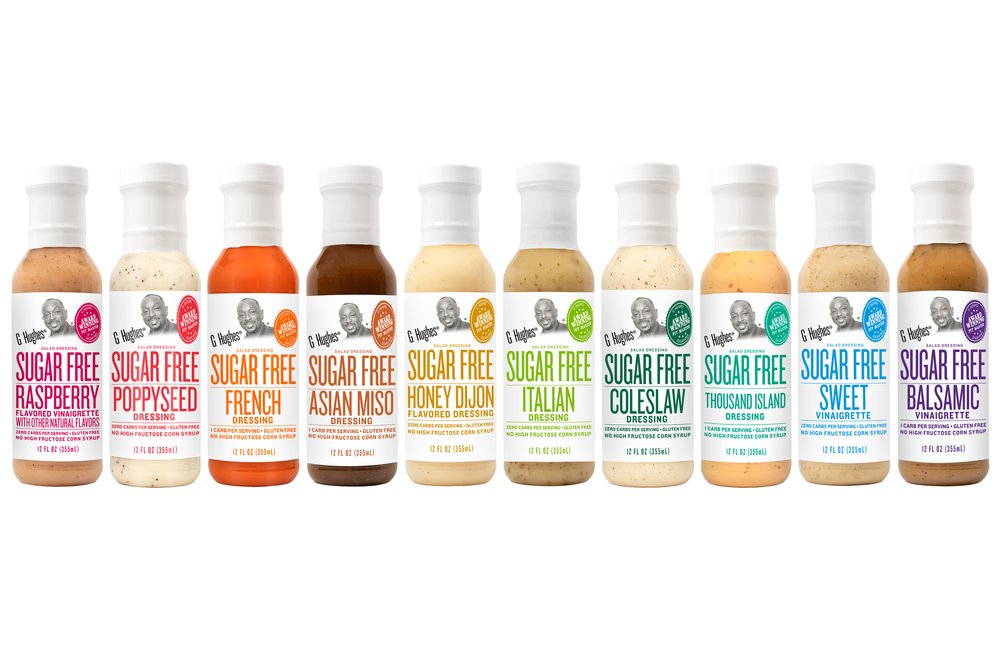 Amazing Meals Featuring G Hughes Sugar-Free Sauces
Now that you've seen all these incredible products from G Hughes, it just wouldn't be right for us to send you off without providing at least a few equally-incredible recipes to put the sauces to good use! Here are three classic BBQ and grilling recipes for you to try that will make the sauces, marinades, and dipping sauces from G Hughes really shine!
Perfect Low & Slow BBQ Low Carb Chicken
Let's kick things off with a foolproof method of making BBQ chicken so tender and infused with flavour, you're not going to want to make it any other way. The trick to perfect BBQ chicken is to go low and slow instead of fast and hot. In this recipe, you're going to sear the chicken at a higher heat for no more than 5-10 minutes, and then drop the heat on your grill down to between 250º – 275º. Slow cook the chicken for about 1-1.5hrs, turning and basting with your preferred G Hughes BBQ sauce at each 30 minute mark. Once the chicken reaches the right internal temp (160º for chicken breasts, 170º for thighs), you're ready to crank the heat up for a quick final sear and to lightly caramelize the sauce. Enjoy!
Fall-of-the-Bone BBQ Low Carb Pork Ribs
Just like how great BBQ chicken is made low and slow, so are perfect fall-of-the-bone pork ribs. In this recipe, a full rack of meaty baby back pork ribs is generously seasoned with a bold mix of spices before being completely slathered in your favourite flavour of G Hughes BBQ sauce. Once you get your grill heated up to 300º, toss your ribs on and close the lid, leaving them alone for about 2-3 hours. Like we said, low and slow is the key! After the 2-3 hours is up, lift the lit and slather on more sauce. Give them about 30 more minutes on the grill to get a great saucy crust on the outside, then remove and serve. That's it, that's all, but you'll totally need lots of napkins for this meal!
If a big, juicy steak is what you're after, you'll need to switch gears and get that grill burning hotter. Everyone loves a great steak, but there are a couple of important tips that need to be followed to get the best possible results. First, you have to let that steak warm up a bit before you cook it. Depending on the thickness of the steak, leave it out on the counter for 20-30 minutes to get it up to room temperature before you toss it on the grill. Next, get the grill heated up to high temperature, brush the steaks with olive oil and season those steaks with a healthy dose of salt and pepper. Grill about 4-6 minutes per side to achieve the desired level of doneness.
The final trick that many people overlook is that you have to let those steaks rest for at least 5 minutes. This is so important, as resting allows the juices of the steak to seep back into the meat and makes it much more tender. You really don't want to skip this step! When serving, add some G Hughes steak sauce on the side for dipping and enjoy the tangy and savoury flavour with each bite of perfect steak.
Shop for G Hughes Sugar-Free Sauces & Dressings Today!
Whether you're searching for a low carb salad dressing that will deliver the real flavour that you've been missing, or are eager to dive right into the world if authentic BBQ with a collection of delectable sauces, G Hughes is a brand that you're going to love.
Shop all G Hughes Smokehouse products here at The Low Carb Grocery!
More Low Carb Lifestyle Articles