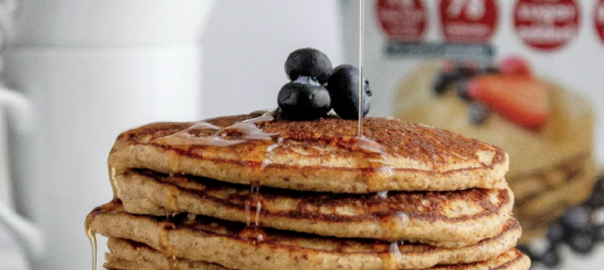 Pancake & Baking Mixes by HoldTheCarbs
Discover Low Carb Cooking Mixes from HoldTheCarbs
HoldTheCarbs was founded on the belief that low carb dieters should still enjoy the things they love, like muffins, pizza and pancakes! Discover all HoldTheCarbs products in this article.
Disclaimer: The information in this article is not intended to replace personalized medical advice. A low carb diet may not be suitable for you. Consult your health care provider before making any changes to your lifestyle or use this information at your own risk.
HoldTheCarbs products have been a long-time favourite of our customers, since they offer an easy and convenient way to enjoy common off-limits foods for low carb dieters, while still providing them with the peace of mind that comes with a clean ingredient list and low net carbs! Discover why low carb, high protein bake mixes and granolas have become a staple for many people pursuing low carb or ketogenic diets and how you can get your hands on these products! Plus, stay tuned for a special offer on all HoldTheCarbs products, exclusively available at The Low Carb Grocery.
About HoldTheCarbs
The story of how HoldTheCarbs was founded is similar to other brand stories you may have heard before – the products were born out of necessity!
Founder and mother of three, Viktoria Brown, found herself wanting to lose some weight after having her children. She tried restrictive dieting but soon became bored of having protein shakes for meals. Instead, she wished there was a way that she could still enjoy the foods she loved, but without the added sugars, carbs and lack of protein that would keep her satiated and strong to take on the busy life of a mother! When she couldn't find any options that met her dietary needs on the market, she decided to make her own!
After experimenting in her home kitchen, she came up with low carb high protein bake mixes for pizza crust, pancakes, muffins and brownies! Instead of traditional wheat flour, she used almond flour, which is both a gluten-free and low carb-friendly option. In addition, she made sure that her bake mixes incorporated some form of protein, because this is essential for building strength and staying full for long periods. And finally, she wanted to make sure that these recipes tasted delicious (this was arguably the most important part – no one should have to settle or suffer while trying to prioritize their health)!
Fast forward a few years, and Viktoria Brown is now the CEO of HoldTheCarbs as well as an avid marathon runner and Ironman triathlete! The secret to her success? Great tasting nutrition! Check out HoldTheCarbs' line of low carb, high protein, gluten-free and preservative-free products below.
Stevia Sweetened Muffin Mix
These muffin mixes are simple, delicious and easy to prepare! They are available in a regular or high protein variety, depending on your specific dietary needs or goals. The regular mix contains the perfect blend of just a few ingredients: almonds, baking powder, erythritol (a natural zero calorie, zero carb sweetener), salt and stevia! Altogether, these ingredients provide just 70 calories and 1g net carbs per 18g (approximately one muffin) – plus 2g of fibre and 3g of protein! Shop the regular mix in 110g packages (single batch) or 440g packages! The protein mix contains the same ingredients but adds whey protein to give these tasty muffins an added boost of protein! Shop the protein mix in 110g packages and 440g packages, as well.
To prepare these muffins, simply add 2 eggs or 3 egg whites (or vegan alternative, such as a flax egg) and ¼ cup of milk or dairy alternative and mix everything together. You can also get creative and mix in spices, nuts, fresh or dried berries, or sugar-free chocolate chips! Then, distribute the batter into a muffin tray for 6 muffins and bake at 350˚F for 15 minutes. Simple as that!
Low Carb Granola
Our customers go absolutely crazy over these low carb, grain-free granolas! Each serving offers more than 20g of healthy fats from plant-based sources, 6-8g of protein, 5g of fibre and just 3g net carbs. They also contain no added sugars, preservatives or artificial flavours. Made from a blend of coconuts, almonds, cashews, sunflower seeds, pumpkin seeds, flaxseeds, olive oil and chia seeds and sweetened with stevia, there is nothing to hide in these keto-friendly granolas!
Try HoldTheCarbs granola in Chocolate, Caramel and Original flavours. You can enjoy them with yogurt, milk or by the handful!
Pizza Crust Mix
If you are like most low carb dieters, you probably miss pizza nights! Luckily, there are tons of options for low carb pizza crusts out there. Many of them come frozen, however, which can change the way they taste over time. If you like warm, freshly baked pizza crust – and are looking for a fun way to involve your family in the kitchen – try out HoldTheCarbs Pizza Crusts! Like many of the other products in the line, HoldTheCarbs pizza crusts are also available in regular or protein versions.
The regular pizza crust mix is made from a simple blend of almonds, cheese, spices and herbs. Per 9g (approximately 1 slice), this crust provides 4g of healthy fats and just 1g net carbs, plus 1g of fibre and 2g of protein. The protein mix contains the same ingredients as above, plus soy protein isolate, rice protein isolate, pea protein isolate and hemp protein isolate. It provides similar macronutrients to the regular mix, but slightly more protein at 3g per 9g serving. Shop the regular pizza crust mix in 75g or 300g packages, or the protein mix in 75g or 300g packages.
To make this pizza crust, you will need 75g of the dry mix, 3 eggs or 5 egg whites (or vegan alternative) and ¼ cup of water. To make the crust extra crispy, you can also add 1 tbsp of olive oil to the mixture. Then, spread out the dough on a greased 12-inch pizza pan so that the crust is about ¼ inch thick. Bake the crust before adding any toppings for 20 minutes at 350˚F, then remove from the oven, add your favourite toppings and place back in the oven for about 15 minutes.
Shop our favourite low carb pizza sauce from Rao's. Each serving (60g) contains just 2g net carbs and fresh ingredients imported from Italy for the perfect pizza-pie!
Pancake and Waffle Mix
Pancakes and waffles don't just have to be an indulgent treat reserved for weekend brunches – now you can enjoy low carb, high protein pancakes and waffles any day of the week! Thanks to HoldTheCarbs pancake and waffle mixes, you can whip up a batch of flap jacks in just a few minutes – all you need is 1/3 cup of the bake mix, 1 egg or 2 egg whites (or vegan alternative) and 1/3 cup of milk. Cook the batter in a greased frying pan as you normally would for regular pancakes. Serve with sugar-free syrup, low carb fruit spread, nut or seed butter or yogurt!
The regular no sugar added pancake mix is made from almonds, organic coconut, baking powder, spices, salt and sweetened with Stevia. Each pancake provides 5g of healthy fats, 1g net carbs, 2g of fibre and 3g of protein. Shop the regular pancake and waffle mix in 40g packages (single batch) or 320g packages.
The protein version of this pancake and waffle mix contains the same ingredients as above, plus whey protein isolate. This provides 4g of healthy fats, 1g net carbs, 2g of fibre and 4g of protein. Shop the protein mix in 40g packages or 320 packages, as well. These pancakes also freeze well and can be re-heated later in the microwave for a quick snack.
Gluten-Free Brownie Mix
Indulge in a low carb brownie whenever you want with these gluten-free, low carb, sugar-free brownies! Made with unsweetened chocolate, almonds, unsweetened cocoa powder, erythritol, baking powder, (plus a secret ingredient – instant coffee!) and sweetened with Stevia, there is nothing to feel guilty about with this bake mix! Per 15g (approximately 1 brownie), the dry mix provides 5g of healthy fats, 0g net carbs, 2g of fibre and 3g of protein (note that this may increase depending on other ingredients you add). Plus, cocoa is a great source of iron and antioxidant minerals, with each package providing 144% of the daily recommended amount of iron.
To prepare the brownie batter, simply add eggs or egg whites and milk (or vegan alternatives). Each package also contains almonds for topping (in a separate bag inside the package). You can also add your own toppings or ingredients to the mix, such as nuts, sugar-free chocolate chips, or nut butter. If you want to take things up a notch, serve with whipped cream (no sugar added) or a low carb ice cream!
Keto Cake Mix
Whether it's your birthday or just a regular Tuesday when cravings strike, HoldTheCarbs Keto-Friendly Chocolate Cake Mix has got you covered! This cake is not only tasty, but also super easy to prepare, just like the other HoldTheCarbs bake mixes. Made with simple and natural ingredients including almonds, cocoa, erythritol, baking powder and salt, you can feel great about grabbing a slice or two of this cake! Simply add eggs and milk (or vegan alternatives) and bake (full instructions on package). Each serving contains 10g of healthy fats, 3g net carbs and 4g of fibre.
This cake mix does not come with frosting, but you can use a pre-made sugar-free cake frosting, make a sugar-free chocolate ganache, or top with fruits and nuts. Alternatively, you can make your own keto-friendly cake frosting at home with this recipe recommended by HoldTheCarbs:
Chill a can of coconut cream in the fridge overnight and scoop out the solid part (about ½ the can; save the liquid portion for other uses).
Add ¼ cup – ¾ cup of your favourite natural sweetener.
Add ½ teaspoon of vanilla extract.
Whip all the ingredients together until stiff peaks form.
Serve and enjoy right away or store it in the fridge for later use!
Keto Bread Mix
Finally the days of frozen low carb bread are over! With HoldTheCarbs Keto-Friendly Bread Mix, you can have warm, freshly-baked homemade bread in just a few simple steps. This bread is sure to wow anyone who tries it! Made with almonds, sunflower seeds, flax seeds, chia seeds, herbs and spices, this bread compares to a lot of other low carb breads on the market – except that it's fresh to order! With just 1g net carbs per slice, as well as 11g of healthy fats, 4g of fibre and 2g of protein, you can enjoy things like sandwiches, toast, croutons and breadcrumbs again totally guilt-free! See package for full baking instructions.
Stay Connected
We hope that you enjoyed learning about HoldTheCarbs products and feel encouraged to try out these simple, tasty solutions to all of your low carb cravings!
As a thank you to our readers, we would like to offer a special discount on all HoldTheCarbs products. To redeem, apply code DMY853 in your shopping cart at checkout for 10% off your order of HoldTheCarbs products.
Limit one use per customer. Promotion may end without notice and/or while promotional quantities last. No substitutions or rain-checks, please. Valid until 2021-09-01.
Also, remember to visit our Facebook and Instagram pages to join our 65,000+ member community! And let us know your experience with a Google Review. Be sure to also subscribe to our weekly newsletter for the latest low carb news, store announcements, and best prices on sale products!