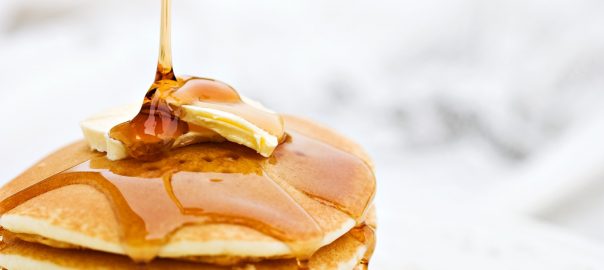 Healthy, Tasty Pancake and Waffle Mixes
Delicious, Easy to Make Pancake and Waffle Mixes!
Wondering how to choose from so many wonderful low carb pancake and waffle mixes? This guide will help you make the best decision based on your preferences and dietary needs!
Everyone loves a good stack of flap jacks every now and then – and luckily there is a pancake mix out there for just about any diet! Whether you are looking for the lowest carb, gluten-free, nut-free, fluffiest or most convenient pancakes, we are sure we can help you find the best match!
In this guide, we will break down our curated selection of low carb pancake and waffle mixes into categories based on different features you might be looking for. To start your decision-making off simply, we have divided our inventory into two main categories: gluten-free and not. Scroll to whichever section suits your needs to discover more details about the brands that fall under its category!
In each section, we listed the pancake mixes in ascending order of lowest carb to highest carb (note that this is based on the given serving size for each mix; the actual amount of carbs will depend on how much you eat). All other features are discussed in more detail under each brand name. Now, let's dive in!
Gluten-Free Mixes
LC Foods Gluten-Free Pancake Mix
This low carb pancake mix is made from a proprietary blend of tapioca, almond and coconut flours as well as flax meal, which gives it a unique light and fluffy texture! This pancake mix is not only gluten-free but also checks off a number of other boxes. It is high in fibre, sugar-free (sweetened with natural stevia and others) and our lowest carb gluten-free mix. The blend of different flours and meals also gives these pancakes a wonderful sweet, nutty taste that is best enjoyed with a sugar-free syrup and a creamy nub of butter.
It should be noted that LC Foods does process vital wheat gluten in the same facility as its other gluten-free products. That said, food safe cleaning procedures are followed to ensure limited cross contamination.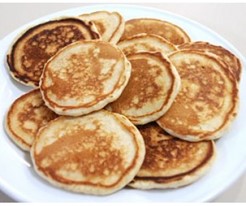 Here's our quick breakdown of this product:
Serving Size: 38g
Net Carbs: 2g
Sugar: 0g
Fibre: 13g
Protein: 2g
Gluten-Free? Yes!
Nut-Free? No; contains almonds.
This grain-free, gluten-free, sugar-free, maltitol-free and soy-free pancake mix is made with plant-based ingredients and a high quality blanched almond flour. It is sweetened naturally with erythritol and stevia extract. The perfect balance of sweetness and saltiness.
Let's call this the blank-slate batter – its relatively neutral taste and ingredients means that you can easily customize your pancakes the way you like. Try adding fresh or dried berries, nuts, spices, yogurt, jam or nut butter to these versatile pancakes for a bit more morning pizazz. It's a great mix to have that everyone in the family can enjoy.
All of Good Dee's products are made with low carb, ketogenic and sugar-free dieters' needs in mind. Browse their entire range of low carb bake mixes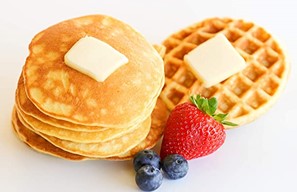 Serving Size: 18g
Net Carbs: 1g
Sugar: 0g
Fibre: 2g
Protein: 3g
Gluten-Free? Yes!
Nut-Free? No; contains almonds.
HoldTheCarbs Stevia Pancake and Waffle Mix
All HoldTheCarbs bake mixes are made with nutrition and satisfaction in mind. The founder created these recipes in her home kitchen to serve her low carb, high protein lifestyle, while still enjoying her favourite foods. This pancake and waffle mix makes light yet filling pancakes with a moist texture. Made from a base of almond flour, coconut flour and whey protein, they are a healthy and delicious way to start a busy morning. These pancakes have even fueled the founder as she competed in the Ironman Triathlon!
Serving Size: 12g
Net Carbs: 1g
Sugar: 1g
Fibre: 2g
Protein: 3-4g
Gluten-Free? Yes!
Nut-Free? No; contains almonds.
Available in regular and high protein (contains whey protein) versions.
Farm Girl Keto Friendly Baking Mixes
Farm Girl Keto Friendly Baking Mixes redefine the keto baking experience. Crafted for those on low-carb journeys, these mixes are a revelation. With just 3 grams of net carbs per serving, they fit perfectly into keto and carb-conscious diets. What's remarkable is that this low carb profile doesn't compromise on taste or texture. Farm Girl achieves this magic with a blend of high-quality ingredients, including almond flour and coconut flour, ensuring a delightful and satisfying baked treat. This mix opens up a world of keto-friendly yumminess that allows you to indulge sensibly without sacrificing flavour.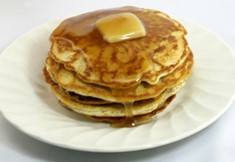 Serving Size: 20g
Net Carbs: 3g
Sugar: 1g
Fibre: 2g
Protein: 4g
Gluten-Free? Yes!
Nut-Free? Yes!
Gluten-Containing Mixes
King Arthur Baking – Carb Conscious Pancake Mix
King Arthur Baking's Carb Conscious Pancake Mix is a game-changer for those seeking a healthier breakfast option. With only 8 grams of net carbs per serving, it caters to low-carb and keto lifestyles without sacrificing flavour or texture. This mix boasts a protein boost from chickpea flour and brown rice protein, making it a nutritious choice. What sets it apart is the use of clean, whole-food ingredients, earning it a top spot among favourites. Enjoy these guilt-free pancakes with ANS Performance – Keto Friendly Maple Syrup for a delicious, sugar-free syrup that satisfies both your taste buds and dietary goals.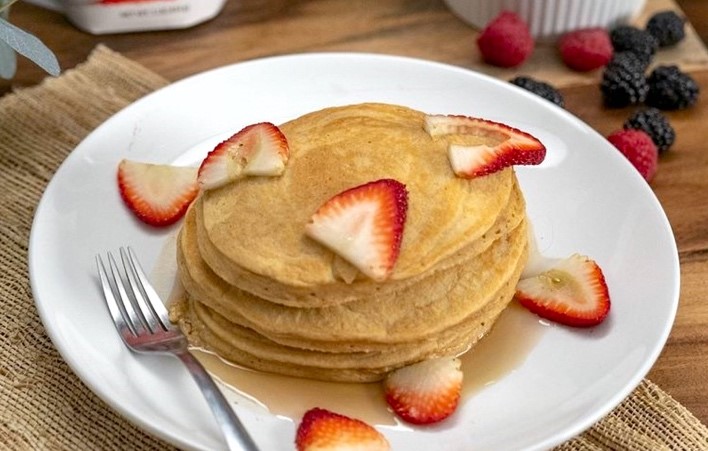 Serving Size: 35g
Net Carbs: 8g
Sugar: 1g
Fibre: 7g
Protein: 13g
Gluten-Free? No.
Nut-Free? Yes!
This banana-flavoured counterpart to LC Food's Gluten-Free Pancake Mix we saw in the last section is still low in carbs and high in fibre and protein! Plus, banana-flavoured anything is probably a rare occurrence for low carb dieters! This mix uses natural banana and brown sugar flavours to impart warm and comforting flavours, minus the carbs.
Serving Size: 27g
Net Carbs: 1g
Sugar: 0g
Fibre: 8g
Protein: 6g
Gluten-Free? No.
Nut-Free? May contain trace amounts of peanut or other nut particles due to manufacturing.
La Nouba Ready-to-Eat Belgian Waffles
These require absolutely no cooking – so they earn major points for convenience! Rave reviews from our customers highlight the tastiness and convenience of these true Belgian-style waffles. They are great to have as a quick breakfast, snack or dessert. Try them topped with yogurt, nut butter or jam and a hot cup of tea or coffee!
These waffles are sweetened with maltitol, which some people can tolerate but others may find that it upsets their stomach, especially when eaten in large amounts.
Serving Size: 1 individually packaged waffle
Net Carbs: 3.5g
Sugar: 0g
Fibre: 0.2g
Protein: 0.65g
Gluten-Free? No.
Nut-Free? Yes!
How to Make Your Own Pancake Mix
In the odd chance that you still haven't found what you are looking for, you can also make your own pancake mix at home! This is a great way to control exactly what goes into your diet and meet the unique dietary needs of you and your family. Plus, you can make a big batch of the dry ingredients and store it for later use whenever. Here are our recommendations for the perfect pancake batter ingredients, although feel free to customize your mix exactly to your liking!
Low Carb and Gluten-Free Flours
We recommend using a blend of a few different flours when making low carb pancakes, as this will allow the pancakes to hold together better and provide a wonderful mix of subtle flavours!
Lupin Flour (made from lupin beans; a low carb, gluten-free and high fibre flour alternative)
You can also add the following meals to increase the fibre content of your batter. Why not make your pancakes healthful and indulgent?
Ground Chia Seeds for extra omega-3s, too!
Don't forget to add a leavening (baking soda and/or powder) to your mix, as well as salt to taste.
Sweeteners
For a sweetened batter that is still low carb and sugar-free, try one of these natural sweeteners:
Flavour Additions
Finally, to make your pancakes truly shine, add in some extra flavours, protein sources or other textural components:
Chopped Nuts
Fresh or Dried Berries
Collagen Powder
Stay Connected
We hope that you enjoyed reading this article and found the perfect pancake mix for you! If you would like to share your thoughts or experiences, head over to our Facebook and Instagram pages. We also love to read and respond to our reviews on Google, so if you enjoyed an experience you had with The Low Carb Grocery, please take a minute to let us know here!
Please considering subscribing to The Low Carb Grocery's Weekly Newsletter, too, for updates on the latest products, news and special sales.