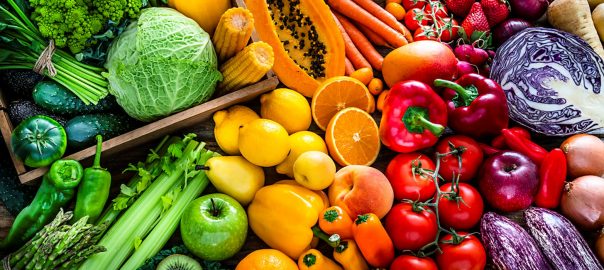 All About Antioxidants
Antioxidants, Diet & Health
Learn why we need to consume antioxidants in our diet and how to incorporate them with your own customer one-week meal plan.
Antioxidants are select vitamins and minerals that we can obtain through food to support our body's optimum level of functioning. These vitamins and minerals protect our cells against damage from free radicals, which are toxic or waste particles that circulate throughout the body due to natural processes, pollution and things like processed or artificial foods.
High levels of free radicals in the body can cause inflammation, which is a natural pathogen-fighting response by the body, but it can also have very harmful long-term effects if left unmanaged. High, persistent levels of inflammation in the body has been linked to a number of chronic diseases including heart disease, cancer, skin diseases, asthma and other respiratory diseases, digestive issues and arthritis – just to name a few. The point here is that it is important to reduce inflammation. One way to do this is to consuming antioxidant-rich foods and cut down on other substances in the diet that can have inflammatory effects. You can also reduce inflammation through stress reduction, regular exercise and weight management.
In this article, we go in depth about how to prevent inflammation through your diet. We also have lists of foods that are rich in antioxidants and discuss more about inflammation-causing substances. You'll also find a custom one-week meal plan to make incorporating more antioxidants into your diet simple and easy!
Antioxidant Rich Foods
Below is a complete list of antioxidants that can come from both plant and animal sources:
Vitamin A
Vitamin C
Vitamin E
Beta-carotene
Lycopene
Lutein
Selenium
Manganese
Zeaxanthin
In addition to these, the following antioxidants and phytonutrients can only be found in plant-based foods:
Flavonoids
Flavones
Catechins
Polyphenols
Phytoestrogens
Phytonutrients are not essential to your diet, but if consumed, they can help prevent diseases and keep the body functioning optimally – like antioxidants.
As you can tell, this is quite a long list of things to look out for. Luckily, nature has made it quite simple for us; most foods that are rich in antioxidants also have vibrant coloured skin or flesh, such as deep purple and red, dark green, and bright yellow or orange – so they are easy to spot! These different colours correspond to their respective vitamins and minerals. That is why something like iceberg lettuce, which is not as brightly coloured as something like kale or beet greens, does not contain as many nutrients in comparison. That said, nutritional density is responsible for the amazing colours of many vegetables and fruits!
For example, leafy and cruciferous green plants like spinach, broccoli, kale, and artichokes – as well as green or matcha tea – are all rich in several of the antioxidants listed above. Blueberries, cranberries, red grapes, acai berries, aronia berries, eggplants and other deep red or purple foods all contain similar antioxidant profiles as well. Citrus fruits, apples, onions, garlic, peas, beans, lentils, soybeans, sesame and flax are also good sources of antioxidants. The key is to eat a variety of fruits and vegetables to make sure you are getting adequate levels of all antioxidants.
Dark chocolate, red wine and coffee are also rich sources of antioxidants, but these should be consumed in moderation. They can also have inflammatory or other negative effects if consumed in excess. For example, dark chocolate can still contain sugars (look for 70% or higher to avoid excessive sugar) and is a very concentrated source of calories. One great way to still enjoy the antioxidants from cocoa is to buy vegan, unsweetened, or keto-friendly chocolate, or add pure cocoa powder and cocoa nibs to things like smoothies, granolas and yogurt.
Red wine and coffee, on the other hand, can both cause dehydration and other negative side effects if consumed too much. Alcohol also uses up a lot of the body's resources to help pass it through the system, while coffee, which contains caffeine, can cause cortisol levels (the stress hormone) to rise, sending the body into an inflammatory state.
Effects of Cooking
Cooking certain antioxidant-rich foods like tomatoes can actually make antioxidant nutrients more bioavailable (easier for our bodies to process and use). Other antioxidant-rich vegetables such as broccoli and zucchini can lose some of their nutritional value when cooked. Overall, it is best to eat both raw and cooked fruits and vegetables to (See our article Top Ten Tips for Eating Healthy for more healthy eating tips).
Inflammatory Foods and Substances
Trans fats and high levels of omega-6 fatty acids are some of the most common causes of diet-induced inflammation. These are found in things like margarine, modified or "hydrogenated" oils, deep-fried foods and other processed foods. Trans fat is an easy thing to spot, since it is listed on the nutrition facts label of most processed packaged food. However, oils containing trans fats are often used by restaurants and fast food joints, which don't always reveal their nutrition facts to customers. You can ask an employee of the establishment if they know what kind of oil, they use to fry their food, or steer clear of fried and fast foods altogether. It is particularly important to know what is going into your body to be able to successfully manage your health, so don't be afraid to find out!
Processed meat, often beef and pork, can also cause inflammation levels to rise. This is because these products contain high levels of trans fats and other reactive compounds added through the refining process, which cause inflammation. When buying beef, sausages, bacon, ham, smoked meats and beef jerky, be sure to look for indications of high quality, unprocessed meat such as Grass-Fed, Farm Raised and Organic labels (see our recommended beef jerky). The same standards should be kept in mind when purchasing milk, yogurt, cheese and other meat by-products that tend to go through similar heavy processing.
Finally, refined sugars and carbohydrates such as those found in processed cereals, packaged sweets and pastries, white bread and certain types of hamburger and hotdog buns and pizza crusts will cause inflammation. Part of the body's inflammation response involves insulin resistance, and at the same time high blood sugar levels can trigger more inflammation. This cyclical problem is part of the reason why people with type 2 diabetes tend to experience higher levels of inflammation. Refined carbohydrates also release other inflammatory substances into the body, further increasing inflammation levels. If these conditions are sustained over time, it can lead to serious health problems. That is why, whether you follow a low carb or sugar-free diet for health reasons or not, it is always a good idea to eliminate processed, white sugars and refined carbohydrates. Opt for natural sources of sugar (such as organic cane sugar or coconut sugar) or natural sweeteners, and always consume in moderation.
The Low Carb Grocery offers a wide selection of low carb alternatives to traditionally high carb foods, so don't forget to check out our inventory here if you are looking to still enjoy these foods while cutting out refined carbohydrates and processed sugars.
Antioxidant-Rich Weekly Meal Plan 
We put together a table below – a one-week meal plan – incorporating a variety of antioxidant-rich foods. These recipes are also perfect for summer weather, get-togethers and family meals!
| | |
| --- | --- |
| Monday | |
| Breakfast | Blackberry Banana Infused Overnight Oats – perfect for grabbing out of the fridge with no prepping or cooking on a Monday morning! Instead of oats you could also use coconut flour, flax meal, chia seeds or Greek yogurt for a keto-friendly version of this breakfast. |
| Lunch | Rainbow Sandwich on whole grain or low carb bread with turkey, bell peppers, avocado, greens or sprouts, and roasted beets or pickled cabbage. |
| Dinner | Slow Cooker Vegetable Soup (add shredded chicken for extra protein). |
| Snack/Dessert | Frozen berries with yogurt or granola and milk. |
| | |
| --- | --- |
| Wednesday | |
| Breakfast | Green Smoothie made with fruits, spinach, hemp seeds and moringa – an antioxidant powerhouse. |
| Lunch | Mediterranean Pita Pocket with chicken, tomatoes, cucumber, olives, red onions and feta cheese and tzatziki or this delicious "The Garlic Box" balsamic vinegar dressing. |
| Dinner | Kelp Noodle Stir Fry – Kelp noodles are a great low carb noodle alternative! They are also extremely high in antioxidants and are the richest natural source of iodine. You could also use shirataki noodles or brown rice. Make extra to have as leftovers! |
| Snack/Dessert | A cup of green tea and fresh fruit such as watermelon, citrus fruits or berries. |
| | |
| --- | --- |
| Saturday | |
| Breakfast | Almond Flour Pancakes with berries and nut butter. |
| Lunch | Leftover lentil patty with salad of spinach/kale, celery, cucumber, avocado, red onions, dried cranberries with a tahini dressing. |
| Dinner | Oven baked Wild Caught Salmon or Arctic Char with Antioxidant-Rich Roasted Veggies. Make extra veggies to have as leftovers! |
| Snack/Dessert | Raw Chocolate Macarons made with raw cocoa powder and shredded coconut. These healthy and delicious treats are great to have around the house for a few days! |
Stay Connected
If you enjoyed reading this article or tried our our one-week antioxidant meal plan, please share your thoughts and experiences on our Facebook page or tag us on Instagram! We also love to stay connected with our Weekly Newsletter for updates on the latest products and special sales. And please, we'd love to hear your feedback with a Google Review!