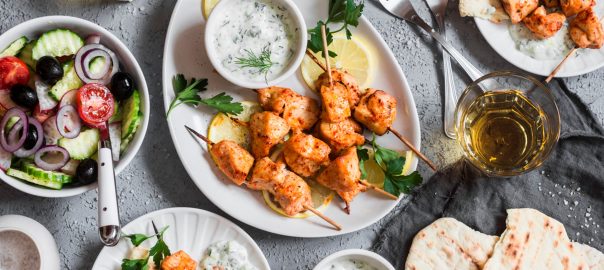 Indian, Latin, Asian & Other Low Carb Options
Best Cuisines to Explore on a Low Carb Diet
Get inspired with different cuisines from around the world that can easily fit into a low carb or keto diet!
Are you getting bored with steak and vegetables, keto casseroles and omelettes on a low carb or keto diet? Go beyond the strict bounds of the Western diet to find other low carb and keto-friendly recipes that will blow your taste buds and your friends and family away!
In this article, we explore the best cuisines for cooking low carb and keto-friendly meals. It also includes shopping lists and a few recipes from each type of cuisine to get you started and help plan your next meal. We also linked our recommended low carb products that best fit these cooking styles.
Low Carb Latin America
The first thing that comes to mind when you think of Latin American food might be tacos and burritos. While these traditionally high carb foods can still be enjoyed on a low carb or keto diet with a great tortilla or wrap alternative, there is much more to this region's cuisine than the Chipotle franchise shows to offer.
The essence of most Latin American cuisine revolves around well-seasoned grilled or barbequed meat (barbacoa), fresh vegetables and great flavours from different spices and herbs. The incorporation of fresh chili peppers, lime juice and other spices can transform any boring weeknight dish into a fabulous fiesta!
Food Shopping List 
For your low carb Latin American recipes, you'll need the following ingredients:
Fresh cuts of beef or chicken, or ground beef
Fresh white fish or shrimp
Hot peppers (jalapeno, green/red chili, poblano or serrano)
Bell peppers
Onions
Garlic
Tomatoes or green tomatillos
Avocado
Limes
Cumin
Cilantro
Sour cream
Vinegar
Latin Low Carb Recipes 
Great Greek Low Carb
The Greek or Mediterranean diet has been highly coveted by health experts and other professionals in the health industry due to its focus on fresh vegetables, healthy fats, limited carbs and lean meats. This also makes it perfect for low carb and keto dieters to explore! Best of all, many of these recipes are simple and easy to prepare, following a whole foods approach to eating.
Food Shopping List
Here are some ingredients you can pick up at the grocery store that find their way into many delicious Mediterranean recipes:
Chicken
Tomatoes
Eggplant
Zucchini
Cucumber
Bell peppers
Lemon
Garlic
Olives and olive oil
Oregano
Dill
Greek yogurt
Tahini (sesame seed butter)
Artichokes
Feta or goat's cheese
Greek Low Carb Recipes 
Low Carb Asian Foods
Since wheat isn't native to East Asian regions, it is pretty easy to find low carb recipes inspired by this region's cuisine. That said, a lot of Asian dishes are eaten with rice or rice noodles. However, our catalog offers a wide variety of low carb rice or noodle alternatives that are also common to find in traditional Asian recipes!
Unfortunately, a lot of Westernized Asian restaurants may add high carb ingredients to their food such as corn starch and sugars. So, when it comes to this type of cuisine, home-cooked is always the best way to control exactly what you are eating. If you choose to dine out, be sure to ask a server to check the ingredients used in the kitchen.
Food Shopping List
Fresh or ground beef, chicken or pork
Shrimp/prawns
Onion
Garlic
Ginger
Soy sauce or coconut aminos (soy-free)
Bok choy
Broccoli
Mushrooms
Cabbage
Coconut cream or milk
Sesame oil
Curry paste
Chinese five spice
Green chili peppers
Seaweed or nori
Peanuts or peanut butter
Asian Low Carb Recipes
You can also bookmark our article that covers everything about Low Carb & Keto-Friendly Korean Cooking if you love this country's cuisine!
Indian Low Carb
If you like spice and lots of flavour, Indian food should be your go-to! Many Indian dishes involve stews and curries served with rice or chapati, roti, or naan bread for dipping. These high carb foods can easily be substituted for shirataki rice, cauliflower or a low carb pita or wrap instead. We love these Mini Pitas by Joseph's Bakery for dipping! Another great thing about Indian cuisine is that many recipes are also vegetarian-friendly. Eating a vegetarian meal at least once a week is a great way to reduce toxic food industry waste and serve healthy meals to your family!
Food Shopping List
The main ingredients you'll need for Indian cooking are fresh vegetables and loads of spices and aromatics – so make some room in your spice cabinet!
Chicken
Shrimp
Tomatoes or tomato paste (for curries)
Eggplant
Chili powder or fresh chili peppers
Coriander
Curry powder
Garam masala spice
Ginger
Garlic
Onion
Coconut cream, milk or coconut milk powder
Butter or ghee
Paneer cheese (or tofu)
Indian Low Carb Recipes
Low Carb Caribbean
Last but not least, if you dream of white sand beaches and turquoise waters – why not transport yourself to the Caribbean with these delicious recipes! Caribbean cuisine is big on flavour and features a lot of great seasonings for fresh grilled meat. Coconuts, native to those white sand beaches, are also used in a variety of ways in Caribbean cuisine, which is great news for low-carb high-fat and keto dieters!
Foods Shopping List
Chicken
Shrimp
Crab meat
White fish (wild caught halibut, cod and mahi mahi are all good options)
Coconut milk
Cauliflower
Hot peppers (scotch bonnet peppers are traditionally used in the Caribbean, but these can be really hot! Try green and red chilis or jalapeno peppers instead for milder spice)
Limes
Cilantro
Onion
Garlic
Crushed red pepper flakes
Jerk seasoning or Jamaican curry powder – Hot Mamas also carries a range of Caribbean-inspired dry rubs and spice blends. See their full selection here!
Low Carb Caribbean Recipes
Start Experimenting Today 
We hope that you learned something about global cuisine and enjoyed reading this article!
If you would like to share your thoughts or experiences, visit our Facebook and Instagram pages. We also love to read and respond to our reviews on Google, so if you enjoyed an experience you had with The Low Carb Grocery, please take a minute to let us know here!
Please also considering subscribing to our Weekly Newsletter for updates on the latest products, news and special sales.