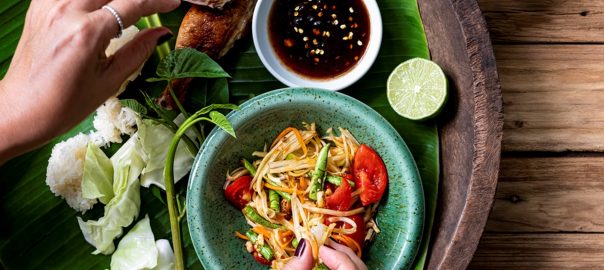 Thai Food Recipes: Curries, Pad Thai and More
Keto and Low Carb Thai Food Recipes: Curries, Pad Thai and More!
Discover how to make your favourite Thai food recipes low carb and keto-friendly! Shop ingredients you'll need at The Low Carb Grocery.
Thai food is vibrant, flavourful, and – unfortunately – pretty high in carbohydrates! Many traditional Thai dishes are served over rice or noodles, making it difficult to enjoy Thai take out and restaurants if you follow a low carb or ketogenic diet. That said, enjoying your favourite Thai curries, pad Thai, and more is still possible if you follow one of these carb-restricted diets. With a few simple substitutions, low carb and keto-friendly Thai food can make its way into your home kitchen. Check out our suggested low carb and keto-friendly Thai recipes below and shop the ingredients you'll need on our website!
Disclaimer: The information in this article is not intended to replace personalized medical advice. A low carb diet may not be suitable for you. Consult your health care provider before making any changes to your lifestyle or use this information at your own risk.
Thai Food and Culture
There is no other cuisine in the world quite like Thai food! With dishes that balance sweet, spicy, bitter, sour, and salty flavours, each bite offers a harmony of distinct tastes and sensations. Fresh herbs and spices are celebrated in Thai cooking, so many dishes feature the aromatic flavours of garlic, shallots, ginger or galangal (Thai ginger), hot chili peppers, lemongrass, coriander/cilantro, Thai basil, and kaffir lime leaves. Coconut sugar is commonly used to sweeten dishes, while lime and tamarind contribute sour flavours.
Thai meals typically consist of a variety of meat or fish dishes, vegetable side dishes, a noodle or rice dish, and soup. Usually every dish, except for individual servings of soup, is shared amongst everyone at the table. Thai people love to eat slowly and enjoy their food in the company of loved ones! Ending off Thai meals is typically a simple dessert of fresh fruits found in Thailand, such as pineapple, guava, durian, mangosteen, papayas, bananas, tamarind, or mangoes, amongst many others. Desserts can also be more elaborate, such as coconut rice dumplings, sweet Thai roti, Thai Jello, or coconut ice cream!
Thai food draws upon influences from many other cultures and cuisines, such as Chinese steel wok cooking, Indian spices, and flavours from other neighbouring countries including Laos, Cambodia, Vietnam, Indonesia, Burma and Malaysia. This gives rise to truly unique flavours that, if you aren't a fan of already, you must try! Keep reading to learn how to make low carb and keto-friendly versions of some of the most quintessential Thai dishes.
Soup
Tom Yum Soup
This hot and sour shrimp soup can be found at just about any traditional Thai restaurant. Fragrant herbs and spices including lemongrass, onion, hot chili peppers, galangal and garlic provide layers of flavours that will get your tastebuds tingling and give you a little idea of what's to come for the rest of the meal!
This recipe is made using a pre-made tom yum paste, which removes a lot of the prep work involved in making this flavourful – but complex – soup base. To make this soup more keto-friendly, you can also add 1 can of full fat coconut cream or 1 cup of heavy whipping cream to add some extra fat. Traditional Tom Yum soup often features shrimp, but you can also use chicken, pork, or tofu in this recipe. Mushrooms also make this soup feel a bit heartier and add a wonderful texture and delicious umami flavour!
If you want to keep things simple for the first course of the meal, pick up a package of Miracle Noodle Tom Yum Ready-To-Heat Soup! Featuring classic Thai ingredients including coconut milk, bamboo shoots, straw mushrooms, galangal, kaffir lime leaves, and lemongrass, this is a convenient way to enjoy the authentic flavours of Tom Yum soup – simply heat and serve. This pre-made soup also features konjac shirataki noodles, which are a low carb, low calorie alternative to traditional noodles that are widely enjoyed by low carb, ketogenic and diabetic dieters. Learn more about the benefits of konjac noodles for low carb dieters on our blog!
Meat and Fish
The main dishes in a Thai meal consist of meat and fish, typically in the form of curries and stir-fries. Pork and chicken are the most common types of meat used in Thai cooking, while mackerel, snapper, and cod are commonly used varieties of fish. The meat and fish are typically cut into bite-sized pieces, a clever trick used by Thai cooks to get around the fact that Buddhism (one of the major religions in Thailand) discourages against cooking a whole animal. Below you will find some of our favourite Thai-inspired ways to prepare meat and fish!
Thai Curries
Thai curries, like the rest of Thai cuisine, are unlike other curries found around the world! Making Thai curry typically starts by heating a curry paste that consists of garlic, shallots, ginger, chili peppers, lemon grass, lime and shrimp paste in a pan with some coconut oil to bring out all of the flavours and aromas. Then, coconut milk is added along with vegetables and meat or fish. In Thailand, you will find red, yellow, and green curries – green typically being the spiciest of the three! Yellow curries are the sweetest and mildest. Red curries are also spicy, but they have a rich and hearty flavour while green curries have a bright, citrus-y taste.
This keto-friendly Thai green curry recipe (5g net carbs) is made with chicken and features low carb vegetables including green beans and broccolini. Bean sprouts are also low in carbohydrates and add a refreshing light crunch to this dish! This curry is also dairy-free and made with full fat coconut cream to provide 58g of healthy fats per serving! Serve this green curry over cauliflower rice or a rice substitute and enjoy the rich, inviting flavours of this classic Thai dish.
Another simple dupe for this recipe is to use Ready to Eat Simply Green Soup from Sprague Foods. Featuring broccoli, creamed coconut, and Thai curry flavours, all you have to do is heat and add your cooked protein and vegetables. Each 1 cup serving of this soup provides 19g of healthy plant-based fats, 8g of fibre, 4g of protein and just 5g net carbs, making it a perfectly great choice for low carb and keto dieters.
Miracle Noodle also offers a delicious Ready-To-Eat Thai Green Curry Meal, as well! This is a great option for a quick lunch or dinner, and it already includes low carb shirataki noodles. Simply heat on the stovetop or microwave and add cooked vegetables and meat and enjoy traditional flavours of Thai cuisine such as lemongrass, ginger, and sweet Thai basil.

Pictured: Miracle Noodle Green Curry Ready-to-Eat Meal
If you want to try a red or yellow curry instead, check out either of these recipes:
Thai Stir Fries
Stir-fries are also common in Thai cuisine, especially among talented street vendors! They are often made using a wok, which quickly cooks the meat at high temperatures. Check out our blog post about the healthiest oils to use for high heat cooking and shop cooking oils on our website! If you don't have a wok at home, you could also use any other frying pan or Dutch oven (anything with some depth to avoid oil splatter is best).
Thai stir fries can be made with chicken, beef, or pork. Check out this recipe for Keto Thai Basil Grass-Fed Beef Bowls (3g net carbs). The star ingredient in this dish is, of course, Thai basil, which can be hard to find at some grocery stores, but sweet basil (the most common variety) will also work. The beef is also seasoned with garlic, onion, sesame oil and coconut aminos, which are a great soy-free alternative to soy sauce. Plus, check out our blog to learn more about why grass-fed beef is the best choice for this recipe and other beef recipes.
Here are some more low carb Thai stir fry recipes:
Rice and Noodles
Rice is a staple food in Thai cuisine and is usually eaten by hand to soak up all of the delicious sauces and flavours of the other dishes! Coconut rice, made by cooking rice in coconut cream rather than water, is a common way to prepare rice for a Thai meal. With the right low carb rice substitute, this is great news for ketogenic dieters as coconut cream adds extra fat. Try out this low carb cauliflower coconut rice recipe (5g net carbs), or shop konjac rice substitutes on our website!
Pad Thai
Pad Thai is a classic Thai street food dish consisting of rice noodles, bean sprouts and other vegetables, scrambled eggs, and meat stir-fried together in a wok. The ingredients are all tossed together in a special Pad Thai sauce, usually made from fish sauce, brown sugar, and tamarind. The sauce gives this dish a delicious salty, nutty, and slightly sweet flavour, complemented by garnishes of crushed peanuts, green onions and lime wedges. Check out this recipe for keto cabbage Pad Thai (6.5g net carbs), which uses cabbage in place of rice noodles and features a simple sugar-free pad Thai sauce made using Swerve Brown Sugar Substitute. If you prefer, this recipe (5g net carbs) substitutes the noodles for spaghetti squash, another great low carb noodle alternative! Or, if you're short on time, pick up yet another Thai-inspired ready-to-eat meal from Miracle Noodle – Shirataki Pad Thai!
Vegetables
Green Papaya Salad (Som Tam)
Green papaya salad (som tam) is a spicy, citrus-y cold salad that can be found at almost any Thai restaurant! This keto-friendly version uses jicama in place of green papaya to lower the carb count while still preserving the crunchy, slightly bitter taste of this classic Thai salad. You could also use shredded zucchini or cabbage to achieve the same texture while keeping the carb content low. This is a great summer salad, and you can make a large batch to enjoy over 2-3 days (freshly squeezed lime juice will keep it from spoiling!).
Vegetable Stir Fry
A mixed vegetable stir fry is also commonplace at a Thai meal setting. Simply sauté some low carb vegetables in many of the same spices and seasonings as the previous recipes in this article to marry the flavours of all the dishes in your Thai meal.
Here are some great choices for low carb Thai vegetables:
Bok choy
Broccoli
Chinese broccoli or broccoli rabe
Green beans
Cauliflower
Cabbage or Chinese cabbage
Mushrooms (white, cremini, shiitake, oyster, or thinly sliced portobello)
Kale
Onions
Bamboo shoots
Eggplant
This recipe for garlic, ginger, lime stir-fried vegetables can be made keto-friendly by substituting the brown sugar in this recipe for Swerve Brown Sugar Substitute, and omitting or limiting some of the higher-carb vegetables, such as carrots and bell peppers.
Desserts
The perfect ending to a hot and spicy Thai meal is something sweet! Thais love sweet desserts made with rice, condensed milk, and sweet tropical fruits – but these ingredients aren't exactly low carb and keto-friendly.
One of the most famous Thai desserts is mango sticky rice, a dish consisting of glutinous rice, coconut milk and freshly sliced mangoes. We scoured the web to find a low carb version of this dessert, and landed upon this recipe which uses Miracle Rice Substitute and Lakanto Monkfruit Sweetener to emulate all of the same delicious flavours and textures of the original dish, but with much fewer carbs.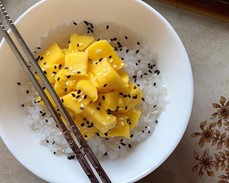 Pictured: Mango Sticky Rice made with Miracle Rice Substitute (Image Source: @pcosgirl_ on Instagram)
If you're looking for more Thai-inspired desserts that are a bit lower on the carb and sugar side, why not try a keto-friendly ice cream! Ice cream is a popular dessert enjoyed after a sweltering day under the Thai sun. You could also make your own keto-friendly coconut ice cream (2g net carbs) from scratch – it's much simpler than it sounds! All you need for this recipe is a high speed blender to combine coconut cream, almond butter, keto-friendly maple syrup and unsweetened coconut flavour drops!
Jello is another popular dessert in Thailand! This sweet, colourful dessert is usually served with different toppings such as shredded coconut. Here's a recipe we found for low carb coconut Thai jelly, made with gelatin and coconut cream. You can also explore our inventory of sugar-free pudding and Jell-o desserts, which are simple to prepare and easy to customize with other flavours, too. You can add lime, mango, pineapple or any other Thai-inspired flavour combination you like to a vanilla base – yum!
Stay Connected
We hope that you learned something new about low-carb Thai cuisine options and that you enjoyed reading our article! If you try any of the recipes or products we mentioned in this article, please share your thoughts or experiences with us and our online community by heading over to our Facebook and Instagram pages.
We'd also love if you could leave us a Google Review, so we can learn more about how to help with your low carb journey! Plus, sign up to our free newsletter to get the best weekly deals on low-carb and sugar-free products at The Low Carb Grocery!