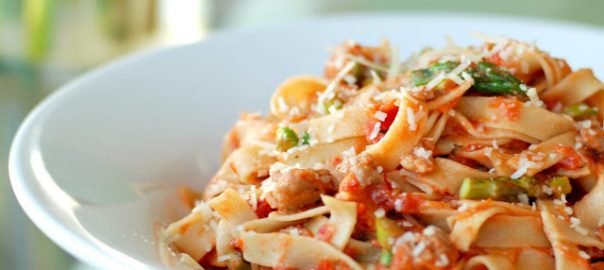 Low Carb Noodles from Al Dente Carba Nada
Experience the Difference with Al Dente Carba Nada Noodles
Pasta is one of those foods that many who are just starting out on the low carb diet often believe is off-limits, which is understandable, but not entirely correct. Traditional wheat pastas and noodles are definitely higher in carbs than what you should be including on your low carb meal plans, but this doesn't mean that pasta needs to be taken off the menu completely. There are many different types of alternative noodles that you can use to make an amazing pasta dish that has the authentic taste you're looking for but keeps the carb count very low.
Al Dente Pasta is one of the top brands in the world of low carb noodles with their Carba Nada line of products. In this article, we'll take a look at the Al Dente brand and what their philosophy is behind how they make their noodles. We'll also explore the different kinds of low carb noodles that they offer as part of their Carba Nada line, as well as a couple of fun recipe suggestions that you can use to put a healthy and low carb pasta meal on the table that the whole family will love. Let's get started!
About Al Dente Pasta
The origins of Al Dente Pasta Company go back as far as 1980, when founder Monique Deschaine was in New York City and started to notice a big shift in the food culture. There was a huge spike in interest in different cuisines from around the world, and Italian food saw a massive surge in popularity across the country. Taking inspiration from renowned Italian food guru Marcella Hazan and learning expert pasta making techniques, Monique quickly started her own pasta company dedicated to top-quality products made the old-world way, which is still the driving force of Al Dente Pasta to this day.
What Makes Carba Nada Pasta Different?
Traditional Italian pasta is made primarily from a wheat flour called semolina, which is a big part of why the pasta has such a distinctive taste and texture. Unfortunately, semolina flour is also where the majority of the carbs in the pasta come from. To help solve this problem for low carb dieters, Al Dente developed their own proprietary blend of ingredients for their line of Carba Nada low carb pasta that significantly reduces the quantity of semolina flour used to make the noodles. They use high-protein soy flour and fibre in order to supplement the semolina and produce a noodle that has the classic Italian taste and texture that you want, at a much lower overall carb count when compared to traditional pasta.
Popular Al Dente Carba Nada Products
Al Dente has a world-famous reputation for delicious pasta, and their Carba Nada line includes some exciting flavours that add extra flair to your meals. Our customers definitely agree that Carba Nada has a great taste, and the fact that these noodles are ready in just 3-5 minutes means that you can have a delicious meal delivered to your table fast.
For a classic pasta taste, Carba Nada Egg Fettucine noodles are a great option to help keep the carbs under control in all your favourite Italian pasta dishes. Plus, they are high in protein, and 100% free of GMO as well as being kosher and vegetarian friendly.
If you're a fan of the flavour of basil, then you've got to try these Basil-infused Fettuccine noodles. They've got just enough basil in them to add a nice, savoury accent to your meal and are the perfect way to give a classic Italian pasta sauce a bit more character.
If garlic is what you love in your pasta, then these Roasted Garlic Fettuccine noodles are the answer. These noodles are the perfect way to complement an Alfredo sauce, or any other pasta recipe that would benefit from a little extra bit of garlic.
For a unique twist in your noodles, we recommend you give these Lemon Pepper Fettuccine noodles a try. With a bit of lemon juice and a subtle hint of cracked peppercorns, these noodles give any pasta dish a fresh new taste that you'll love.
With all these styles of pasta to choose from, we're sure that you've already started running through your favourite pasta recipes in your head and trying to choose which one to make next. If you can't decide, and need some additional inspiration, we've found a couple of great recipes on the Al Dente Pasta website that you can use to really bring out the best in your Carba Nada noodles.
Tuna Pasta with Spinach and Capers
This recipe is deceptively simple, but the result is a wonderful combination of zesty, savoury and salty. This one is perfect for the classic taste of Carba Nada egg fettuccine noodles and can easily be customized by adding your favourite Italian ingredients like fresh tomatoes or olives.
If you're already sold on the roasted garlic Carba Nada noodles and need a recipe to go with them, try this fantastic creation. It's a little bit spicy, and extremely delicious. It's also easy to turn this in to a Marsala recipe with the addition of some red wine to the mix. Definitely yummy!
Conclusion
As far as pasta is concerned, we are big fans and love the fact that brands like Al Dente have made such delicious low carb noodles to choose from. It seems like everyone has their own favourite types of pasta, and with the great Carba Nada products from Al Dente, you can add even more personalization to your meal by experimenting with the different flavours. Perhaps try the roasted garlic noodles with a nice alfredo sauce or boost your Bolognese with the taste of the basil noodles.
Whatever you decide, we're confident that you'll be glad you chose Al Dente Carba Nada noodles to complete your meal.