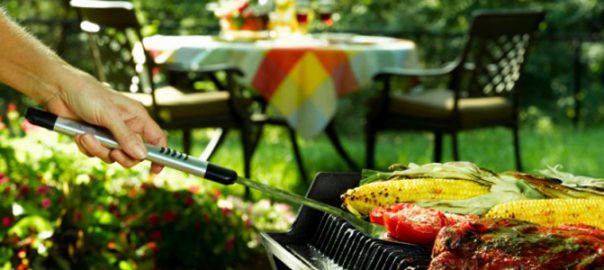 5 Low Carb BBQ Recipes
5 Low Carb BBQ Recipes
Five Delicious Low Carb Barbecue Recipes to Kick-off Summer
Summer is here, and we want you to make the most out of every moment with these amazing low carb barbecue recipes. Planning the perfect summer party with family and friends is a great time to get creative and try some exciting new recipes, as well as a few classics that everyone will be craving when the sun is shining and the laughter starts flowing.
Getting Ready to Grill
Before you throw any food on your grill, you're going to want to make sure that it's clean and ready to go for the summer. This means giving it a thorough cleaning and inspection to make sure everything is working properly. Having a clean grill is essential to getting the best results from your cooking, so check out our complete guide to cleaning your grill and make sure that your barbecue is ready for a summer full of delicious low carb grilling.
If you're planning a big get-together with friends and family, a little bit of preparation the night before the big event can make things a lot easier when guests start arriving. There are plenty of simple things you can do to save time, such as preparing condiments, toppings, salads, and beverages, as well as organizing dishes, napkins and utensils the night before. That way all you have to do is settle the guests on the picnic table and you're ready to serve.
You'll also want to make sure that all your grilling gear is clean and at the ready. Break out your tongs, skewers, flippers, thermometers, and most importantly a cool apron for the grill master to wear, such as this awesome 'Eh Team' apron that any Canadian griller would love.
Now that you're sufficiently geared up and ready to cook, let's take a look at 5 amazing recipes that will be a huge hit at your next backyard barbecue.
We're starting out this list with a fresh and light option that seafood lovers will definitely appreciate. Cooking with skewers is a great way to keep things easy and fast, since the smaller individual pieces of food will cook quickly, and you can prep them all early when cooking larger quantities. This recipe combines fresh shrimp with savoury garlic butter and the tang of lemon for a light and delicious meal that's simple to make and perfect for the low carb diet.
Now let's spice things up a bit with the unmistakable taste of Caribbean jerk seasoning. There's nothing quite like perfect barbecue ribs, and the added kick of the jerk spices make this recipe even better. Preparing these takes a bit of extra time to achieve the best results, but when you taste the final product, these fall-off-the-bone ribs are totally worth it. The sauce is a tasty combo of sweet and spicy, which will leave you licking your fingers and very satisfied.
Okay, so this particular recipe isn't prepared on the grill, and it doesn't actually contain potatoes, but what backyard barbecue would be complete without some cool, fresh, delicious salads to go with your meal? This low carb version of classic potato salad swaps out the potatoes for other vegetables including turnip, rutabaga, cucumbers, celery root, and cauliflower to create a delicious taste experience that your family and friends will devour. One taste, and you'll know why we put it on this list!
Now here's a hot dog that you'll never forget! These incredible creations are the result of merging gourmet hot dogs with gouda cheese, bacon, and your favourite low-sugar or sugar-free barbecue sauce. These bad boys are equally good on their own, or nestled in a nice, toasted low carb hot dog bun and loaded with tasty toppings. Whichever way you prefer to eat these dogs, we guarantee that you'll be back for more, again and again.
Brie and Caramelized Onion Stuffed Burgers
If you thought we were going to end this article with a run-of-the-mill beef burger, then think again. These incredible burgers are anything but ordinary! The juicy, 100% beef patties are stuffed with hot and melty brie cheese and delectable grilled onions that are simply made for each other. You'll love these just as much on their own with a side of cool, fresh salad as you will on a light and fluffy low carb hamburger bun. Serve these up at your next barbecue, and don't be surprised if you get a standing ovation.
Conclusion
There's just nothing that compares to the relaxed atmosphere and fun experiences of a backyard barbecue on a warm, sunny day. It's simply one of the best ways to spend time outdoors with friends and family and create memories that will last a lifetime. Serving up a great meal that both satisfies every guest and fits the low carb lifestyle can be easy, especially with recipe ideas like this to choose from.
Stocking up your kitchen with healthy and delicious ingredients for your barbecue menu is a breeze when you stop by The Low Carb Grocery or shop with us online. We've got a wide range of low carb buns to cradle your burgers and dogs, as well as a huge selection of condiments, seasonings and dressings to choose from. This summer, you'll be loving the low carb lifestyle even more!