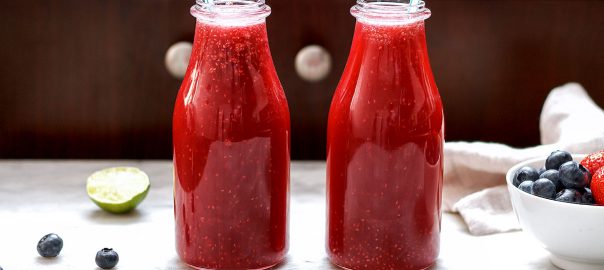 Fun Drinks for Hot Summer Days
6 Awesome Low Sugar / Sugar Free Drinks for Hot Summer Days
During those sunny summer days, there's nothing like a fresh and cool beverage to help beat the heat and quench your thirst. However, when you look at the typical drinks in your average supermarket or convenience store you'll see tons of added sugar that you just don't need or want. If you're tired of always having to choose from a diet cola or plain old water, then this list of fresh and fun summer drinks is exactly what you need.
We've gathered together a handful of the most interesting low-sugar and sugar-free drink recipes that you definitely need to try this summer. Each one is pretty simple to make, and in just a few minutes you can have a batch of tasty drinks to share on the patio and take a break from the summer heat. Now, let's get right to the list!
We're starting this list off right with a unique kind of spritzer that's as delicious as it is refreshing. Combining the light, summery sweetness of fresh watermelon with a hint of citrus from the lime, this drink is sure to please your taste buds. It's a great way to offer an unusual and fancy drink at parties and barbecues that's healthy and sugar-free, plus alcohol-free so everyone can enjoy it.
Add this to the menu for your next summer party, and we can guarantee that it'll be a hit with all your guests.
With summer comes fresh berries, and all different ways of using them to create fresh and fun foods and drinks that the whole family will enjoy. In this case, the inspiration came from a mother and daughter who wanted to enjoy the trendy chia fresca drinks that are popular right now, but without all the extra and unnecessary sugar that the supermarket drinks have.
This amazingly tasty creation is simple to make and is loaded with fibre thanks to the chia seeds.
Here's a classic, old fashioned cocktail that is simply perfect for sipping on a sunny summer patio with friends, but with a simple twist to help make it a better choice for low carb dieters. By substituting a liquid stevia sweetener instead of the simple syrup that the traditional recipe calls for, this version cuts the sugar out and keeps all the taste that makes this drink a favourite that stands the test of time.
If you've never had a Mint Julep, this recipe is definitely worth trying!
Sometimes the simplest drinks are the best, and when it comes to tried-and-true summer drinks, there's not much that can beat lemonade when it comes to simplicity and great taste. This version is just about as easy as it gets, using only fresh lemons, ice, water, and your favourite alternative sweetener in place of the sugar. For sweetening the lemonade to suit your tastes, choose from any of the most popular sugar substitutes such as Splenda, Stevia, Equal, or any others that are popular with people living the low carb lifestyle.
Remember, there's no definitive way to make fresh lemonade, so go ahead and make it either as tart or as sweet as you want.
Ok, yes, this is another lemonade, but it's definitely not your standard version! This wonderful creation checks off all the boxes for low carb, keto, vegan, paleo, and sugar-free dieters, which is a feat that not many other drinks can do. It's a wonderfully unique twist on a summer favourite that includes fresh strawberries, fresh basil, fresh lemons, and all-natural Stevia sweetener. You can also choose to add some fizz with your preferred brand of sparkling mineral water.
Whatever way you decide to make this drink, just make sure you prepare enough for seconds because you're going to want another!
If fizzy drinks are your favourite, but you're tired of regular old diet cola, then you've got to try the amazing variety of natural diet sodas from Zevia. You can find all your classic soda flavours like root beer, ginger ale, and cream soda, along with lots of fun and fruity taste sensations like black cherry, orange, grape, and lemon lime that kids will love to enjoy after a day of playing in the sun.
Zevia sodas are sweetened with all-natural Stevia to produce a great tasting drink without any added sugars.
Conclusion
These drinks are just the tip of the iceberg, however. There are dozens more delicious low sugar and sugar free beverages to enjoy this summer, including all your favourite brands like Kool-Aid, Snapple, Tang, and Arizona.
Having a wide range of drink choices to choose from means that no matter who's raiding the fridge on a hot, humid day, there's always something that will satisfy their thirst and cool them off, without loading them up with extra sugar that they don't need.
We hope that you've found this list of fun summer drinks helpful. Cheers!