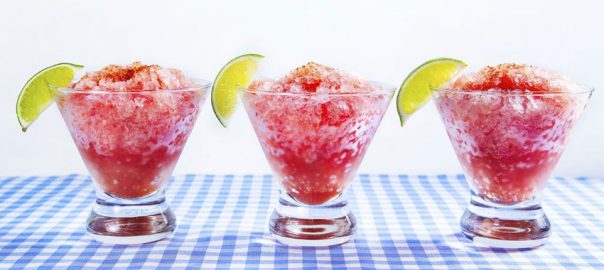 Sugar Free Frozen Treats to Enjoy This Summer
Top 7 Fun Sugar Free Frozen Treats to Chill Out with This Summer
If you're feeling the heat of the summer and need something fun and fresh to cool off, we've got a great list of frozen treats that are perfect for the low carb lifestyle.
These interesting and unique creations are all sugar free, so you can enjoy them without any guilt or worry that you're setting your daily diet progress back. But don't think that just because these recipes are sugar free that they will let you down when it comes to taste.
We're sure that you'll agree that these are some of the best tasting chilly treats that you've ever had, and the whole family is definitely going to love them after a day of playing in the sun.
Now, let's start things off by taking a look at the first frosty treat!
This particular recipe is intended for the adults, since it includes alcohol. However, it can easily be made alcohol-free to make it suitable for all ages, and it tastes just as yummy. Margaritas are the kind of drink that just goes perfectly with a sunny patio, and these ice pops bring that experience in to a new form that is just the thing you need to beat the heat.
These are easy to make from only a few ingredients, and once you taste them we bet that you'll be wanting another batch pretty soon.
We absolutely love ice cream sandwiches! They're one of those kinds of treats that just remind us of long summer days of hanging out with friends back when we were kids. This unique twist adds even more refreshment by infusing them with the great taste of peppermint!
It's easy to make these in batches and then keep them in the freezer when you have a craving for ice cream, or simply want to have them on-hand for when the kids deserve a special treat after a long, hot day of summer fun.
You just know from that title that this is going to be a good one. The smooth ice cream mixed with crunchy coffee and chocolate bits is a perfect harmony of flavours and textures that will knock your socks off. Some people are wary of trying to make ice cream from scratch, but it's actually a lot easier than you'd expect. Plus, you have the added assurance of knowing that it's 100% sugar free.
Give this delicious recipe a try for a special dessert this coming weekend.
You don't hear a lot about ice cream floats these days, and we can't understand why. These classic frozen treats are incredibly tasty and very easy to make. This is a grown-up version of the good old root beer float and uses vanilla flavoured vodka along with vanilla ice cream and vanilla root beer to create a scrumptious drink that can also double as a decadent dessert.
Making some of these up at the end of a backyard barbecue with friends is sure to get you a standing ovation from your guests.
We're going to lighten things up now with this recipe. Although we love ice cream unquestionably, sometimes you want something a bit more subtle to cool off with. This recipe is a wonderful blend of the light sweetness of watermelon and the fresh taste of iced herbal tea and puts it all together in a fun snow cone that is sure to put smiles on everyone's faces.
Use your preferred sugar alternative as a sweetener, and you've got a perfect low carb summer treat.
If you're looking to keep things simple and easy, you can always pick up some Cool Whey Protein Ice Cream when you may not have the time to make your own from scratch. Cool Whey is perfect for low carb dieters thanks to its low carb count and added protein.
Made from only the finest ingredients, this ice cream is also gluten free and diabetic friendly.
If you loved Creamsicles when you were a kid, you know just how tasty those orange and vanilla treats were. Here, you can get that exact same flavour in a frosty, sugar free blended drink that will have you falling head over heels. It's creamy, smooth, and all kinds of delicious.
It uses orange essential oil to bring the unmistakable flavour to the drink without the sugar that you'd find in orange juice.
Conclusion
If you're thinking that the time has come to move beyond your usual sugar free frozen ice pops and start experimenting with some new and exciting flavours, then we're sure you'll agree that this list is a great way to start!
There's definitely something for everyone here, and we've barely scratched the surface. There are plenty of other tasty frozen treats that you can pick up here at The Low Carb Grocery that skip the sugar and deliver a ton of great taste.
We hope that you've found these recipes interesting, and that your family and friends enjoy cooling off with them this summer.