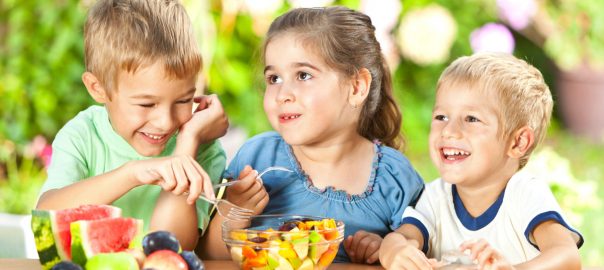 Low Carb After School Snacks Kids Will Love
Satisfy the After-School Hunger of Your Kids with Healthy Low Carb Snacks
School has started up again, and along with the never-ending struggle of making healthy lunches that your kids will eat also comes the daunting task of providing healthy snacks at the end of the day when they come home tired and hungry. The real difficulty comes in making sure the snacks you give your kids strikes a good balance between great taste and healthy qualities that fit with the low carb lifestyle.
In this list of healthy snack recipes, we've compiled some great ideas that kids are sure to love. We've got some crunchy, salty snacks that will be perfect for kids who crave snacks like chips and cheesies. We've also found a handful of sweet treats that are sure to be a great way to satisfy the desire for something sugary. Finally, we've also got a fantastic hot snack that no hungry kid will say no to at the end of the day.
Let's get started with the list with a crunchy snack that is ideal for kids who love to dip!
Do breadsticks sound like a boring intro to this list of snacks? Well, get ready to change your mind because these are the best breadsticks that you'll ever munch on. Using a simple blend of low carb ingredients like almond flour, flax meal, and coconut flour, this recipe produces a breadstick that is crunchy on the outside and has a nice soft center that kids will love. Dip these in marinara sauce, salsa, queso, or whatever your kids' favourite dip happens to be. Enjoy!
Low Carb Cherry Cheesecake Popsicles
Even though summer is winding down now that school is back in session, the time is always right for a frosty treat like these popsicles. From just 5 simple ingredients, you'll be amazed at how great these chilly cherry cheesecake pops taste, and doubly amazed at how healthy they are. You'll have your kids hooked on these in no time, so make sure you've got a decent supply of them in your freezer!
Sometimes the best after school snacks are a crunchy salty snack bar that your kids can really tear in to and scarf down quick before heading out on their next adventure. These fruit and nut bars are packed full of healthy ingredients and are perfectly suited to low carb and keto diets. Your kids won't be the only ones munching on these though, as they are also a great way to fuel up before heading out the door to work or to get you over those mid-afternoon hungers in a healthy way.
Low Carb Cheesy Goldfish Crackers
Who doesn't love the salty crunch of a classic goldfish cracker? Parents around the world are all guilty of sneaking a few of these when the kids are out playing, and now you can easily make a low carb version right at home. Using a simple mix of almond flour, sea salt, and a nice hard cheese like gouda or parmesan, cut out with a fishy-shaped cookie cutter, you've got the best tasting goldfish crackers ever. You'll want to make a lot of these at a time, since your kids won't be able to stop eating them!
These sweet, sugary snack bites are simply delectable! If your kids love churros, then these mini little churritos are going to be their new favourite snack. Made from a combination of coconut flour and almond flour, and rolled in a blend of cinnamon and xylitol sweetener, these are low in carbs, low in sugar, and absolutely delicious. They're also very easy to make and can be on the table, ready to eat in just 20 minutes.
Low Carb Grain-Free Pizza Rolls
What could be better for your kids at the end of a long day at school than a plate full of these warm, savoury pizza rolls? Absolutely nothing! Pizza is always a smash hit with kids, and this recipe makes sure that you're getting a tasty and healthy pizza snack that your kids will go nuts for. Each batch of this recipe produces about 15 yummy little pizza rolls that will definitely not last long once they come out of the oven. These would also make a great appetizer at any dinner party, so keep this recipe handy for all different types of occasions.
Snack Smart, Snack Healthy
As you can see, it's not really all that hard to make sure that the snacks that your kids get at the end of the school day satisfy their cravings for delicious food while simultaneously making sure that they fit your criteria for a healthy lifestyle.
Surprise your kids the next time they walk in the door after a busy day at school with one of these fun and healthy snacks, and we're sure you'll get to see some smiling faces and maybe even some high-fives!