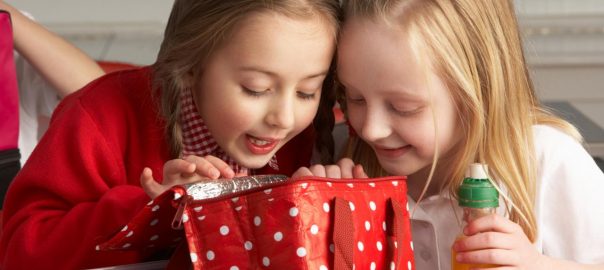 Tasty & Easy Low Carb School Lunches
Easy School Lunches – The Low Carb Way
Now that kids are back in school, parents are tasked with preparing and packing nutritious and delicious lunches that won't get traded for junk food or make its way back home at the end of the day. Luckily, there are a ton of low carb options that your kids will devour.
Here are 10 low carb lunch recipes that don't take a lot of prep time and are jam-packed with flavour and the things kids tend to love.
With any of the below recipes that call for the use of any nut-based product – be aware of any nut allergy issues at your local school that would prohibit their use.
Packed Lunch Recipes
Lettuce Wraps
Lettuce wraps are a low carb staple that allow a parent to tailor the ingredients to whatever their kids like. All you need is a large leaf of lettuce, Iceberg or Butterhead work well, and then pick and choose the meat, veggies and cheese that you want. You can fill a bento box with the ingredients and let your kid have fun assembling it, or you can roll the ingredients inside a clean lettuce leaf and secure it with a toothpick so it'll stay intact until lunchtime.
Try spreading some low carb mayo on the meat or cheese (not the lettuce leaf as it can get messy) or some honey mustard to add some tanginess.
Be mindful as the ingredients you choose could increase the number of carbs per wrap. We recommend, Allegro Original as your cheese component and low carb deli meat like turkey.
If your kids get easily bored, this recipe lets you keep things fresh.
Egg Salad Wrap with Flatout
Egg salad can be low carb by using the right brand of mayo like Walden Farms Amazing Mayo and Flatout Flatbread Original flavour in place of bread or tortilla wraps.
If you're a tortilla nut, try Mama Lupe's low carb tortillas, with just 3g of net carbohydrates per tortilla, you won't find a better wrap out there.
All you need is two large boiled eggs chopped, 1 tsp. of mayo, ½ tsp. of yellow mustard, 1 ½ oz. of turkey bacon, 1 leaf of romaine lettuce and the number of tortillas you need to make the amount of wraps you want.
Making this wrap couldn't be simpler. First cook the turkey bacon until it's crispy. Combine the chopped eggs with the mayo and mustard. Add salt and pepper to taste. Flatten the romaine lettuce on the flatbread and then spread the egg mixture. Crumble the turkey bacon over the eggs. Lastly, roll it up and cut it in half.
This lunch is delicious served cold and you can whip up a big enough batch to make wraps for the week.
Cheese and Vegetable Kebabs and Dips
If you want to lower your kids meat intake, you can make cheese and vegetable kebabs that are filling, healthy and yummy. You can use low carb cheeses like cheddar or gouda. Simply cut them into cubes and alternate them on a skewer with vegetables like cherry tomatoes. Don't over stuff the skewers as you'll want to leave some room on each end for holding.
You can kick things up a notch by pairing these kebabs with a dip. Walden Farms offers a variety of dips that can elevate a meal. Two of the more popular flavours are French Onion and Ranch. You can also use guacamole or a soft cream cheese. The point is to customize the meal to what you know your kids will eat. Additionally, make sure you use a leak-proof container for the dip.
We recommend avoiding vegetables that are high in carbs or overly starchy.

Ham and Cheese Pinwheels
These pinwheels are perfect for hearty eaters with bigger appetites. To make, place a fresh slice of ham on a clean counter or cutting board and a piece of cheese on top. Roll the ham until it's nice and tight and then cut it into three pieces. Skewer each piece and try placing them close to each other so that they don't come undone.
If ham isn't your kid's thing, then substitute a low carb meat like turkey. You can also place a thin slice of bell pepper between each pinwheel. This gives a pop of colour and crunch in addition to a flavour that nicely contrasts the meat and cheese.
These pinwheels go great with a mayo-based sauce. Try mixing some mayo with a bit of mustard in a bowl and placing in a container. Because this lunch is a bit on the saltier side, you should consider pairing with some fresh berries. Also, Beanitos make a nice Gluten-Free bean chip that will add some needed crunch.

Fruit Snacks
While not the main component, fruit is a great addition to any packed lunch. It perfectly complements most meat and cheese meals.
You want to choose carefully, though, as all fruit is healthy but not all are low in carbs. A fun thing to do is to gather some fruits like berries, mandarins, avocado, cantaloupe or honeydew and let your kids pick what will be included in their lunch. This can ensure they eat the fruit while letting them have some fun in the process.
Kebabs are still the best way to serve fruit in a packed lunch. Try strawberries cut in half. All you need is a small serving of almond butter for dipping the strawberries and your kids will be all set. Nuts to You Nutt Butter, makes a pure almond butter that is made from only dry-roasted almonds. It's wheat-free and Kosher.
Some fruits to avoid because they are high in carbs, include bananas, raisins, mango, dates and pears.
Turkey Bacon Lettuce Avocado and Tomato Kebabs
As a high in fat and typically processed meat, bacon isn't considered a go-to ingredient for a healthy lunch. When accompanied by fresh items like lettuce, avocado and tomato, it can be part of a healthy lunch. Plus, most kids love bacon because it's salty, smoky and crispy. Substitute turkey bacon if you don't like pork.
These kebabs are super simple to make. Cook a couple strips of bacon until they're crispy and then drain on paper towel. Next, cut an avocado into chunks and rip some lettuce into small pieces. Assembly is a snap; all you must do is place the items on a skewer with some cherry tomatoes. Make sure you alternate ingredients so your kids can enjoy the flavour combination as it was meant to be.
Traditionally, a BLT comes with classic mayo but you should try Walden Farms Ranch Mayo. It's low in carbs and calories and tastes amazing.
Tuna Salad Cucumber Boats
Fans of tuna salad will love this fun creation that's creamy and crunchy, and lets you ditch the bread in favour of a hollowed-out cucumber. The great thing about this is that it can act as both a lunch entrée or snack.
If you don't have a tuna salad recipe, we suggest combining 1 4-ounce can of drained tuna, ½ stalk of celery, 2 tbsp of Walden Farms Amazing Mayo, a touch of dried dill and some pepper to taste. To make the cucumber boats, cut a cucumber lengthwise and then cut each half two more times until you have three boats of equal size. Use a knife to remove the seeds, which incidentally creates the hollow centre for the tuna salad.
We recommend overstuffing each boat because some tuna might fall out if you store in a container or get stuck to the saran wrap. You can also use a cucumber vessel for low carb egg salad.
Mini Pizza Muffins
When you think low carb lunch you probably don't think mini muffins. You can turn muffins into a low carb yet hearty lunch, though, by using pizza ingredients that are popular with kids.
To start, gather 2 cups of JK Gourmet Almond Flour MUFFIN MIX, 3 tbsp. of unflavoured whey protein, 1 tbsp. of pizza seasoning, 1 ½ tsp of baking powder, ½ tsp. of garlic powder, ¼ tsp. of salt, ¼ cup of a low carb cheese like gruyere or romano, two large eggs, 5 tbsp. of melted butter and ¾ cup of almond milk.
To make, preheat your oven to 325F and grease a mini muffin pan. In a bowl, whisk together almond flour, whey protein powder, pizza seasoning, baking powder, garlic powder and salt. Add the cheese as you stir. Next, whisk in the eggs, butter and almond milk until everything is thoroughly incorporated. Fill each muffin cup ¾ of the way. This recipe provides enough batter for an additional batch.
Bake for 17-20 minutes. Remove muffins once they are golden brown and firm. Let them cool for 10 minutes and then transfer to a wire rack so they can completely cool.
Dill Pickle Almonds
Almonds are a great source of protein. You can add more flavour with some dill pickle flavouring. Best of all, this recipe only requires four easy steps.
The ingredients list, includes: one egg white, 3 cups of almonds, 2 tsp. of citric acid, 2 tsp. of salt, 2 tsp. of dried dill, ¾ tsp. of garlic powder and Mrs. Dash Salt-Free Lemon Pepper Seasoning.
Follow these steps to make a delicious batch. It's easy enough that you can include your kids in the cooking process. Preheat the oven to 350F and line a rimmed baking sheet with parchment paper. Whisk the egg white until it's a froth. Toss in the almonds and stir until each is well coated. Add the citric acid, dried dill, garlic powder and lemon pepper seasoning. Give it a good toss and bake for 10-12 minutes.
Once they are done, let the entire pan completely cool.
Zucchini and Beet Noodle Salad
If your kids aren't big fans of meat or cheese, you can try this fresh noodle salad that's made with zucchini and beets. While you can cut the vegetables into thin ribbons, we recommend only using this recipe if you own a spiralizer. Zucchini and beets have a perfect noodle texture and all you must do is lightly cook them until they are soft.
These noodles are a blank canvass for whatever flavours you want to inject. One idea is to sprinkle them with True Citrus' Orange Ginger seasoning. If your kids want more than just noodles, add some tempeh, which is a soy product that fits into a low carb lifestyle. It's easy to cook and you can flavour it with only a dash of your favourite True Lime seasoning.
If you want to spruce it up further, consider adding a handful of cherry tomatoes or some olive oil or even fresh basil.
Shop The Low Carb Grocery Today!
We hope these recipes help make preparing school lunches easier even for the pickiest eaters. Browse through our online store to find great low carb foods to create even more healthy lunches for your kids (and yourself!).