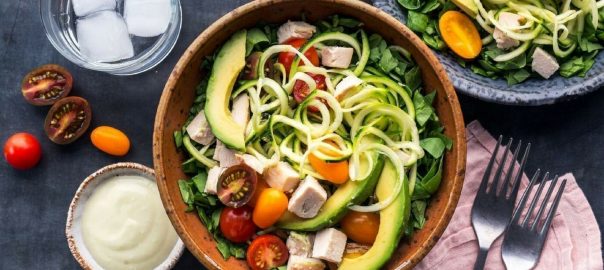 Low Carb Noodle, Rice and Salad Bowls
Bring on the Bowls – Amazing Low Carb Noodle, Rice, and Salad Bowls 
Bowls are all the rage. They offer variety and leave room for someone to get creative with their favourite ingredients and, most importantly, they are a great addition to any low carb meal plan.
Making bowls can be a lot of fun and once you lock in on your favourite flavour combination, you'll discover a bevy of amazing meals, most of which also make for great leftovers.
Let's jump right in and introduce you to some wonderful bowl recipes made with a base of either noodles, rice or salad.
Noodle Bowls
If you love slurping wet and flavourful noodles, then give one of these recipes a try. Feel free to choose your favourite type of noodles if it's low carb.
30-Minute Low Carb Chicken Ramen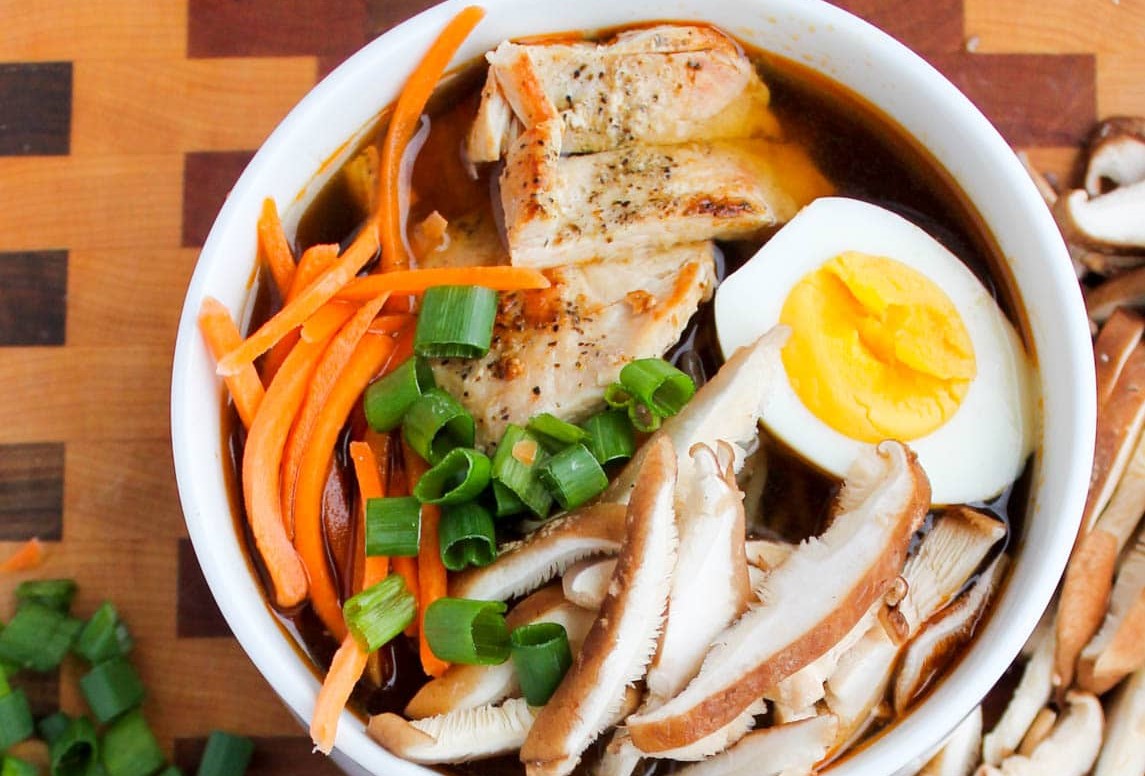 Ramen might seem intimidating to make but this recipe makes it super quick and easy without compromising flavour. Additionally, you can make a big batch as the taste only develops over the course of a few days.
The one caveat is that it requires a lot of ingredients but don't worry, it's worth it. Gather 1 tbsp. of olive oil, 1 boneless skinless chicken breast sliced, salt and pepper, 2 tsp. of sesame oil, 3 tsp. of minced garlic, 3 tbsp. of soy sauce, 2 tbsp. of chili garlic sauce (only if you want some heat), 4 cups of chicken stock, 8 oz. of shirataki noodles, 2 large eggs boiled peeled and sliced, ½ cup of fresh shitake mushrooms, ½ cup of scallions chopped and ½ cup of shredded carrots.
You can make hearty ramen in only three steps:
Heat olive oil in a medium or large pan. Season the chicken on both sides with salt and pepper and then cook. Once it's done, remove and set aside in a safe place.
Next, heat the sesame oil in a stock pot. Add the garlic, ginger and soy sauce. Cook until the garlic is fragrant, careful not to burn. Pour in the chicken stock and the chili garlic sauce and then give it a good stir to combine. Once it has reached a boil, cook for an additional five minutes. Lastly, add the noodles and reduce the heat.
Add broth and noodles to a bowl and then top with eggs, mushrooms, carrots and scallions.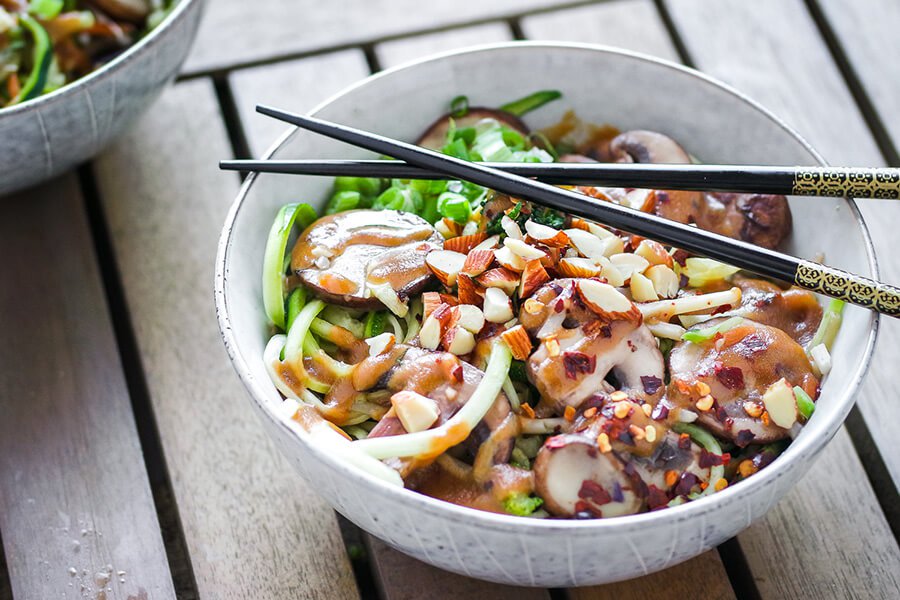 This unique recipe replaces traditional noodles with zucchini.
To make the zoodles portion, you need: 2 medium zucchinis spiralized, ½ cup of sliced mushrooms, 1 cup of shredded broccoli slaw and 1 tsp. of sesame oil.
For the sauce, gather: ¼ cup of almond butter, 2 tbsp. of soy sauce, 2 tbsp. of sesame oil, ¼ tsp. of garlic powder, 1 tsp. of crushed red pepper flakes, 1 tsp. of erythritol and 2 tbsp. of chopped almonds for garnish.
To make this bowl, all you must do is:
Heat the sesame oil in a large skillet over medium heat. Toss in the shredded broccoli cabbage mix and the mushrooms and sauté until everything starts to soften. Next, make sure your zoodles are dry and then add to the skillet. You want to turn them often so that they cook evenly. The aim is for them to be soft, not soggy, which should take only 3-5 minutes.
Create the sauce by mixing together all the ingredients in a bowl. You want it to be a thin consistency. Portion the zoodles into a bowl and drizzle with your sauce. Give it a good toss with tongs to make sure every strand is coated. Garnish with chopped almonds and red pepper flakes.
Rice Bowls
Fans of rice bowls should check out these hearty, low carb and delectable recipes.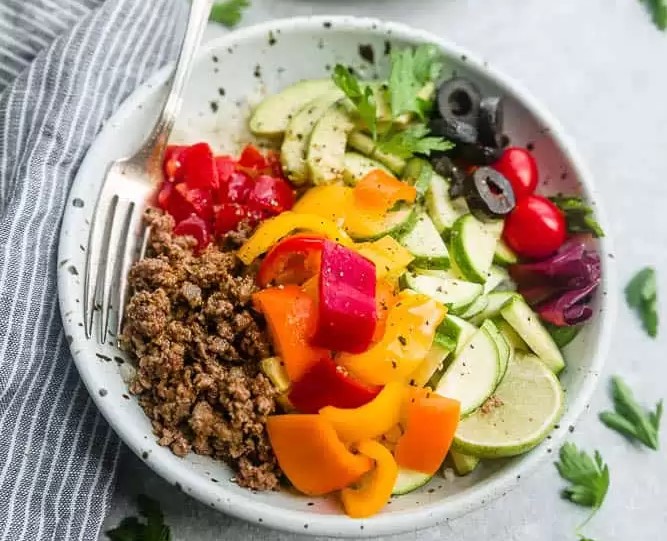 This healthy bowl features amazing Mexican flavours, including a homemade taco seasoning that you can make by combining 2 tsp. of chili powder, 1 tsp. of cumin, 1 tsp. of sea salt, ¼ tsp. of black pepper, ½ tsp. of garlic powder, ½ tsp. of onion powder, ¼ tsp. of oregano and ¼ tsp. of paprika.
To prepare the meat, get 1 lbs. of ground beef or turkey, 2 tbsp. of tomato paste and 2 tbsp. of apple cider vinegar. And for the taco bowls, use brown or cauliflower rice, ½ cup of green and red shredded cabbage, ½ cup of grape tomatoes, sliced olives, diced yellow peppers and sliced zucchinis.
In a large nonstick skillet over medium-high heat, cook the ground meat for about 3 minutes, using a spatula to break it into small pieces, about 3 minutes. Add 1 tbsp. of taco seasoning and cook until the meat is done. Stir in the tomato paste and vinegar and cook for another 2 minutes.
Now, all you must do is assemble. Spoon a large heaping of rice into a bowl and top with the meat, shredded cabbage, tomatoes, avocado, peppers and one lime wedge.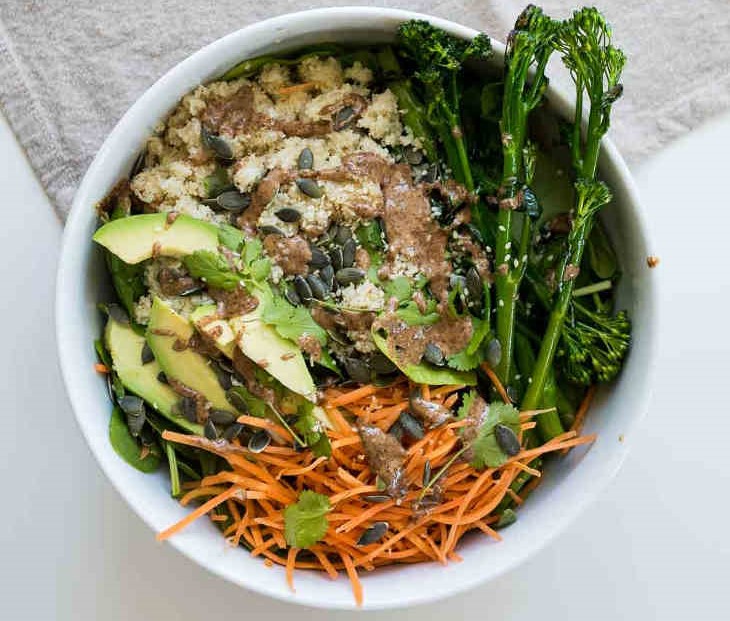 A Buddha bowl is simply a bunch of fresh and delicious ingredients tossed in bowl. This recipe is best served on rice and don't be scared to get creative.
Get these ingredients together: 1 large avocado sliced, 4 cups of spinach, a small bunch of broccolini, ¼ head of cauliflower processed into rice, ¼ cup of shredded carrots, 2 tbsp. of almond butter, ¼ cup of avocado oil, salt and pepper and 2 tbsp. of cilantro.
For two servings, split the spinach between two bowls. Next, pour the avocado oil into a frying pan and sauté the broccolini for 2-3 minutes on high heat. Be sure to lightly salt and pepper before placing on top of the spinach. Do the same with the cooked rice.
Add the shredded carrots and sliced avocado and garnish with cilantros and splash with a touch of almond butter.
Salad Bowls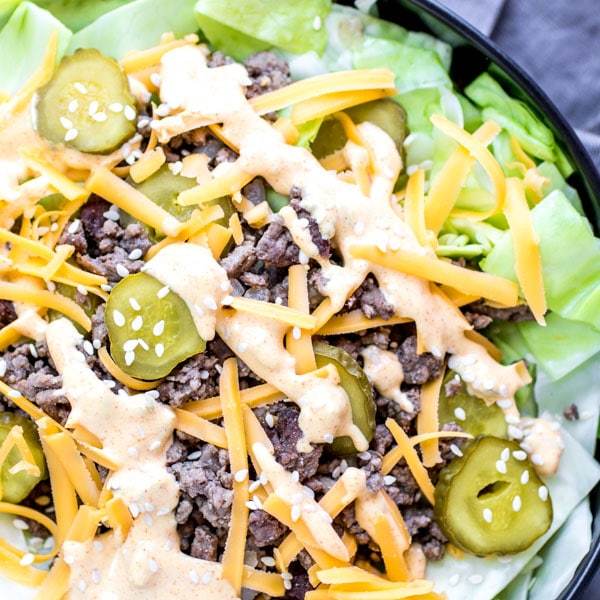 Who doesn't love a classic Big Mac from MacDonald's? This keto-friendly version offers all the classic flavours in a tidy bowl.
The ingredients include: 1 lbs. of ground beef, ½ cup of diced onions, 1 cup of shredded cheese, 6 cups of shredded cabbage and 4 mini dill pickles sliced. To whip up a special sauce, mix ½ cup of mayonnaise, 4 tbsp. of dill pickle relish, 2 tbsp. of yellow mustard, 1 tsp. of white wine vinegar, 1 tsp. of paprika, 1 tsp. of onion powder and 1 tsp. of garlic powder.
Start by cooking the beef in a skillet over medium-high heat. Just before it's cooked through, add the onions and sauté both until the beef is done and the onions are translucent. Drain the grease, season with salt and pepper and set aside.
Using the same skillet, add a touch of olive oil and the shredded cabbage. Cook until the cabbage is soft and sprinkle with salt and pepper before it finishes cooking.
To make four servings, evenly divide the cabbage between the bowls and top with equal portions of ground beef. Next, top with shredded cheese and pickle slices. Drizzle with as much special sauce as you want.
Best of all, you won't have to wait at the drive-thru to enjoy this American classic.
Get Cooking Today!
Creating delicious and healthy low carb bowls is easy, and this collection of recipes are a great way to change up your meal plan while staying on a nutritious track.
Make great low carb bowls with these recipes and ingredients available online at The Low Carb Grocery – your source for fresh, healthy low carb and keto friendly food. Or, pop into one of our locations in the Toronto, Ontario, and Burnaby, B.C. brick & mortar locations today.