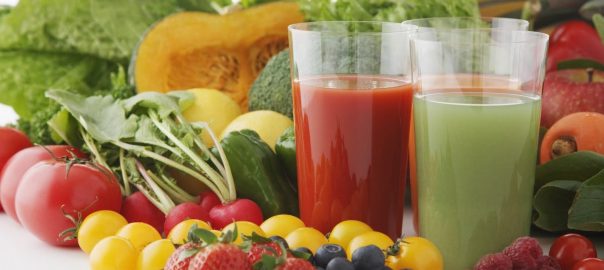 Healthy Juice Recipes – Make At Home
Juiced – How to Make Healthy and Fresh Low Carb Juices at Home
Juices featuring fresh ingredients and delicious flavours can be easy to make and contribute to a nutritious diet. Additionally, they're refreshing and can keep your carb intake in check.
The reason juices have become so popular with people adhering to a healthy lifestyle is that they deliver the benefits of fruits and vegetables without having to eat them as part of a meal. In fact, you can enjoy a juice in between meals instead of that afternoon donut or cookie.
The trick is finding some combination of ingredients that you like. To help, here are some simple juice recipes that take no time to make, including a couple that your kids might love. We believe you'll find a few that inspire you to dig your blender out from the bottom of the drawer.
Easy Juice Recipes – Without a Juicer
These recipes are either low carb or can be made so with only few minor adjustments. Each is perfect for people who are new to juicing and don't have access to expensive juicing equipment.
These recipes do not feature high-carb fruits but some do contain apples—which are on the slightly higher side—because they are healthy and have an appealing flavour. You can typically replace apples with another sweet fruit that's lower in carbs. If you are adhering to a low carb diet for your three meals a day, the inclusion of apples shouldn't compromise your carb intake. But, as always, we recommend tracking your carbs and adjusting recipes to your diet and health goals.
With juice recipes, many of the ingredients can be swapped in favour of ones that you prefer. For instance, if you hate spinach then simply substitute kale. The idea is to maintain the recipe's nutrition, not follow the ingredients list to a tee.
If you plan to use a hand blender, be sure to blend everything in a tall container to avoid spillage.
Baby Spinach Mix Juice
Spinach isn't everyone's favourite ingredient but the impact it can have on one's health is undeniable. This juice lets you enjoy its benefits without having to suffer through a big bowl of it at dinner.
To make, blend six cups of baby spinach with one whole lemon, 1/3 of a cucumber, three small peaches (pits removed) chopped, eight leaves of romaine lettuce and a small piece of fresh ginger. You'll be surprised by how this recipe creates a perfectly balanced juice that masks the spinach flavour and tastes overwhelmingly like peach and ginger, a lovely combo.
Green Light Juice 
Leafy greens are always a great addition to any juice as they contain a lot of healthy properties. If you aren't a fan of a side of raw Swiss chard or spinach, then give this recipe a try. All you must do is blend four heaping handfuls of spinach, one kale leaf, one large cucumber, half a peeled lemon, ½ cup of strawberries and one small carrot.
The strawberries and carrot add a nice natural sweetness that mutes the flavour of spinach. The lemon provides some acid to cut through the sweetness so that it's not overwhelming.
Apple and Citrus Juice
You might be surprised to find that homemade apple juice tastes a lot better than most brands you find in grocery stores. We mentioned earlier that apples aren't the first choice for low carb diets but this juice recipe is a step-up health-wise to most popular brands. This recipe lets you combine apple with other flavours to make a full-bodied juice that's sweet with notes of citrus.
Gather two medium apples (your favourite type will do) with one peeled lemon, three stalks of celery, two large carrots and five stems of fresh parsley.
Cantaloupe Juice
Cantaloupe is a perfect ingredient for homemade juices because it's sweet but not overbearing and pairs nicely with herbs. Most importantly, its flavour is strong enough to dominate that of vegetables.
Take half a cup of cantaloupe chunks, preferably freshly cut, half a cucumber, a handful of fresh herbs like mint or cilantro and six leaves of kale with stems and blend until it's a smooth consistency with no chunks of food present.
Sweet Citrus Green Juice
This concoction will make a juice believer out of the most hardened skeptics. Combine six cups of spinach, two whole lemons, two peeled oranges and a small amount of whole ginger. The result is a drink that is incredibly refreshing.
The Perfect Morning Booster Juice
If you find that you normally feel sluggish in the morning, then this juice recipe might be exactly what you need. These ingredients can boost your energy and help you tackle the day. The flavour of this one is a bit stronger than some of the other recipes but it delivers a morning jolt.
Peel and chop one medium beet and blend it with one large sweet fruit like a peach or honeydew melon, a couple stalks of celery and one whole lime. The final product has a unique flavour profile that balances the sweet elements with the tangy and tart ones.
Kale, Spinach and Fruit Juice
This juice lets you enjoy the nutritional elements of kale and spinach. Start by placing six large kale leaves and one cup of spinach into your blender. Add 12 strawberries, one whole lime and as much fresh mint as you'd like. You can also add a small amount of fennel to give it a more interesting flavour. Next, simply blend and enjoy.
This is a great juice to make as part of your mid-afternoon routine.
Celery and Turmeric Juice 
This juice might sound a little funky but it tastes great and is totally low carb. Turmeric is an aromatic spice, and with only a small amount, you can enhance the flavour profile of blander ingredients like celery and Swiss chard.
Blend two stalks of celery, a handful of parsley, one peeled lime, three leaves of Swiss chard and 1 tbsp. of turmeric. This is a great juice to enjoy with a heavy meal.
Juice Recipes for Kids
Here are a few healthy juice recipes that are kid-friendly and a sneaky way to get vegetables into their diet.
Apple, Beet and Carrot Juice
Kids will want to drink this juice every day as it contains apples and sweet carrots and, once blended, turns a fun shade of purple. You can even turn it into a fun activity by having your kids help you prepare it.
The ingredients, include one small cored apple, four carrots and one cup of chopped beets. Serve it over ice to create a refreshing juice that's a healthy alternative to most processed brands.
Carrot and Orange Juice
This recipe is high in Vitamin A and C and contains antioxidants. Some of the ingredients are believed to boost immunity and promote healthy digestion.
Best of all, you only need two ingredients: two carrots and one whole peeled orange. Once they are washed, cut them into small chunks. Blend all the ingredients and refrigerate for 30 minutes so it can chill before being served.
Green Legacy Juice
Try this juice if you are feeding a kid that won't go near anything green. To make, blend a handful of Swiss chard, kale, spinach—we know this doesn't sound kid-friendly but bear with us—1 cup of strawberries, ½ lemon and one apple. The taste is phenomenal and kids will love its appearance.
Start Experimenting with Homemade Juice Today!
With these recipes in hand, you're ready to go make and enjoy a bunch of juices that will help you feel good and refreshed.
Learn how to make juices like a pro in no time. For all the low carb products you need to create meals to complement your new juice obsession, check out The Low carb Grocery!